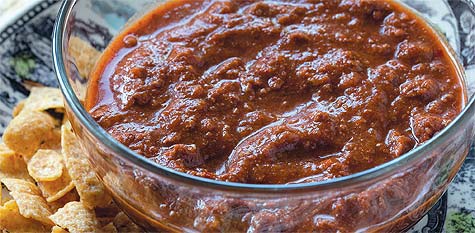 photo by Kelly Yandell
Kelly Yandell from her blog, "The Meaning of Pie"
4-5 Servings
Chili, the official dish of Texas, has evolved over hundreds of years. A small group of Canary Islanders settled in San Antonio in the early 1700s bringing with them their spicy stews seasoned with cumin, garlic and chiles. In the 1800s, their descendants, the Chili Queens, began serving their versions, each with secret ingredients, from open-air stalls at the mercado on San Antonio's Military Plaza. On cattle drives, chili was a standard dish for chuck wagon cooks who planted herbs and peppers along the trail routes for future use. Today most cooks use chile powder as a shortcut, but this recipe uses whole dried chiles, which can be found in many neighborhood grocery stores. Each brand of chile powder contains a different mix of chiles and seasonings. By using whole dried peppers, you can determine which combination suits your taste and eventually devise your own blend.
3 dried chiles anchos
3 dried chiles arbols
1 dried chile japones
3 fresh jalapeños, stems and seeds removed
2 heaping teaspoons ground cumin
4 garlic cloves, peeled
1 (28 ounce) can whole tomatoes, undrained
1 white onion, peeled and quartered
1 teaspoon Mexican oregano (or any type of oregano)
2 teaspoons salt
3 to 3½ pounds sirloin tips, chili grind
1 cup water, if needed
¼ cup corn masa flour
Optional Garnish: Shredded cheese and onions
To prepare the dried chiles, cut each open and remove the seeds and any membranes. Place the chiles in a small pan with just enough water to cover them. On medium heat, simmer chiles and water for 15 minutes. Remove the pan from the heat and move the peppers to the bowl of a food processor. Retain the cooking liquid.
Add the fresh jalapeños, cumin, garlic, tomatoes, onion, oregano and salt to the chiles in the food processor. Process until smooth.
In a large stock pot, combine the meat and the tomato and chile mixture. Add just enough of the water to cover the meat and bring to a simmer over medium heat.
Cover the pot and cook for 1½ hours. If necessary, add additional water, just enough to keep the meat covered.
After 1 ½ hours, mix the masa flour with enough water to make a smooth paste. Slowly add mixture to the chili while stirring. Return the pot to the stove on a very low heat for an additional 30 minutes, stirring occasionally.
Taste the chili and season as necessary with salt and the retained chile cooking liquid. Serve with shredded cheddar cheese and onions.
Tip #1 The chiles may be prepared a day ahead. Consider wearing rubber gloves to handle the chiles, and do not rub your eyes until you have washed your hands thoroughly.
Tip #2 For cooks who are unable to monitor the progress of the chili closely, this recipe can be cooked on a slow braise in the oven. Preheat oven at 225 °F and cook for 2 hours before adding the masa paste. After adding the masa, return to the oven for an additional 30 minutes.
Tip #3 A "chile" is a pepper. "Chili" is a beef stew creation. And, true Texas chili does not have beans in it.
KELLY YANDELL is a writer and photographer based in Dallas. She has contributed to Edible Dallas & Fort Worth since 2011. Her website (themeaningofpie.com) celebrates practical dishes and comfort foods, while her photography portfolio can be found at kellyyandell.com. Kelly is an attorney and is the vice president of the Advisory Board of Foodways Texas, an organization founded by scholars, chefs, journalists, restaurateurs, farmers, ranchers, and other citizens of the state of Texas who have made it their mission to preserve, promote and celebrate the diverse food cultures of Texas.