Recipe and Photography by Kelly Yandell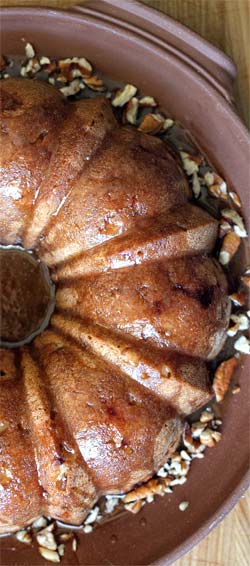 Food writer Kelly Yandell calls the aroma of baking apples "the fragrance of joy and contentment." After receiving a box of heirloom Gravenstein apples from her Seattle friend Jon Rowley, she dusted off one of her mother Carol's well-worn recipe cards and devised this cake. Though we love apple and pumpkin pies this time of year, every Thanksgiving table needs at least one beautiful cake. If you can't find heirloom apples, choose the best, most flavorful available.
For Cake
3 cups all-purpose flour
1 tablespoon baking powder
½ teaspoon cinnamon
¼ teaspoon nutmeg
1 teaspoon table salt
3 eggs
1 cup canola oil
1-½ cups granulated sugar
½ cup maple sugar (or substitute granulated sugar)
2 teaspoons vanilla
3 cups chopped, peeled apples
1 cup chopped pecans
For Glaze
1 cup brown sugar
½ cup butter (1 stick)
½ cup heavy cream
½ cup chopped pecans (to decorate base of plate)
Preheat the oven to 350°F. Prepare 9-10" (12-cup) Bundt pan with nonstick baking spray or butter.
In a medium bowl, combine the flour, baking powder, cinnamon, nutmeg and salt.
In a larger bowl, use your electric mixer to combine eggs, oil, sugars and vanilla. Beat until creamy, about two to three minutes. With mixer on low, add flour mixture and beat until just combined. Use a heavy spatula to fold in the pecans and the apples. The batter will now be exceedingly thick. Spoon the batter into the pan and spread it evenly with the spatula or a spoon. Bake the cake for 50 minutes. Test with a toothpick. If a toothpick inserted into the middle of the cake comes out clean, or with crumbs, then the cake is ready. If not, continue to bake for another 10 to 15 minutes, testing again every 5 minutes. Remove the cake from the oven and let it rest in the pan for 5 minutes. Carefully turn the cake out onto a wire rack to cool while you prepare the glaze.
In a small saucepan combine the butter, brown sugar and cream. When the butter has melted and the ingredients are combined, allow it to come to a low boil. Continue to boil on low (watching it carefully) for three minutes. Remove the sauce from the heat.
Place the cake on a serving plate and spoon the sauce onto the cake. Sprinkle chopped pecans around the base of the cake.
Note:
Kelly orders maple sugar from Amy and Mark Yandow at the Sugartree Maple Farm in Williston, Vermont. www.sugartreemaplefarm.com
KELLY YANDELL is a writer and photographer based in Dallas. She has contributed to Edible Dallas & Fort Worth since 2011. Her website (themeaningofpie.com) celebrates practical dishes and comfort foods, while her photography portfolio can be found at kellyyandell.com. Kelly is an attorney and is the vice president of the Advisory Board of Foodways Texas, an organization founded by scholars, chefs, journalists, restaurateurs, farmers, ranchers, and other citizens of the state of Texas who have made it their mission to preserve, promote and celebrate the diverse food cultures of Texas.