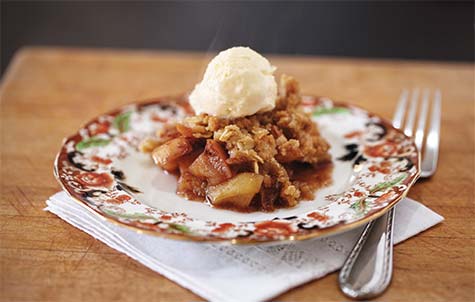 Photos and recipe by Kelly Yandell, themeaningofpie.com
Satisfy your yearning for an apple pie in half the time with an apple crisp. Use several varieties of organic apples for the filling. Leave the peels on and cut the apples into large pieces to get a chunky, rather than mushy texture.
6 Servings
FOR THE TOPPING
½ cup all-purpose flour
⅓ cup granulated sugar
⅓ cup brown sugar
1 teaspoon cinnamon
½ cup butter, cool, cut into small chunks
½ cup old-fashioned oats
FOR THE FILLING
5 to 6 organic apples of several varieties, rinsed
1 tablespoon apple cider vinegar
½ cup granulated sugar
½ tablespoon cinnamon
Pinch allspice
Pinch nutmeg
Pinch ground cloves
2 tablespoons all-purpose flour
Grease a 9" pie dish or a rectangular baking dish, large enough to hold your apples.
Preheat the oven to 350 °F.
To Make The Topping
In a small bowl, combine the flour, sugar, brown sugar and cinnamon. Add butter and work into the sugar mixture with your fingers or a pastry cutter until you have a chunky and sandy texture. Add the oats and work them into the butter mixture. Set aside in the refrigerator. This topping will be gloppy in appearance.
To Make The Filling
Core the apples and cut into chunks. Put chunks in a large bowl, sprinkle with apple cider vinegar and toss.
In a small bowl, combine sugar, cinnamon, allspice, nutmeg, cloves and flour. Sprinkle the mixture over the apples and toss with your hands or a large spoon. Place the apples in baking dish. Distribute the butter and oats mixture evenly over the top of the apples. Bake for 40 to 50 minutes.
Remove from the oven and allow it to cool for at least 30 minutes. Serve with ice cream.
Note: To determine doneness, stick a toothpick into the crisp and pierce a few individual chunks of apple. The toothpick should meet only slight resistance. Some varieties of apples cook faster than others. Test in several spots.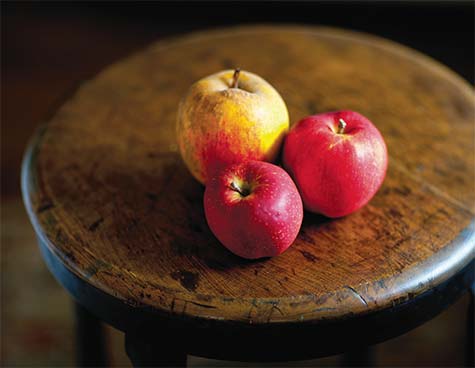 KELLY YANDELL is a writer and photographer based in Dallas. She has contributed to Edible Dallas & Fort Worth since 2011. Her website (themeaningofpie.com) celebrates practical dishes and comfort foods, while her photography portfolio can be found at kellyyandell.com. Kelly is an attorney and is the vice president of the Advisory Board of Foodways Texas, an organization founded by scholars, chefs, journalists, restaurateurs, farmers, ranchers, and other citizens of the state of Texas who have made it their mission to preserve, promote and celebrate the diverse food cultures of Texas.