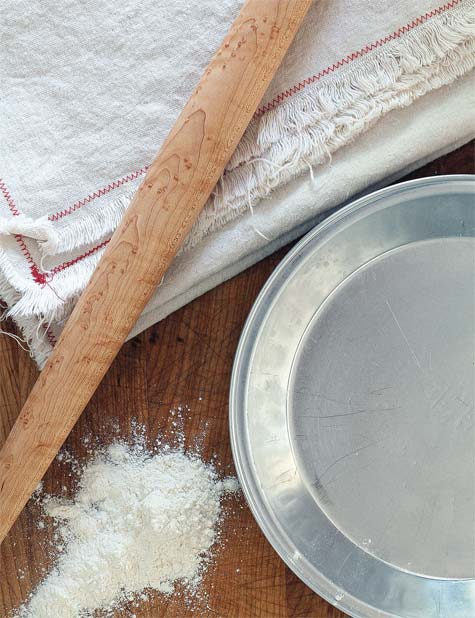 STORY AND PHOTO BY KELLY YANDELL
Pie is a metaphor for life. It is imperfect. Every crust behaves differently, even when you're using the same recipe. The crust outcome is affected by your mood, the weather, the temperature of your kitchen and your pace. The fruit fillings are determined by the seasons. Savory or sweet, pies will reflect the mood of the calendar. A cake is just a cake, no matter the time of year. A peach pie, on the other hand, is a harbinger of summer. And pecan pies start appearing before Thanksgiving just like clockwork. A chicken potpie is hardly fathomable in July, but it's just the thing for a cold December evening. I suspect you can see the steam rising from the crust right now.
I approach each pie with a little trepidation, but once I start assembling my supplies, I am overcome with a feeling of peace, as though I am in the kitchen with my mother and my grandmother and my great grandmother. Pies do that. They evoke a mood of nostalgia and warmth.
I use a crust recipe that I learned from my friend Jon Rowley. It is simple and straightforward. For fats, it uses butter and leaf lard. Leaf lard is a specific fat processed from around the kidney of the pig. It yields lard that is optimal for pastry crusts.
I once thought that you couldn't make crust without a food processor, but Jon taught me how joyful it is to work a crust with your hands. If you start with very cold, in fact frozen, fats and flour, you can work the fats gently into the flour, squeezing upward in the bowl until it comes together and the remaining fat chunks are about the size of large peas. The presence of these fat pockets is what causes the little explosions in the crust that yield a flaky texture. If you work them into perfect uniformity, you will only be rewarded with toughness.
All pies are good. Some are prettier than others. Many homely-looking pies taste far better than gorgeous pies. And a homemade pie, no matter the appearance, is better than any other pie on earth. Pies embody effort and love and care like no other food. The mere act of making it is valuable. The fact that you also get to enjoy eating it with those you love is a bonus.
Pie baking is not so much difficult as it is intimidating for a novice. The only solution is to jump right in and make a million crusts and a million pies. Each one will be a learning experience, and each will be better than the one before it. But your first successful pie will taste sweeter and make you more proud than you can imagine. You don't need many specialized tools to bake pies. Some would say you can even skip the rolling pin and use a wine bottle in a pinch. I like to have a pastry cloth, which I keep in my freezer at all times. I also love my French rolling pin. Beyond these simple items, all you need is happy thoughts.
RECIPES
NANA FRAN'S NEW YEAR'S DAY 
HAM AND COLLARDS POT PIE
MOMMA RAE'S TEXAS GRAPEFRUIT 
BUTTERMILK CHESS PIE
MISS KATE'S CARROT & GINGER DREAM PIE
BROCCOLI & REDNECK CHEDDAR SOUP
KELLY YANDELL is a writer and photographer based in Dallas. She has contributed to Edible Dallas & Fort Worth since 2011. Her website (themeaningofpie.com) celebrates practical dishes and comfort foods, while her photography portfolio can be found at kellyyandell.com. Kelly is an attorney and is the vice president of the Advisory Board of Foodways Texas, an organization founded by scholars, chefs, journalists, restaurateurs, farmers, ranchers, and other citizens of the state of Texas who have made it their mission to preserve, promote and celebrate the diverse food cultures of Texas.