Recipe and Photography by Kelly Yandell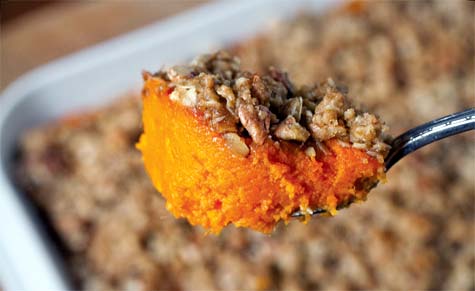 Every family has its own way of making holiday sweet potatoes. is is a classic recipe except for its topping. Here, the usual gooey marshmallow top layer is replaced with a healthier crumble of pecans, whole oats and yes—brown sugar and butter. Food writer Kelly Yandell  avors her potatoes with vanilla. Her Aunt Betty uses cinnamon, ginger and nutmeg and then bakes it in a pie shell. How about a sweet potato pie with a topping of brown-sugared oats and pecans?
For Sweet Potatoes
4 pounds sweet potatoes
½ cup butter, melted
½ cup brown sugar
3 eggs, lightly beaten
2 teaspoons vanilla
‰2/3 cup milk
For Topping
‰
2/3 cup brown sugar
½ cup flour
1 cup oats (not quick-cooking)
1 cup chopped pecans
½ cup butter, melted
Preheat the oven to 350 °F. Grease a 9" X 13" casserole dish with butter.
Prepare Sweet Potatoes
Bring a large stockpot of water to boil on the stovetop. Rinse, peel and chop the sweet potatoes into roughly 1-inch pieces. Place potatoes in the water and bring to a low boil. Allow them to cook for approximately 25 minutes or until they are easily pierced by a fork. Drain the potatoes in a colander and let them sit for several minutes so that the excess moisture drains oŸ or evaporates.
Return the potatoes to the empty stockpot and add the butter and brown sugar. With a masher, mash the potatoes until smooth, incorporating the sugar and butter.
In a small bowl, combine the eggs, vanilla and milk, and then add the mixture to the potatoes. Stir until it is thoroughly combined.
Place the potato mixture into the casserole and smooth the top with a rubber spatula.
Prepare Topping and Bake
In a small bowl, combine brown sugar,  our, oats and pecans. Add the melted butter and toss the mixture with a fork so that all of the dry ingredients are uniformly moistened.
Spread the topping evenly over the top of the casserole. Bake for 30 minutes. Take care that the topping doesn't burn by covering the dish with foil after 25 minutes, if needed.
KELLY YANDELL is a writer and photographer based in Dallas. She has contributed to Edible Dallas & Fort Worth since 2011. Her website (themeaningofpie.com) celebrates practical dishes and comfort foods, while her photography portfolio can be found at kellyyandell.com. Kelly is an attorney and is the vice president of the Advisory Board of Foodways Texas, an organization founded by scholars, chefs, journalists, restaurateurs, farmers, ranchers, and other citizens of the state of Texas who have made it their mission to preserve, promote and celebrate the diverse food cultures of Texas.