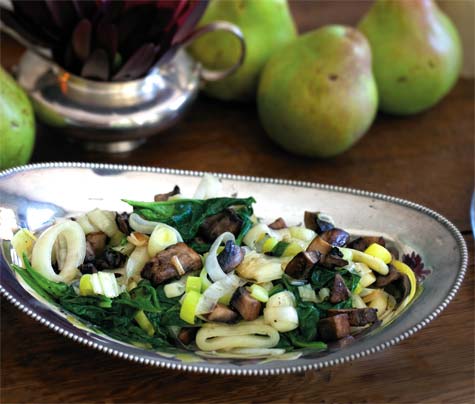 This is a very simple treatment of some of my favorite fall produce. I set out to make a creamy gratin, but after I tasted the simple elegance of these sautéed vegetables, I chose to leave them alone, save a sprinkling of salt. When mushrooms are sautéed, they release juices only after cooking for several minutes. Once they release those juices, you can continue to cook until all of the moisture is evaporated and the mushrooms are nicely browned. Leeks are delicious but they can be a little tough so allow them enough time in the pan to soften, and taste one before proceeding to the spinach.
6 servings
2 tablespoons olive oil, divided use
2 large Portobello mushroom caps, cut into ½" squares
3 leeks, sliced in ½" rounds
3 packed cups fresh spinach leaves, stems removed
¼ teaspoon kosher salt
Heat a large skillet on medium until quite hot. Add half of the olive oil and the mushrooms. Sear for approximately one minute before stirring. Continue to stir until the mushrooms are cooked through, another 4 to 5 minutes. Remove to a plate and clean out the skillet.
Heat skillet again on medium until hot. Add the remaining olive oil and the leeks, stirring occasionally until golden on the edges and thoroughly softened, about 10 to 15 minutes. When the leeks are tender, tear the spinach leaves coarsely and add them to the skillet to wilt. When the spinach is just wilted, return the mushrooms to the pan with the leeks and spinach. Season with kosher salt and cook to warm through. Remove to a serving dish.
KELLY YANDELL is a writer and photographer based in Dallas. She has contributed to Edible Dallas & Fort Worth since 2011. Her website (themeaningofpie.com) celebrates practical dishes and comfort foods, while her photography portfolio can be found at kellyyandell.com. Kelly is an attorney and is the vice president of the Advisory Board of Foodways Texas, an organization founded by scholars, chefs, journalists, restaurateurs, farmers, ranchers, and other citizens of the state of Texas who have made it their mission to preserve, promote and celebrate the diverse food cultures of Texas.