Recipe and photo by Kelly Yandell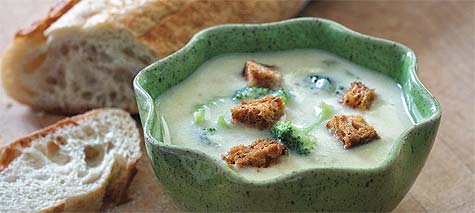 6-8 servings
This creamy broccoli soup is a perfect way to highlight an interesting local cheese. Texas is now teaming with interesting farmstead and artisanal cheeses like this Redneck Cheddar from Veldhuizen Cheese in Dublin, Texas. The curds of this cheese are soaked in a dark Texas beer to create a medium sharp and incredibly flavorful cheese. It is soft enough to melt beautifully in cream soups and provide a little twang to a traditionally mild-mannered soup. Served with spicy homemade croutons, this soup is a perfect companion for a cold, winter afternoon.
8 tablespoons unsalted butter, divided use
½ cup finely diced onions
½ cup finely chopped celery
1 quart chicken broth
½ cup all-purpose flour
1 quart milk
1 tablespoon cornstarch
8 ounces medium-sharp white cheddar, shredded
5 cups broccoli, separated into tiny florets and steamed
Salt and pepper
Melt 2 tablespoons of butter in a medium-sized saucepan. Add the onions and celery and sauté until softened, about 5 minutes. Add the chicken broth to the onions and celery and bring it to a simmer.
Meanwhile, make a roux by melting the remaining 6 tablespoons of butter in a Dutch oven. When the butter is melted, add the flour and stir it with a whisk until it is incorporated with the butter. Continue to stir constantly and cook the flour and butter for 1 minute.
Slowly add the milk to the flour and butter, stirring constantly to break up any clumps that form. Simmer and cook until ingredients become a thick and bubbly cream sauce. When thickened, add the chicken broth mixture slowly to the cream sauce and stir to combine.
In a small bowl, combine the cornstarch with several tablespoons of water to form a thin paste. Stir the cornstarch slurry into the soup. Return the soup to a simmer and cook for an additional few minutes. Add the cheese and stir until it is completely melted. Next add the broccoli and stir. Season to taste with salt and pepper.
Tip 1: Steaming the broccoli for approximately 4 minutes allows you to control the consistency of the vegetable. Steaming also allows the vegetable to retain many of its nutritional benefits.
Tip 2: To make the spicy seasoned croutons, cut a day-old baguette into 2 cups of ½" cubes. Toss the cubes with 1 tablespoon olive oil, ½ teaspoon kosher salt, ¼ teaspoon cayenne pepper and ¼ teaspoon garlic powder. Bake on a cookie sheet lined with parchment for 7 to 10 minutes at 350°F or until nicely browned. Cool and store in a resealable plastic bag.
For more recipes by Dallas food writer and photographer Kelly Yandell, go to her blog The Meaning of Pie: themeaningofpie.com.
KELLY YANDELL is a writer and photographer based in Dallas. She has contributed to Edible Dallas & Fort Worth since 2011. Her website (themeaningofpie.com) celebrates practical dishes and comfort foods, while her photography portfolio can be found at kellyyandell.com. Kelly is an attorney and is the vice president of the Advisory Board of Foodways Texas, an organization founded by scholars, chefs, journalists, restaurateurs, farmers, ranchers, and other citizens of the state of Texas who have made it their mission to preserve, promote and celebrate the diverse food cultures of Texas.