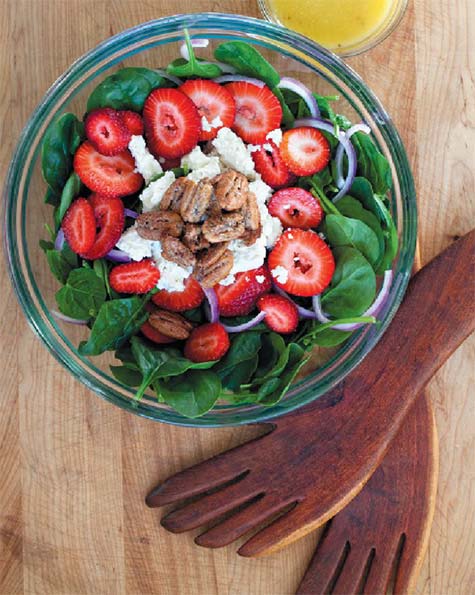 From Kelly Yandell, themeaningofpie.com
4 servings
2 cups pecan halves
1 egg, white only
3 tablespoons brown sugar
1 teaspoon kosher salt
½ teaspoon freshly ground black pepper
½ cup grapeseed oil (or olive oil)
3 tablespoons white wine vinegar
1 tablespoon honey
1 teaspoon whole grain mustard
6 ounces baby spinach
6 to 8 medium strawberries, sliced
4 ounces blue cheese crumbles (or feta)
¼ red onion, sliced thinly, rinsed under cold water and drained
Preheat the oven to 300 °F.
Place the sugar and spices in a gallon-size resealable plastic bag.
In a small bowl, whip egg white till it's frothy. Place pecans into frothed egg and toss with a slotted spoon until pecans are coated. Using slotted spoon, transfer pecans to spice bag, without including excess egg. Seal bag and shake until pecans are evenly coated.
Spread pecans evenly across a cookie sheet lined with a silicone baking sheet or parchment paper. Bake for 25 minutes, turning them over at the 15 minute mark with a spatula. When done, remove from the oven and loosen pecans with a spatula. Let cool.
In a small bowl or lidded jar, combine oil, white wine vinegar, honey and whole grain mustard. Whisk or shake to combine. Place the spinach, sliced strawberries, cheese and red onions in a large serving bowl.
Toss with the salad dressing. Top with the seasoned pecans and serve.
KELLY YANDELL is a writer and photographer based in Dallas. She has contributed to Edible Dallas & Fort Worth since 2011. Her website (themeaningofpie.com) celebrates practical dishes and comfort foods, while her photography portfolio can be found at kellyyandell.com. Kelly is an attorney and is the vice president of the Advisory Board of Foodways Texas, an organization founded by scholars, chefs, journalists, restaurateurs, farmers, ranchers, and other citizens of the state of Texas who have made it their mission to preserve, promote and celebrate the diverse food cultures of Texas.