Recipe and Photography by Kelly Yandell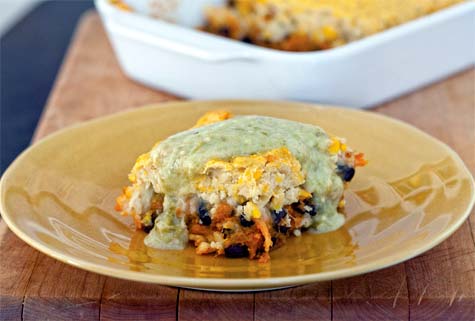 6-8 Servings
If you have the notion that meatless meals will leave you hungering for more, think again. This Southwestern-inspired vegetarian casserole is dense and satisfying. Aromatic cinnamon and cumin flavor the healthy base layer of sweet potato, black bean, chopped chiles and corn. There's a sprinkle of Monterey Jack cheese under the tamale/cornbread topping. Saving the best for last, a savory spoonful of rich tomatillo cream sauce drenches each serving.
3 pounds sweet potatoes, scrubbed
1 pound fresh tomatillos, husks removed
2 tablespoons olive oil, divided use
2 teaspoons cumin, divided use
½ medium onion, chopped
1 can black beans, drained and rinsed
1 can (4 oz.) chopped green chiles
¼ teaspoon cinnamon
¾ cup shredded Monterey Jack cheese
1½ cups masa harina
1½ teaspoons baking powder
1 can sweet corn, reserve liquid
4 tablespoons butter, melted
1 egg
¼ cup heavy whipping cream
Preheat oven to 425°F.
Prick the sweet potatoes several times with a fork along the top and place on a foil-covered baking dish. Bake for one hour (or until easily pierced with a sharp knife).
Rinse then quarter the tomatillos. In a medium bowl, toss with 1 tablespoon of olive oil and 1 teaspoon cumin. Place tomatillos in a separate baking dish and roast in oven for 30 minutes alongside the sweet potatoes. After each is finished baking, remove from the oven and cool.
In a large skillet, sauté the onion in remaining olive oil for 4 minutes. Stir in the drained black beans and green chiles. Add remaining 1 teaspoon cumin and cinnamon. Stir thoroughly but be careful not to mash the beans.
Cut cooked sweet potatoes and spoon out pulp into a medium bowl. Mash pulp with a potato masher to eliminate lumps and then add to skillet with the black bean mixture. Stir gently to combine. Spoon the mixture into a 10" x 6" baking dish.
Sprinkle with the cheese and set aside while masa topping is prepared.
Reduce oven temperature to 400°F.
In a large bowl, combine the masa flour and the baking powder.
In a measuring cup, combine the reserved corn liquid, melted butter and enough water to make 1½ cups of liquid. Pour into a small bowl and whisk in the egg.
Next, add the egg/liquid mixture to the bowl of masa and continue to whisk, working out any lumps.
Pulse the corn in a food processor until it is well chopped but not yet pureed. Stir the chopped corn into the masa mixture.
Spoon the masa mixture over the top of your baking dish, creating an even layer over the bean mixture. Smooth out with a knife or the backside of a spoon. You may have extra, depending on how thickly you apply the topping. Bake for 40 minutes. After removing from the oven, allow it to rest while you make the tomatillo sauce.
Place roasted tomatillos in a blender or food processor and puree. Pour pureed tomatillos into a medium saucepan. Add the heavy cream and stir together over medium heat. Serve a generous spoonful of sauce over each serving.
Note:
As a time saver, roast the potatoes and the tomatillos earlier in the day (or even a day ahead) and keep covered in the refrigerator until you are ready to proceed.
KELLY YANDELL is a writer and photographer based in Dallas. She has contributed to Edible Dallas & Fort Worth since 2011. Her website (themeaningofpie.com) celebrates practical dishes and comfort foods, while her photography portfolio can be found at kellyyandell.com. Kelly is an attorney and is the vice president of the Advisory Board of Foodways Texas, an organization founded by scholars, chefs, journalists, restaurateurs, farmers, ranchers, and other citizens of the state of Texas who have made it their mission to preserve, promote and celebrate the diverse food cultures of Texas.