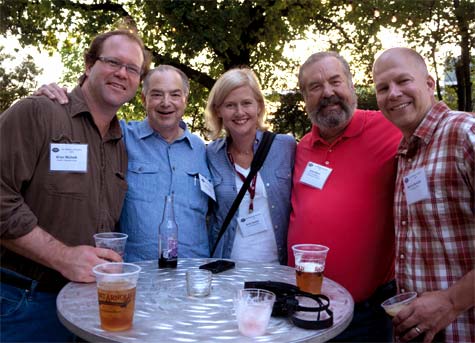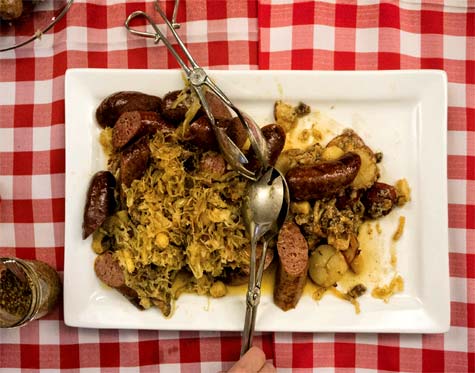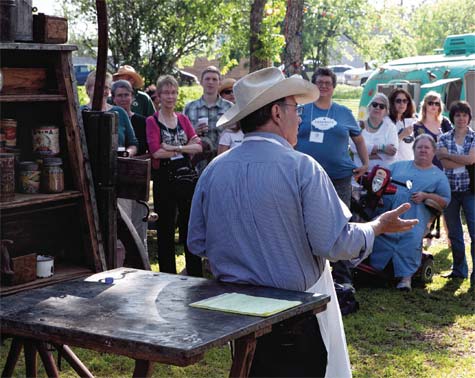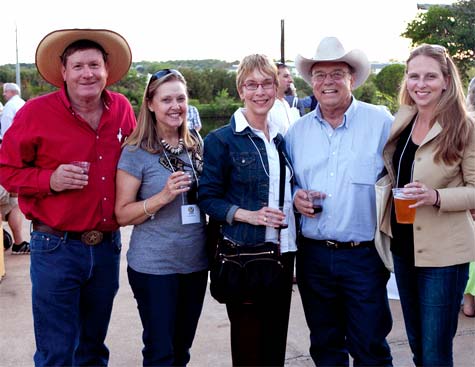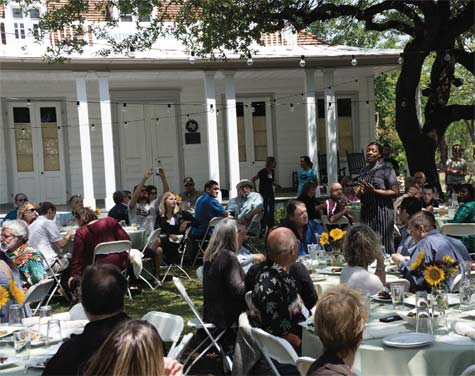 From top: Brian Michalk (Austin Saengerrunde), Jim Gossen (Louisiana Foods), writer Kelly Yandell, Robb Walsh (Houstonia), Marvin Bendele (Foodways Texas); table setting at Boggy Creek Farm; Rancher Tom Perini explains chuckwagon cuisine; chef Tiffany Derry at the French Legation Museum; Neal and Janice Newsom (Newsom Vineyards), Pat Sharpe (Texas Monthly), Tom Perini (Perini Ranch), Courtney Bond (Texas Monthly); sausage and sauerkraut from chef Jesse Griffiths (Dai Due)
Photography by Kelly Yandell
History can be dry on paper. But when history is served up on a plate, it feeds the body, brain and soul. Since joining the group Foodways Texas, I've learned more about my beloved home state by studying its foods than I did in all my years of reading school textbooks. What better and more celebratory way to learn about culture, economics and ecology than through savoring forkfuls of Texas barbecue or Gulf seafood?
Foodways Texas was founded in 2010 by a group of forward (and backward) focused scholars, journalists and food enthusiasts who were inspired by the work of The Southern Foodways Alliance. The goal: to chronicle the food history of Texas and preserve the stories of the cultural mélange that has contributed to our state's unique cuisine. Perhaps no other place in the country boasts such a wildly colorful quilt of food lore. Boots and jalapeños may be our kitschy symbols but they are mere whispers of the fascinating stories they represent.
"We ask what do we eat and why?" says Foodways Texas director Marvin Bendele. "How does it get to our plates? What social and cultural issues arise out of this biological need? What do our foods, the way we eat, and the stories we tell over a plate mean to us? These questions help us understand personal histories when we interview folks for our oral history projects, and help understand and raise awareness about larger issues in the food industry at our annual symposium."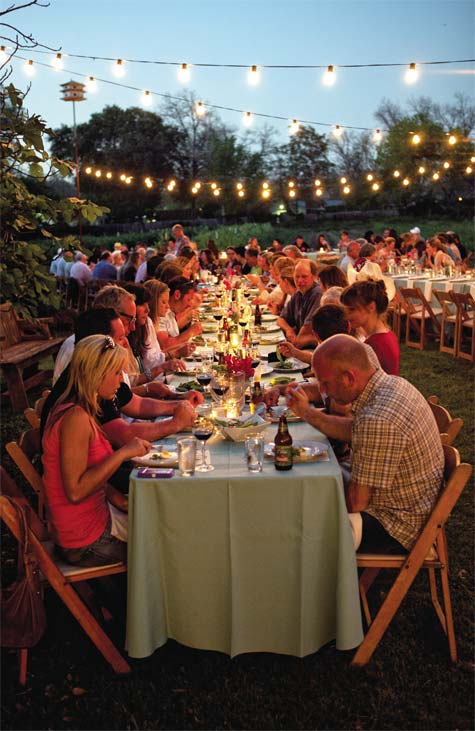 Field-to-table at Boggy Creek Farm
Serving up Texas oysters in Galveston
Each spring the group shares its academic research and presents speakers at a three-day symposium devoted to a general topic. In 2011 in Galveston, we slurped countless oysters pulled fresh from nearby reefs and learned about the forces that shape Texas' coastal food supply. The health of Gulf oysters is a tale about inland water use, state bureaucracy, the environment and innovation. It is a story of the people who work tirelessly to harvest this resource and ensure its future. The subject of bycatch—the "trash fish" discarded in commercial fishing—was explained in detail and illuminated in a delicious meal of black drum fish prepared by Dallas chef Tim Byres of SMOKE. Journalists and other chefs attending the event took note, and it wasn't long before Gulf bycatch began to be featured on menus of some of the most celebrated restaurants in the state.
In Austin in 2012, we talked about preserving. We learned about the history of canning, about the state's wild and cultivated fruits, heritage breed pigs, Texas sugar plantations and the epic drought. The 2013 conference, which was also held in Austin, focused on Texas barbeque: its traditions of community gatherings, the German influence, hunting, the business of producing firewood, a topic rarely considered when one is lost in the rapture of chomping down on slices of brisket. At the grounds of the French Legation, Dallas chef Tiffany Derry prepared a lunch that included wild boar, a prevalent and underutilized meat in our state. An animal, derided as a nuisance and a huge economic problem for so many farmers, ranchers and increasingly homeowners, was showcased as a problem that could be addressed, in part, through utilization as opposed to mere eradication.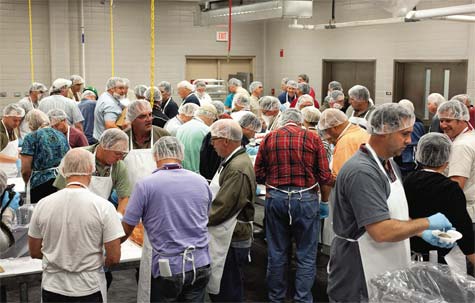 Barbecue camp at College Station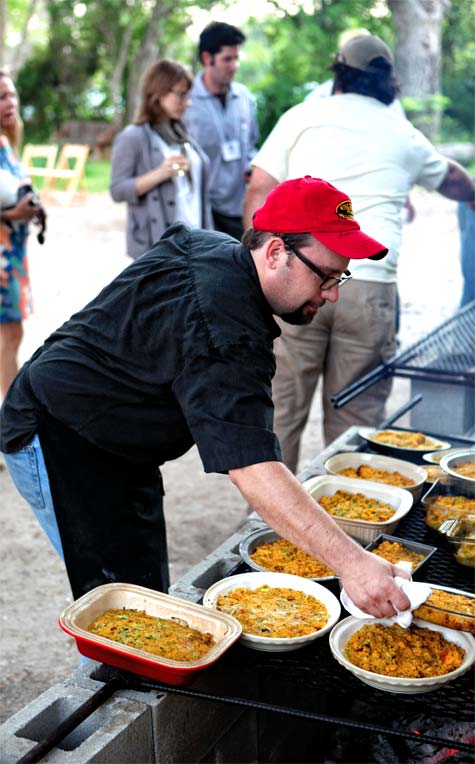 Cornbread dressing at 1840s farm dinner
Other yearly events include Camp Brisket and Barbecue Summer Camp, each focused on both traditions and preparation. "Food is a huge part of what defines our culture as Texans," says member Daniel Vaughn, Barbecue Editor for Texas Monthly, "Barbecue is what I do every day, so I appreciate the support that Foodways Texas provides in that particular genre…When I attend a Foodways Texas event, I'm always drawn to others outside of the barbecue world so I can share in what they bring to this rich Texan culture of food."
Behind the fun is the concrete work of historians, filmmakers, writers and students. Foodways Texas has collected a number of oral histories on iconic restaurants such as our favorite local Joe T. Garcia's in Fort Worth. It is certainly the story of a family and a restaurant, but also a lens through which to view the last century in the development of Fort Worth.
Mary Kimbrough, a dietitian and owner of Food Roots, a North Texas culinary tourism business, is a founding board member. She says she appreciates the academic foundations of the group and what it teaches us about who we are as Texans. She adds that one of the greatest outcomes of all of this study is that we "give credit to the people who so influenced the food culture who aren't oft en talked about." All of the collected works of Foodways Texas are housed in the Briscoe Center for American History at UT-Austin and much of the work can be viewed on the Foodways Texas online archive. Th is year Foodways Texas, in conjunction with The Southern Foodways Alliance, will embark on an oral history project concerning the Shankleville Community, a freedmen's community in East Texas. It is a story of Jim and Winnie Shankle, a couple, born into slavery in the early 1800s, who went on to become local leaders and prominent land owners. Th is concerted eff ort will delve into their story and those of their descendants and what they tell us about agriculture in Texas during the post-Civil War years, both on a commercial and subsistence basis. But the emphasis will be on families, and specifically the lives of the African-American Texans who played such a vital role in Texas history.
The topic of the 2014 Foodways Texas Symposium is "Farm to Market 2014" and will be in College Station, undoubtedly the epicenter of agricultural conversations in Texas. We will continue a conversation about what agriculture in Texas looks like today, and the interplay between Big Ag and smaller, more intimate approaches to agriculture. It will touch on the effect of small farms, farmers markets and organic operations on the direction of corporate agriculture. Current issues will be balanced with the history of agriculture in Texas and the families, farmers and companies who have had an impact throughout Texas history. McKinney chef Robert Lyford is looking forward to this symposium. "My focus with food is always about supporting local farmers and ranchers. Foodways Texas has helped me get to know more about Texas heritage and the ingredients of our state. I have also found an appreciation towards the Texans that have created and shaped our cuisine."
And while the members of Foodways Texas are the beneficiaries of the gatherings, symposia and feasts that go along with them, all Texans benefit from the work that Foodways is doing behind the scenes to document our culture for generations to come, before the voices who made it, baked it, worked, saw and lived it are lost to time.
To become a member or attend an event: www.foodwaystexas.com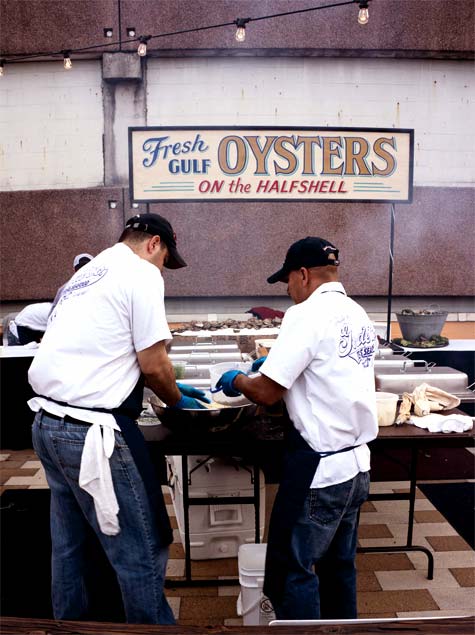 KELLY YANDELL is a writer and photographer based in Dallas. She has contributed to Edible Dallas & Fort Worth since 2011. Her website (themeaningofpie.com) celebrates practical dishes and comfort foods, while her photography portfolio can be found at kellyyandell.com. Kelly is an attorney and is the vice president of the Advisory Board of Foodways Texas, an organization founded by scholars, chefs, journalists, restaurateurs, farmers, ranchers, and other citizens of the state of Texas who have made it their mission to preserve, promote and celebrate the diverse food cultures of Texas.