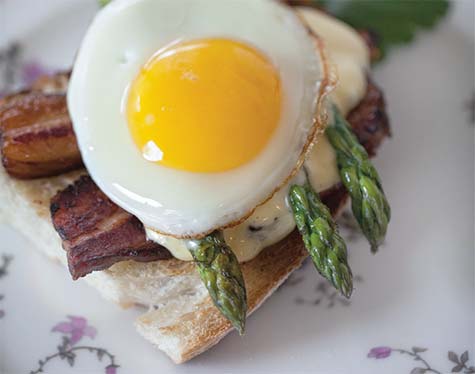 This fancy breakfast stack has a modern twist. Hollandaise sauce is traditionally made by whisking together butter and egg yolks in a bowl set over a pan of simmering water. If you're averse to undercooked eggs, stick with the simmering method. Otherwise, try the recipe below, which utilizes an immersion blender to emulsify the butter and yolks quickly. You may also use a regular blender, but be sure you use one with a narrow bottom, as the blades cannot reach a mere two yolks. If the mixture doesn't emulsify, you'll be left with a very runny sauce.
2 Servings
For Hollandaise Sauce
2 egg yolks
½ tablespoon lemon juice
1 tablespoon heavy cream
¼ teaspoon salt
Pinch of cayenne pepper
½ cup unsalted butter, melted
For Asparagus Stacks
2 thick slices of toast
2 to 4 slices of thick cut bacon, cooked crisp
6 spears of asparagus, ends cut off
2 eggs
TO MAKE SAUCE
Place the egg yolks, lemon juice, cream, salt and cayenne into a small jar, just slightly larger in diameter than your immersion blender. Process the yolk mixture until it's creamy, about 30 seconds. With the thinnest possible stream, add the melted butter while continuing to process the mixture. Once the butter is completely incorporated, continue to process until the mixture is thickened. Adjust seasoning if necessary.
TO MAKE STACKS
Cook the bacon in a skillet. About halfway through the cooking time, add the asparagus spears beside the bacon. Roll the asparagus in the bacon drippings and allow them to cook alongside the bacon, turning occasionally. Remove the asparagus and bacon to a plate lined with a paper towel.
Pour out all but a tablespoon of the bacon drippings. Cook the eggs, either sunny side up or over easy, according to your preference. As the eggs near finishing, prepare the stacks. Place a piece of toast on each of two plates. Place bacon on top of the toast and layer the asparagus on top of the bacon. Spoon hollandaise sauce on top of the asparagus and top with an egg. Serve immediately.
KELLY YANDELL is a writer and photographer based in Dallas. She has contributed to Edible Dallas & Fort Worth since 2011. Her website (themeaningofpie.com) celebrates practical dishes and comfort foods, while her photography portfolio can be found at kellyyandell.com. Kelly is an attorney and is the vice president of the Advisory Board of Foodways Texas, an organization founded by scholars, chefs, journalists, restaurateurs, farmers, ranchers, and other citizens of the state of Texas who have made it their mission to preserve, promote and celebrate the diverse food cultures of Texas.