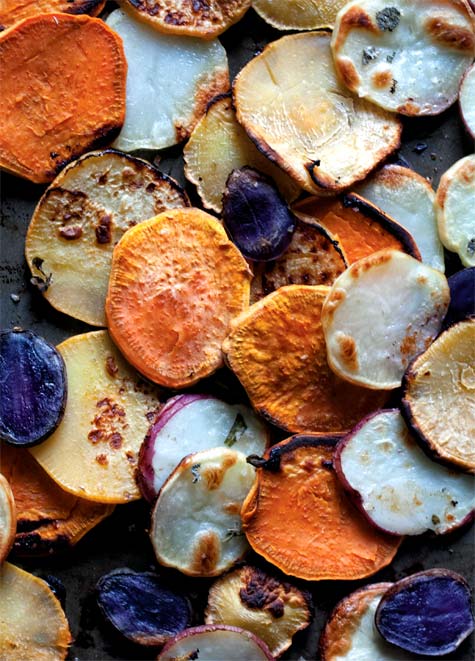 This rainbow assortment of potatoes with rutabaga looks as lovely raw as it does cooked. The dish requires a minimal amount of preparation and packs a lot of flavor. Watch it closely in the last few minutes so it achieves a gorgeous golden crunch on top.
6 servings
HERBED SALT
1 tablespoon Maldon salt (or other large crystal sea salt)
3 teaspoons mixed fresh herbs, chopped (sage, thyme, oregano, rosemary)
VEGETABLES
1 rutabaga, peeled
1 sweet potato, peeled
1 red potato, unpeeled
1 Yukon Gold potato, unpeeled
4 small purple potatoes, unpeeled
1 tablespoon vegetable oil
5 sage leaves, whole
Preheat oven to 450°F.
Place the salt and chopped fresh herbs in a lidded jar and shake for at least 2 minutes to combine.
Slice the vegetables into ¼" slices. Arrange on oiled baking sheet in lines, so they just overlap at the edges. Alternate by color and type.
Lightly brush with vegetable oil. Dot vegetables with whole sage leaves. Sprinkle liberally with the herbed salt. Bake for 25 minutes. Remove the tray from the oven and gently turn the slices over. Return to the oven and cook for an additional 5 to 7 minutes, or until the vegetables are golden on both sides. Be careful not to allow them to burn in the last few minutes. Serve immediately.
KELLY YANDELL is a writer and photographer based in Dallas. She has contributed to Edible Dallas & Fort Worth since 2011. Her website (themeaningofpie.com) celebrates practical dishes and comfort foods, while her photography portfolio can be found at kellyyandell.com. Kelly is an attorney and is the vice president of the Advisory Board of Foodways Texas, an organization founded by scholars, chefs, journalists, restaurateurs, farmers, ranchers, and other citizens of the state of Texas who have made it their mission to preserve, promote and celebrate the diverse food cultures of Texas.