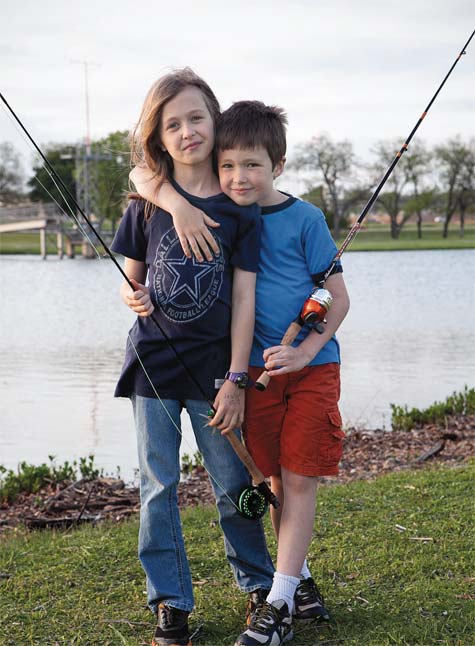 Lily and Ford at Bachman Lake
Photography by Kelly Yandell
Since my earliest days, fishing has been a part of my life. Catching and cooking fish was my family's version of quality time. When my dad had time off from work, we loaded up the truck and headed out to the great lakes, rivers and ponds throughout Texas. My mother's cornmeal-crusted fried bass was simply the best, and I can still taste it, hot out of the oil with cold tartar sauce. Later in life, when she started running, she switched to broiling it with lemon juice and butter. Bass of all sorts, catfish, crappie, perch and bluegill are bountiful in our state's fresh-waters. And now that I am a parent, it's my turn to share the joys of wetting a line with my kids.
Fishing with the family is fun and easy, though I'll admit that the first few times can be an exercise in frustration as you duck flying lures, uncross lines and untangle backlashes. Start out by casting for the little ones and ask them to tend to the floating bobbers. With time, you can teach them to cast, and soon they will work their way up to lures. If your family falls in love with the sport, as mine did, you can even venture into the world of fly-casting. There is nothing quite as rewarding as catching a bass with a fly rod.
While you can always hit the road and head for a country lake or state park, you might not know that there are closer, urban options. From where you sit right now, you and your kids could be fishing within 15 minutes, with the bulk of that time spent making sandwiches and putting ice in a cooler. There are 62 community-fishing lakes in Dallas County, and 33 in Tarrant County. A community fishing lake is defined as a public lake or pond 75 acres or smaller "located totally within incorporated city limits or a public park." A number of these community lakes are stocked with fish annually.
Also, Texas Parks & Wildlife stocks rainbow trout in 132 bodies of water in Texas for a total of over a quarter of a million fish. In and near Dallas, try Kidd Springs Park in Oak Cliff, Lewisville Tailrace on the Elm Fork of the Trinity River, Mesquite City Lake and Mike Lewis Park, and in Fort Worth, try River Park, Greenbrier Park and Trinity Park.
Don't worry about your lack of experience. The Texas Parks & Wildlife Department hosts a number of clinics throughout the year for both kids and adults. The DFW area has 5 lakes that are part of the department's "Neighborhood Fishin'." Tom Hungerford, an inland fisheries biologist for the Texas Parks & Wildlife Department says: "The goal of the program is to get families out fishing."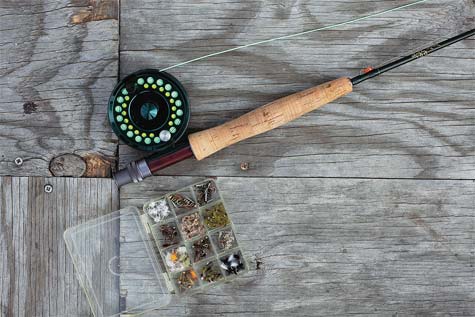 The locations were selected for access to restrooms, picnic areas and playgrounds.
Unlike hunting, where safety issues are paramount, the greatest risk in fishing from a bank is snagging someone behind you with a hook. As long as you are careful and don't fall in, the only risks are losing hooks and lines to trees above you and to trees under the water. And you will. You will lose hooks and lures and bobbers. But what you gain is so much more important.
I often tell my kids, when they get frustrated about not catching fish, that there is a huge difference between catching and fishing. Catching fish is a bonus to fishing. Going fishing is about taking time to be outside, turning off the games, turning off the phones and tuning in to nature. It is about the sounds that water makes when it brushes up against the bank. It is the sound of a fish jumping. It is singing birds and playful ducks, and trying to figure out if the little thing you see in the water is a turtle, a snake or merely a branch protruding through the surface of the water.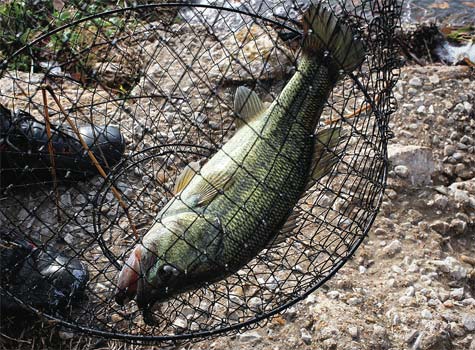 Fishing brings you face to face with the reality of whether we are doing a good job of taking care of our fish habitats. Hunters and fishermen are some of the greatest contributors to conservation efforts in Texas, because they get out into nature and learn about the areas where animals and fish live. If they are lucky, they take home something to eat, and nobody wants to eat fish from polluted waters. When I go fishing with my kids, we talk about the impact of littering and overuse of fertilizers and chemicals, and what a watershed is because they get to sit right there and look at it. Urban fishing is particularly telling in this regard.
While neither the Texas Parks & Wildlife Department nor The Texas Department of State Health Services has issued advisories regarding the safety of eating fish from area lakes, if the water quality is a concern to you, there are things that you can do to minimize risks. The Department of State Health Services suggests catching fish from various locations, avoiding eating the skin or fatty tissue, and eating smaller, younger fish. Hungerford further noted that crappie, for instance, are short-lived fish and you can "eat them all day long."
Some of Hungerford's favorite spots in the DFW region include such "hidden jewels" as Bachman Lake near Love Field Airport. He said that a recent survey found a bass over ten pounds and several over eight pounds. And, he said the lake was "loaded with crappie." He also recommends White Rock Lake, Marine Creek and the Park Access at Lake Ray Hubbard and Lake Lewisville. According to Hungerford, Lake Arlington is "arguably the best channel cat fishery in the state."
When asked what sort of bait novices should start with, Hungerford said, "Every fish in the pond will eat a worm. You can't beat a worm." Though, he added that plenty of folks have luck with such varied baits as cut up hot dogs, shrimp and chicken livers. There are no nicer people in the world than those who run fishing supply shops. Drop into one and own up to your exact level of experience. Some nice person will have you outfitted with a kit to fit your needs, rods for your kids, and the proper bait or lures for exactly where you want to fish, and what you want to catch. Most of these retailers also sell any required fishing licenses.
Anglers 17 years of age and under do not need a fishing license to fish on public waters. Furthermore, no one needs a license to fish in a state park. If you want to test the waters before spending money on a license, head to a state park. But, know that 100% of license fees payable in Texas go directly towards conservation in the form of wildlife management, fish stocking, habitat restoration and park management. If you want a real education on Texas fish and fisheries, visit the Texas Freshwater Fisheries Center in Athens. They provide educational programs and have indoor and outdoor aquariums filled with native fish, amphibians, reptiles and waterfowl. You can also visit the fish hatchery, which produces three to four million large-mouth bass fingerlings yearly.
Fishing is not only a way to put aside the hustle of the city but also a way to catch a healthy, locally sourced dinner. Maybe more importantly, it is a way to start an important conversation with your family about conservation and stewardship. And, hopefully, they will remember their days on the water, just as I do.
Fishin' World:
fishinworld.com
Tailwaters Fly Fishing:
tailwatersflyfishing.com
Bass Pro Shops Outdoor World:
basspro.com
Texas Freshwater Fisheries Center:
tpwd.state.tx.us/spdest/visitorcenters/tffc
For a list of fishing locations in the D/FW area:
tpwd.state.tx.us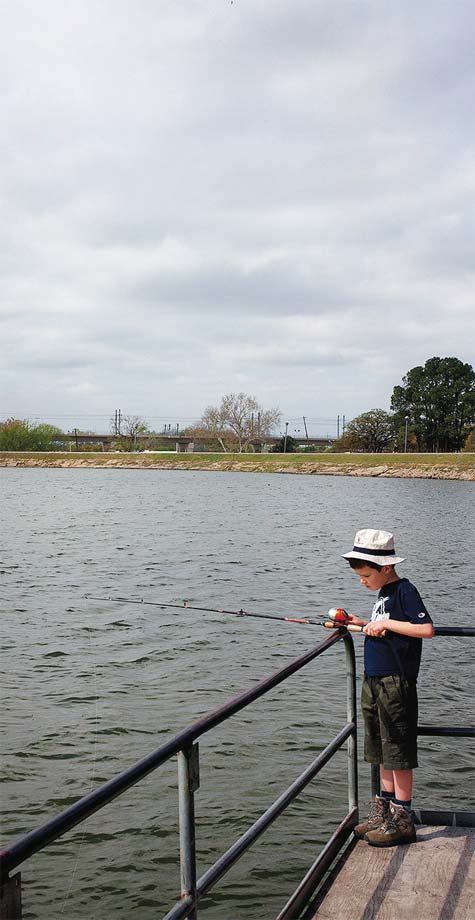 KELLY YANDELL is a writer and photographer based in Dallas. She has contributed to Edible Dallas & Fort Worth since 2011. Her website (themeaningofpie.com) celebrates practical dishes and comfort foods, while her photography portfolio can be found at kellyyandell.com. Kelly is an attorney and is the vice president of the Advisory Board of Foodways Texas, an organization founded by scholars, chefs, journalists, restaurateurs, farmers, ranchers, and other citizens of the state of Texas who have made it their mission to preserve, promote and celebrate the diverse food cultures of Texas.