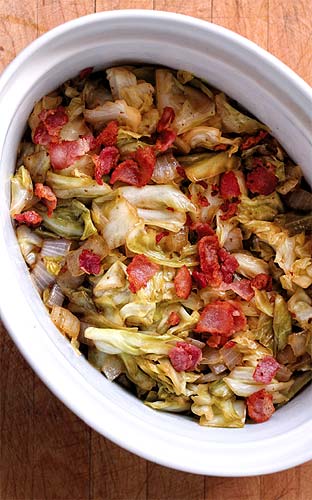 From Kelly Yandell, TheMeaningOfPie.com
Serves 4-6
Cabbage doesn't have the reputation for being the sexiest or most fascinating vegetable around the garden but it is versatile, inexpensive and good for you. This simple recipe is a sauté of onions and cabbage stewed in a sweet and savory sauce. It takes about 30 minutes, start to finish. If you're looking for a new winter side dish, this one performs admirably with pork and chicken.
1 medium head of green cabbage
5 slices of bacon
2 to 3 teaspoons vegetable oil
1 cup chopped onions
¼ cup rice vinegar (or cider vinegar)
¼ cup brown sugar
3 tablespoons low-sodium soy sauce
Core cabbage and cut into 1-inch pieces. Cut slices of bacon into 1-inch pieces.
Heat the oil in a heavy pot and cook the bacon until it is crisp. Remove the bacon to a paper towel-lined plate. In the remaining drippings, sauté the onions and cabbage. Stir frequently and cook for about 10 minutes until the cabbage is a bit wilted and has cooked down. Combine the vinegar, sugar and soy sauce in small bowl and then add it to the cabbage. Cook the cabbage for an additional 10 minutes, or until it is softened but still a little firm. Stir in the bacon and serve.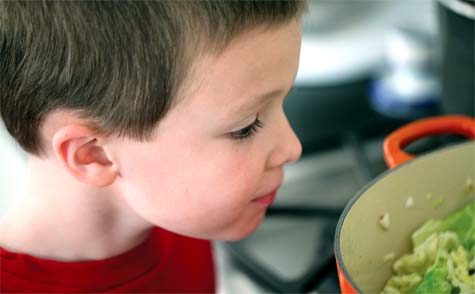 KELLY YANDELL is a writer and photographer based in Dallas. She has contributed to Edible Dallas & Fort Worth since 2011. Her website (themeaningofpie.com) celebrates practical dishes and comfort foods, while her photography portfolio can be found at kellyyandell.com. Kelly is an attorney and is the vice president of the Advisory Board of Foodways Texas, an organization founded by scholars, chefs, journalists, restaurateurs, farmers, ranchers, and other citizens of the state of Texas who have made it their mission to preserve, promote and celebrate the diverse food cultures of Texas.