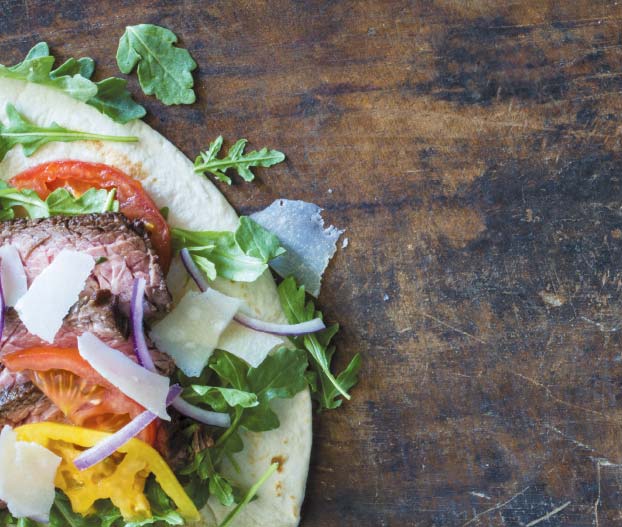 I can't think of a better way to embrace a North Texas summer than with a picnic on cool, green grass and live music in the air. The perfect Texas summer picnic spread must be simple to make, convenient to pack and easy to eat while watching a gorgeous sunset and listening to music at an outdoor venue like the Dallas Arboretum and Botanical Garden, whose spring series continues through June 27. Its fall concert series picks up Sept. 5. Highlighting the bounty of a Texas summer, this picnic menu features a refreshing spritzer that can quickly become a summer cordial, a delicious steak wrap with in-season tomatoes, a bright and herby butter-bean side, a fresh watermelon salad, and finishes off with purely Texas Pecan Blondies with a kiss of sweet toasted nuttiness.
RECIPES
Summer Steak Wraps
Recipe and Photo: Meredith Steele
Thinly sliced steak, peppery arugula, beautiful summer tomatoes and shaved Parmigiano-Reggiano are wrapped in a tortilla for a mouthwatering, handheld meal.
Lemon-and-Herb Butter Beans
Recipe and Photo: Meredith Steele
Bring a staple of the barbecue table to the picnic blanket by tossing these deliciously creamy beans with a lemon vinaigrette and fresh herbs from the garden.
Ginger Lime Spritzer
Recipe: Meredith Steele
This bright, citrusy and spicy spritzer can easily turn into a cordial with a splash of your favorite spirits, such as vodka or tequila.
Cucumber, Watermelon and Feta Salad
Recipe and Photo: Meredith Steele
This refreshing salad highlights the bounty of summer with a sweet-and-savory flair.
Texas Pecan Blondies
Recipe and Photo: Meredith Steele
These blondies use toasted Texas pecans for the ultimate buttery, nutty and sweet bite to end a summer picnic meal. Incredibly easy to make, and eat while sitting on a blanket, these bars are the perfect picnic dessert.
MEREDITH STEELE is a recipe developer, food writer, food photographer and author of InSockMonkeySlippers.com, an award winning family food blog celebrating creative and fresh foods. Her recipe development and photography company, MBS Recipe Development specializes in multimedia recipe development for commercial and small business who's clients include everyone from Ziploc® to small wineries. Meredith's work has been published online, in various print media, and has been nominated for the SAVEUR awards. She can also be found across the pond writing a monthly column for JamieOliver.com. When Meredith is not in the kitchen, she's roaming Dallas, Texas with her husband, curly-headed pixie of a daughter, and big floppy-eared dog.