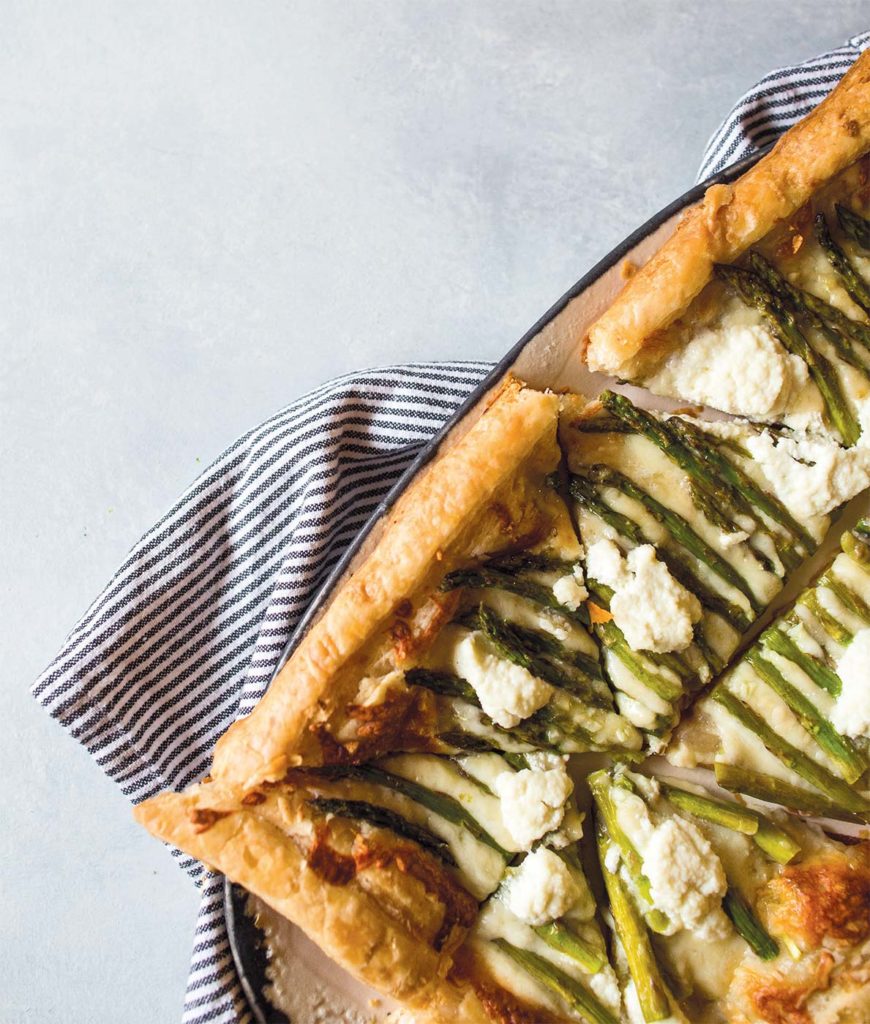 Asparagus, the quintessential spring vegetable, shines in this delectable tart.
Makes 8 servings
1 sheet frozen puff pastry, thawed
4 ounces Fontina cheese, shredded
2 ounces Parmesan cheese, shredded
1 medium garlic clove, minced
1 pound slender asparagus, trimmed
1 tablespoon olive oil
10 teaspoons ricotta, drained
Pinch of salt
Preheat oven to 400°F. Line a baking sheet with parchment paper. Set aside. Roll out pastry on a lightly floured surface to a 13×10-inch rectangle, then transfer to the parchment-lined baking sheet. With a sharp knife, lightly score dough 1 inch in from the edges. Using a fork, pierce inside the border at half-inch intervals. Bake for 10 minutes.
Remove pastry from the oven. Sprinkle Fontina and Parmesan evenly inside the border and top with garlic. Toss asparagus with oil, then place in an even layer on top of cheeses. Place spoonfuls of ricotta randomly over the asparagus. Add salt to taste.
Bake for 20 to 25 minutes or until cheese begins to bubble and asparagus is tender.
Remove from oven and slice into 8 to 10 pieces. Serve immediately.
MEREDITH STEELE is a recipe developer, food writer, food photographer and author of InSockMonkeySlippers.com, an award winning family food blog celebrating creative and fresh foods. Her recipe development and photography company, MBS Recipe Development specializes in multimedia recipe development for commercial and small business who's clients include everyone from Ziploc® to small wineries. Meredith's work has been published online, in various print media, and has been nominated for the SAVEUR awards. She can also be found across the pond writing a monthly column for JamieOliver.com. When Meredith is not in the kitchen, she's roaming Dallas, Texas with her husband, curly-headed pixie of a daughter, and big floppy-eared dog.