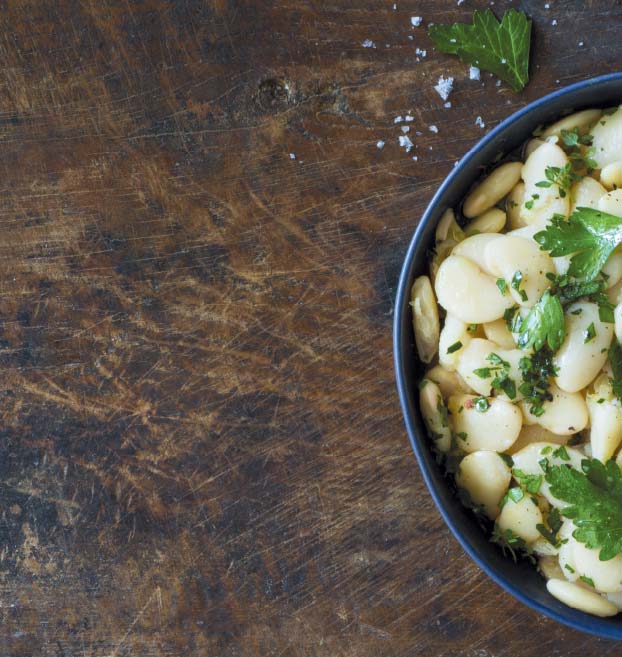 Bring a staple of the barbecue table to the picnic blanket by tossing these deliciously creamy beans with a lemon vinaigrette and fresh herbs from the garden.
Makes 6 servings
1 pound dried lima beans/butter beans (see note)
½ tablespoon kosher salt
1/3 cup neutral oil such as canola
1/3 cup lemon juice
¼ cup chopped parsley
1 tablespoon thyme leaves
¼ teaspoon sea salt
¼ teaspoon ground black pepper
Good quality extra-virgin olive oil
Flaked sea salt
Place beans in a large pot with kosher salt and enough water to cover by 2 inches. Bring to a boil over high heat, then reduce heat and simmer over low. Simmer for 1 to 1½ hours, until beans are tender, then drain. In a large bowl, whisk to combine canola oil, lemon juice, parsley, thyme, sea salt and pepper. Add beans and toss to coat. Can be served immediately or refrigerated overnight. Serve warm or at room temperature.
Just before serving, drizzle a good amount of olive oil (a little less, if you used fresh beans) over the beans and add a pinch of flaked sea salt.
Note: You can substitute fresh baby lima beans, if you like. This cuts the cooking time to about 30 minutes.
MEREDITH STEELE is a recipe developer, food writer, food photographer and author of InSockMonkeySlippers.com, an award winning family food blog celebrating creative and fresh foods. Her recipe development and photography company, MBS Recipe Development specializes in multimedia recipe development for commercial and small business who's clients include everyone from Ziploc® to small wineries. Meredith's work has been published online, in various print media, and has been nominated for the SAVEUR awards. She can also be found across the pond writing a monthly column for JamieOliver.com. When Meredith is not in the kitchen, she's roaming Dallas, Texas with her husband, curly-headed pixie of a daughter, and big floppy-eared dog.