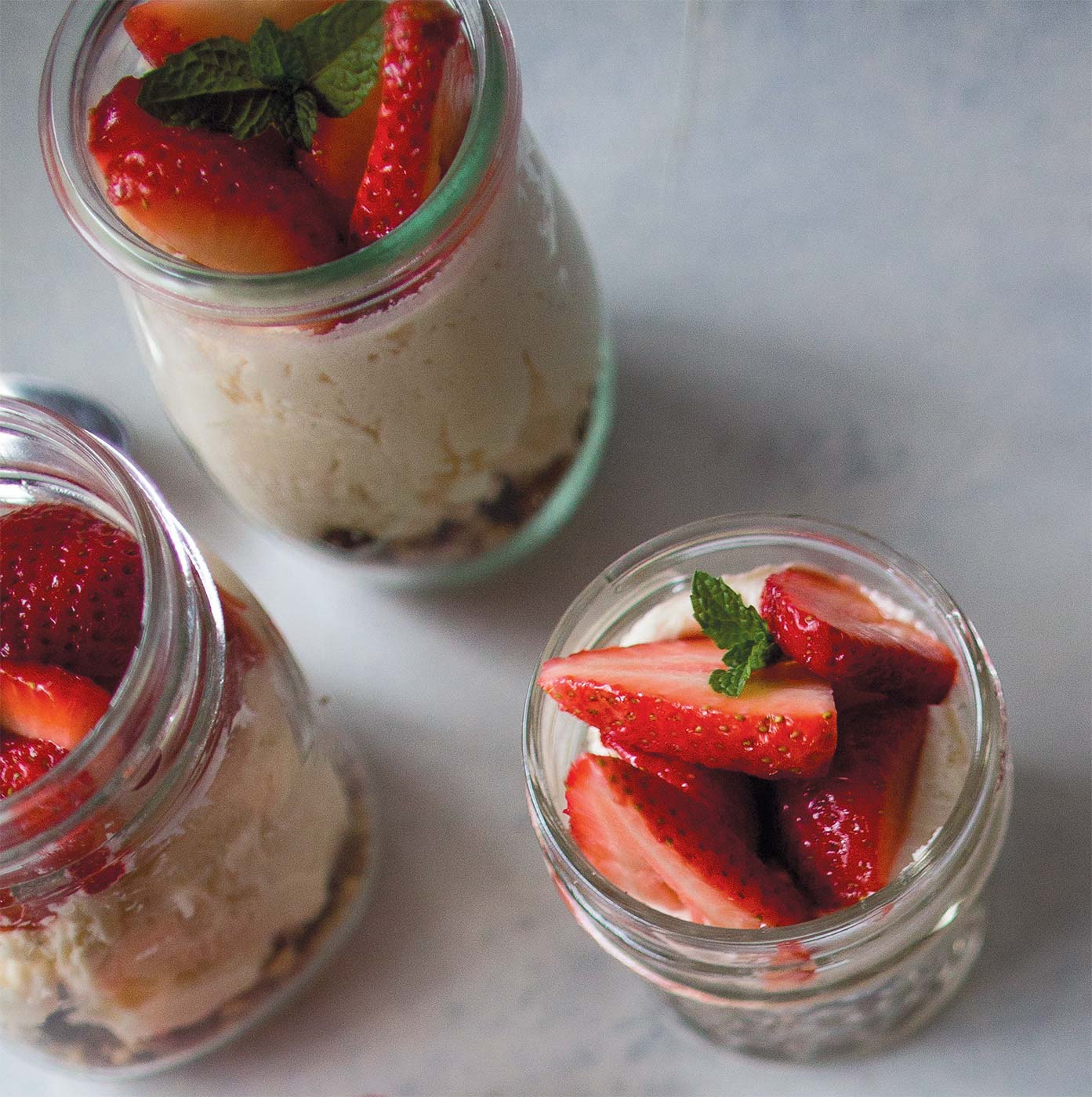 This delicate but elegant spring dessert is easy to make for a crowd. You will need 8 (4-ounce) Mason jars or similar serving vessels.
Makes 8 servings
1 pound strawberries, sliced
1 tablespoon sugar
1 teaspoon lemon juice
8 ounces pecans, chopped
16 ounces mascarpone
½ cup heavy cream
3 tablespoons honey
1 tablespoon vanilla extract or paste
Mint leaves, for garnish
Place strawberries, sugar and lemon juice in a bowl and allow to sit at room temperature for 30 minutes.
In a skillet over medium heat, toast pecans until fragrant; about 2 minutes. Set aside.
In a bowl, add mascarpone, cream, honey and vanilla and beat with an electric mixer until smooth and combined; about 1 minute.
Divide pecans among Mason jars. Next, divide mascarpone cream mixture among jars, leaving an inch of headspace. Top with strawberries, garnish with a mint leaf and serve. Mascarpone cream can be made up to a day in advance and stored in the refrigerator.
MEREDITH STEELE is a recipe developer, food writer, food photographer and author of InSockMonkeySlippers.com, an award winning family food blog celebrating creative and fresh foods. Her recipe development and photography company, MBS Recipe Development specializes in multimedia recipe development for commercial and small business who's clients include everyone from Ziploc® to small wineries. Meredith's work has been published online, in various print media, and has been nominated for the SAVEUR awards. She can also be found across the pond writing a monthly column for JamieOliver.com. When Meredith is not in the kitchen, she's roaming Dallas, Texas with her husband, curly-headed pixie of a daughter, and big floppy-eared dog.