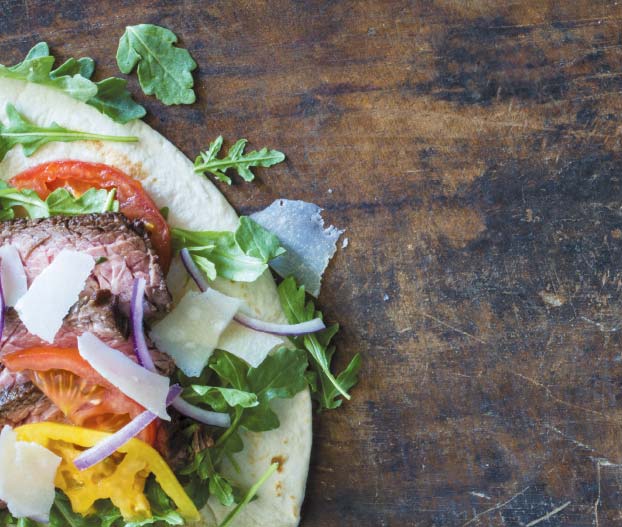 Thinly sliced steak, peppery arugula, beautiful summer tomatoes and shaved Parmigiano-Reggiano are wrapped in a tortilla for a mouthwatering, handheld meal.
Makes 4 servings
1 pound sirloin flap steak, 1-to-1½-inch thick
1 teaspoon kosher salt
2 cups arugula, packed
4 burrito-size flour tortillas
2 ripe tomatoes, sliced
1/3 cup quartered and thinly sliced red onion
Extra-virgin olive oil
1 lemon half
Shaved Parmigiano-Reggiano
Black pepper
Heat a skillet over medium-high heat. Season both sides of the steak with salt. Sear steak 5 to 6 minutes a side until both sides are deeply browned and the internal temperature reaches 125°F. Transfer to a cutting board and allow to rest for 10 minutes. Once rested, thinly slice.
To make a wrap, place ½ cup of arugula onto a tortilla, then top with 3 to 4 slices of steak, 2 tomato slices and a few pieces of red onion. Drizzle with olive oil and a squeeze of lemon, then garnish with a heavy pinch of shaved Parmigiano- Reggiano and season with salt and black pepper.
Tuck in the sides and roll into a wrap. Repeat with the remaining tortillas. Wrap tightly with wax or parchment paper until ready to serve.
MEREDITH STEELE is a recipe developer, food writer, food photographer and author of InSockMonkeySlippers.com, an award winning family food blog celebrating creative and fresh foods. Her recipe development and photography company, MBS Recipe Development specializes in multimedia recipe development for commercial and small business who's clients include everyone from Ziploc® to small wineries. Meredith's work has been published online, in various print media, and has been nominated for the SAVEUR awards. She can also be found across the pond writing a monthly column for JamieOliver.com. When Meredith is not in the kitchen, she's roaming Dallas, Texas with her husband, curly-headed pixie of a daughter, and big floppy-eared dog.