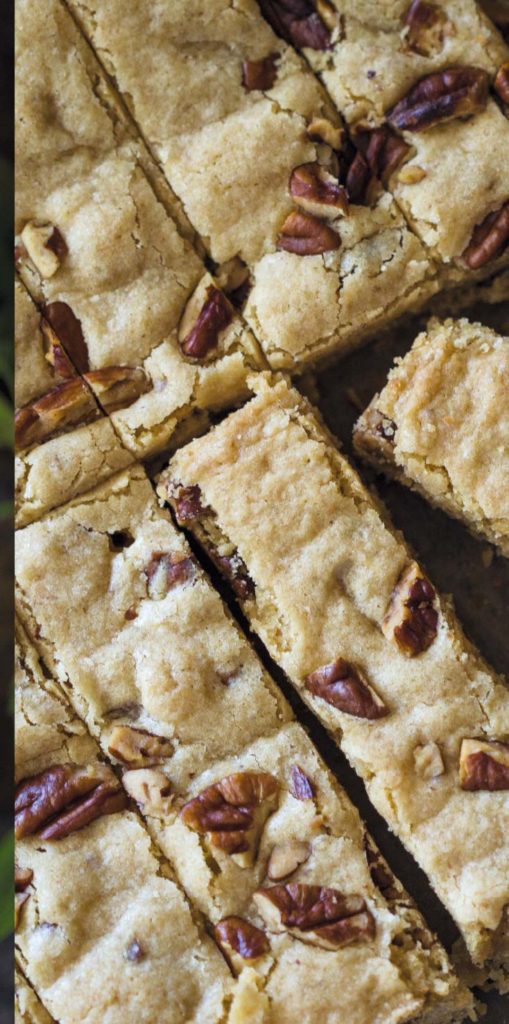 These blondies use toasted Texas pecans for the ultimate buttery, nutty and sweet bite to end a summer picnic meal. Incredibly easy to make, and eat while sitting on a blanket, these bars are the perfect picnic dessert.
MAKES 24 SQUARES
1 cup Texas pecan halves
2¼ cups all-purpose fl our
1 teaspoon baking powder
1 teaspoon sea salt
½ pound (2 sticks) unsalted butter, melted
1¾ cups light brown sugar, packed
2 large eggs
2 teaspoons vanilla extract
Preheat oven to 350°F and line a 9x13x2-inch baking pan with parchment paper, making sure the paper hangs over the sides. Set aside.
Place pecans on a baking sheet in the middle of the oven and bake for 5 minutes. Then toss and bake for an additional 3 to 5 minutes until toasted and fragrant. Once cool, roughly chop the pecans. In a large bowl, combine our, baking powder and salt.
In another bowl, whisk to combine butter and sugar until smooth. Add eggs and vanilla extract and beat until smooth and fluid. Pour the wet mixture into the dry ingredients and stir until just combined.
Fold in toasted pecans.
Pour batter into prepared pan and bake for 25 to 30 minutes, or until golden and a toothpick inserted into the middle comes out clean. Remove from oven and run a knife around the sides of the pan. Then, using the parchment paper, gently lift the blondies from the pan and transfer to a cooling rack. Once cooled, slice into 24 bars.
Blondies can be made a day in advance and stored in an air-tight container at room temperature.
MEREDITH STEELE is a recipe developer, food writer, food photographer and author of InSockMonkeySlippers.com, an award winning family food blog celebrating creative and fresh foods. Her recipe development and photography company, MBS Recipe Development specializes in multimedia recipe development for commercial and small business who's clients include everyone from Ziploc® to small wineries. Meredith's work has been published online, in various print media, and has been nominated for the SAVEUR awards. She can also be found across the pond writing a monthly column for JamieOliver.com. When Meredith is not in the kitchen, she's roaming Dallas, Texas with her husband, curly-headed pixie of a daughter, and big floppy-eared dog.