FOR HEALTH-CONSCIOUS GOURMANDS
Recipe courtesy of:
Lighten Up, Y'all
Classic Southern Recipes made Healthy and Wholesome
By Virginia Willis
virginiawillis.com
with photos by Angie Mosier
Ten Speed Press ($24.99)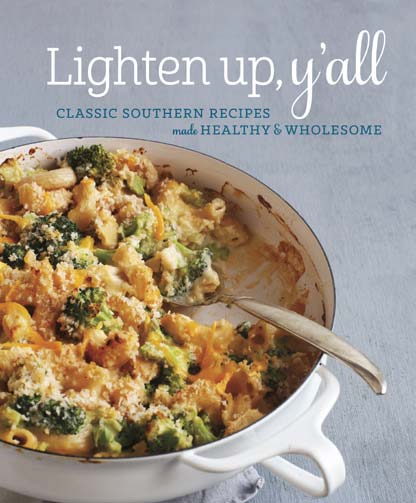 In her new book, acclaimed food writer Virginia Willis gives fat-laden classics a makeover. There's no skimping on flavor in the leaner, healthier versions of broccoli mac and cheese, biscuits with (turkey) sausage gravy and oven-fried chicken on a stick. Recipes list calorie count and grams of fat, fiber, carbs and protein. The book earned Willis a 2016 James Beard Award (Focus on Health). Below, she lightens up the traditional French chèvre chaud (fresh goat cheese melted on a baguette slice, served with greens), substituting an apple for the bread, adding tons of kale and using slightly less cheese.
Bacon-Wilted Greens With
Warm Pecan-Crusted Goat Cheese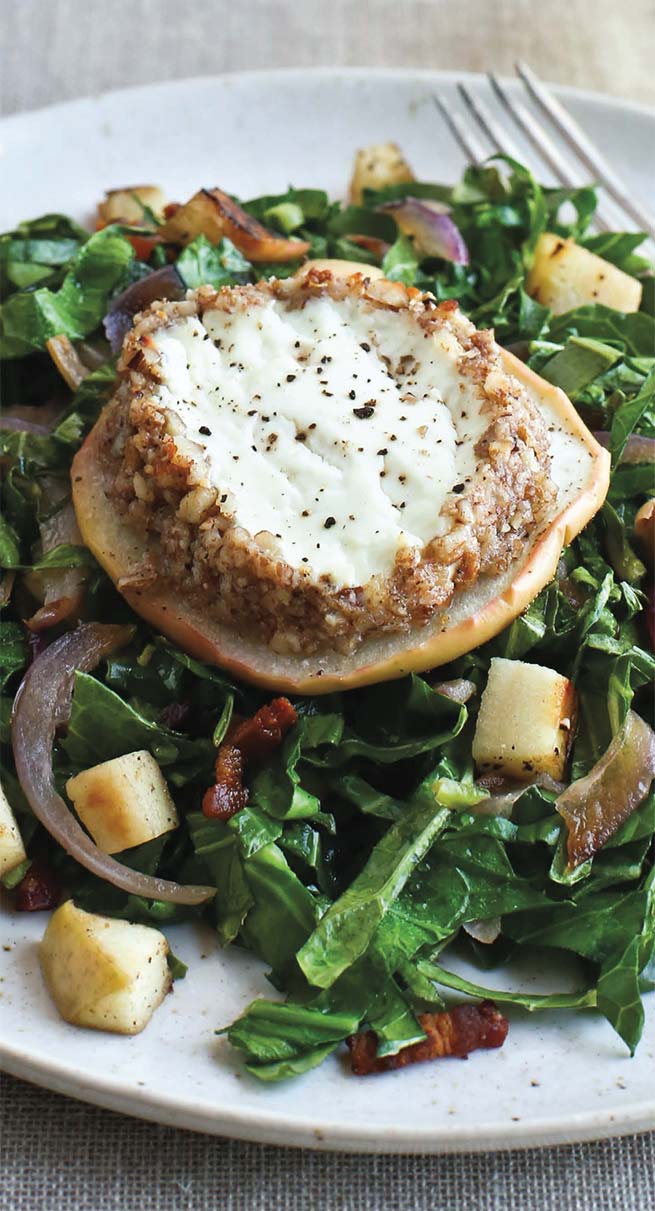 Serves 6 (5 ½ cups)
2 center-cut bacon slices, cut into lardons
½ red onion, thinly sliced
1 apple, such as Gala, Granny Smith or Honeycrisp, skin on, cored and diced
Coarse kosher salt and freshly ground black pepper
8 cups tender kale, stemmed and cut into chiffonade
1 tablespoon sherry vinegar
3 tablespoons very finely chopped pecans
1 (6-ounce) log goat cheese
1 small apple, such as Gala, Granny Smith or Honeycrisp, skin on with core, cut crosswise into ¼-inch-thick slices
Line a plate with paper towels. Line a rimmed baking sheet with a silicone mat and set aside.
Heat a large nonstick skillet over medium-high heat. Add the bacon and cook until crisp, about 5 minutes. Remove with a slotted spoon to the prepared plate. Pour off all but a film of the grease on the bottom of the pan.
To make the salad, return the skillet to low heat. Add the onion and the diced apple. Season with salt and pepper. Add the kale; cook until the kale begins to wilt, stirring occasionally, about 2 minutes. Add the vinegar; cover, and cook until just tender, stirring occasionally, about 4 minutes. Remove from the heat, taste, and adjust for seasoning with salt and pepper.
Meanwhile, preheat the oven to broil. Place the finely chopped pecans in a shallow dish and season with salt and pepper. Roll the goat cheese log in the pecans to evenly coat. Refrigerate until firm if necessary, then cut evenly into 6 rounds and place each round of cheese on the sliced apple. Place on the prepared baking sheet. Transfer to the oven and broil until the cheese is melted and browned, 3 to 5 minutes.
To serve, divide the kale salad among the plates. Top with an apple-cheese round and garnish with the reserved bacon. Serve immediately.
Virginia Willis is the author of BON APPETIT, Y'ALL: RECIPES AND STORIES FROM THREE GENERATIONS OF SOUTHERN COOKING.