FOR RELUCTANT ENTERTAINERS
Recipe courtesy of:
Effortless Entertaining Cookbook
80 Recipes That Will Impress Your Guests Without Stress
By Meredith Steele
Steelehousekitchen.com
Page Street Publishing Company
($22.99)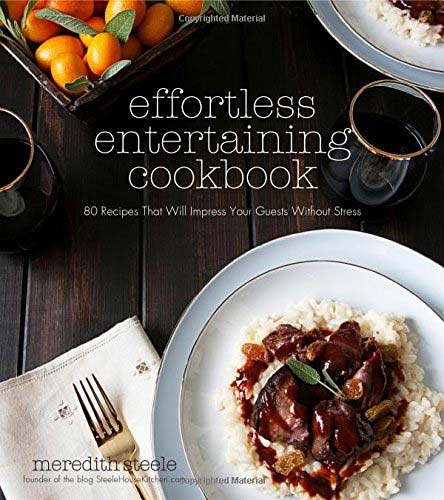 We love local writer Meredith Steele and her beautifully photographed recipes, which regularly grace the pages of Edible DFW. A recipe developer for JamieOliver.com and a finalist for Saveur's best food blogger, Steele has just published her first cookbook. It's a stylish gem focused on entertaining with ease. Steele offers themed menus, divided by the seasons, with preparation timelines, approachable recipes and suggested wine or beer pairings—the essentials for stress-free entertaining. Steele's tip for the recipe below: prepare various elements a day ahead to eliminate kitchen chaos on the day of your party.
Chilled Butternut Squash Salad
with Roasted Shallot Dressing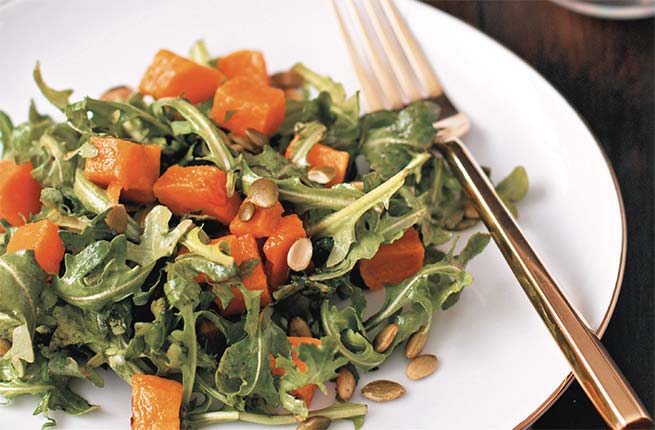 Serves 8
2 pounds butternut squash
1 tablespoon grapeseed or canola oil
1 shallot
2 cloves garlic
¼ cup pumpkin seed oil (or grapeseed or canola)
2 tablespoons balsamic vinegar
½ teaspoon Dijon mustard
6 cups arugula
½ cup roasted and salted pumpkin seeds
Preheat oven to 425ºF.
Microwave whole butternut squash for 1 minute to make peeling and cutting easier. With a vegetable peeler, peel the butternut squash, then slice into 1-inch cubes, discarding the seeds.
Place butternut squash on a rimmed baking sheet with whole shallot and garlic and toss with the oil and a pinch of kosher salt. Roast for 35 minutes or until fork tender. Allow to cool. Store squash in an airtight container and refrigerate until needed.
With your fingers, gently squeeze shallot and garlic out of their skins and place in a food processor or blender. Add pumpkin seed oil, vinegar, and mustard and season with a pinch of salt and pepper. Purée until smooth and store in refrigerator until needed.
Before serving, toss chilled butternut squash, arugula, pumpkin seeds and dressing until combined and serve.
MEREDITH STEELE is a recipe developer, food writer, food photographer and author of InSockMonkeySlippers.com, an award winning family food blog celebrating creative and fresh foods. Her recipe development and photography company, MBS Recipe Development specializes in multimedia recipe development for commercial and small business who's clients include everyone from Ziploc® to small wineries. Meredith's work has been published online, in various print media, and has been nominated for the SAVEUR awards. She can also be found across the pond writing a monthly column for JamieOliver.com. When Meredith is not in the kitchen, she's roaming Dallas, Texas with her husband, curly-headed pixie of a daughter, and big floppy-eared dog.