Photography Elizabeth Dry and Maria Whitworth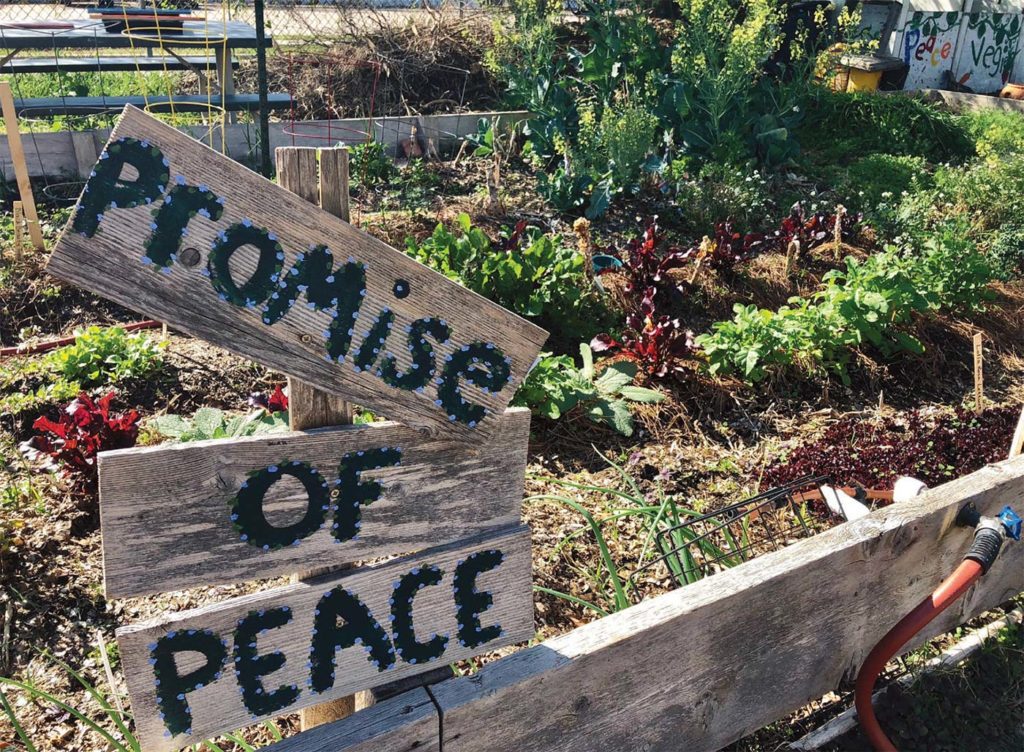 There's something extraordinary about working in a garden that brings out the best in people. Digging in the soil literally "grounds" us with the earth, sprouting a sense of well-being. Plus, the intimate hands-on experience of helping something grow inspires feelings of wonder, gratitude and abundance.
These thoughts struck me when I met the interns at Promise of Peace La Bajada Youth Farm. Earlier they'd harvested veggies and herbs to prepare lunch and were busy chopping and chatting. Needing more parsley, two young interns headed to the lush, beautiful garden, and illustrated how one might confuse cilantro with parsley as they confi dently selected what they needed.
La Bajada is a small community in West Dallas feeling the pressures of new development. Elizabeth Dry brought the mission of transforming a vacant space into a thriving farm to life on a patch of land in Trinity Groves. Dry recruited local youth to serve as farm interns, with some lofty goals…to provide them real-life opportunities to learn the entire process of growing and preparing nutrient-dense food, while equipping them to overcome adversities of their daily life including impoverished home environments, limitations of experience, toxic stress, undernourished diets, and food insecurity.
As a public educator for over four decades, Dry has an acute awareness of disparities in our local schools and communities. Observing firsthand that access to a nutritious diet and a quality education can bridge social and achievement gaps, she founded the grassroots nonprofit Promise of Peace (POP) Gardens in 2009. Along the journey of establishing 12 urban food farms, POP cultivated a curriculum where authenticity, diversity and resourcefulness are key.
As an intern in La Bajada, I have learned a lot, from growing my self-confidence to learning the skills of growing a garden. This internship was the key to my success at entering college, and it taught me how to advocate for food justice and take care of the environment."
– Aide, age 18
Being at the garden has taught me a lot about myself and has helped me grow as a person. I've tried out a lot of new things and have actually enjoyed them. I've discovered new favorites such as dill and sorrel. These are things I wouldn't have thought about trying a year ago."
– Jair, age 14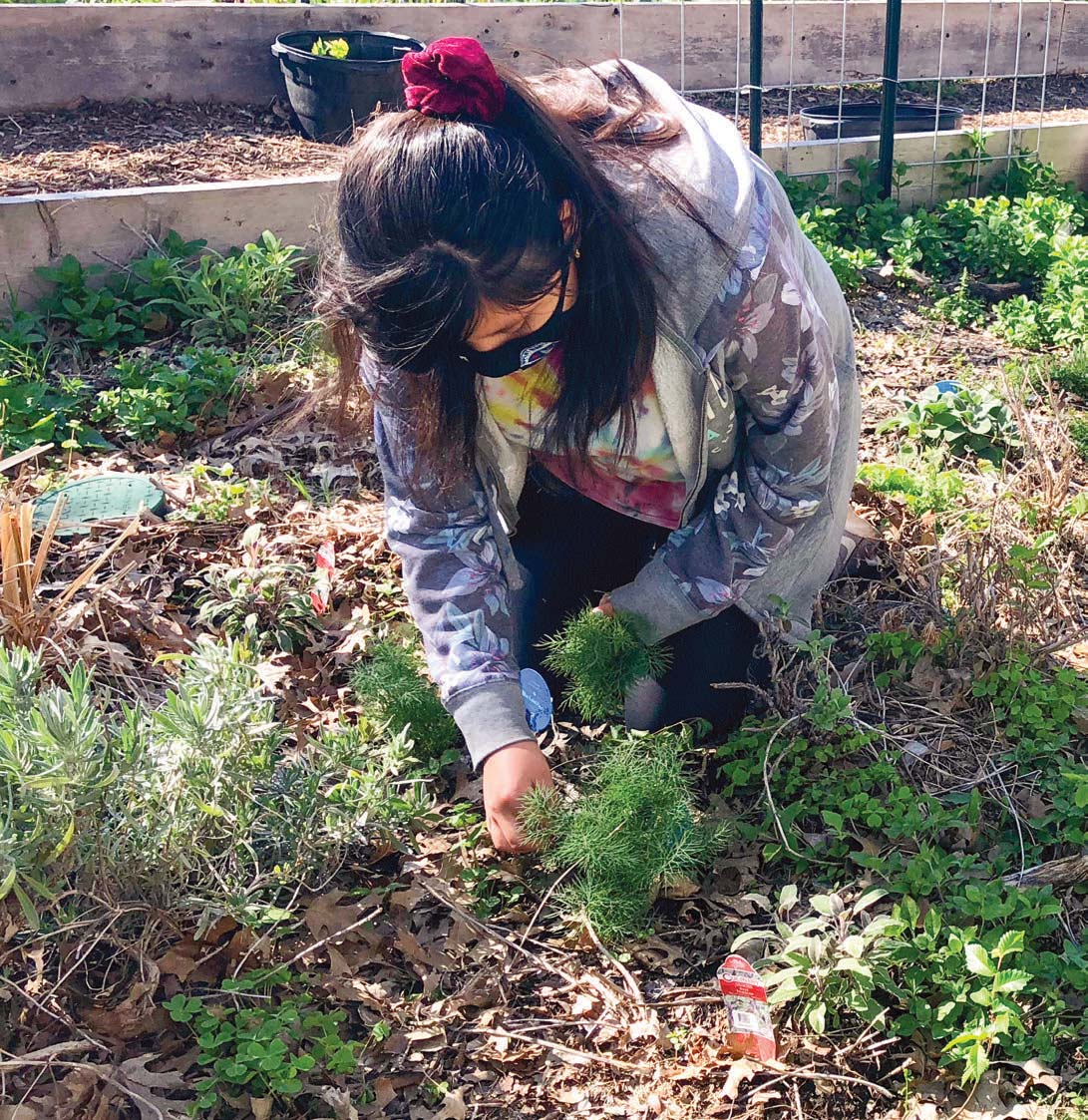 "In all my experience, I have never witnessed the impactful excellence that I am honored to be part of at the POP La Bajada Youth Farm" says Dry. "The youth interns have simply amazed me; many are first-generation high school graduates and 100% of our graduates have moved on to higher education. Each month, interns share farm ingredients and seasonal recipes with POP families and off er the same at POP markets. They've started their own gardens at home and planted 10 garden boxes recently at the West Dallas Multipurpose Center. I sat back and watched them do it all, from design to implementation. My dream is for every school and community to incorporate the principles of POP and offer the same programs that allow all children and their families to thrive."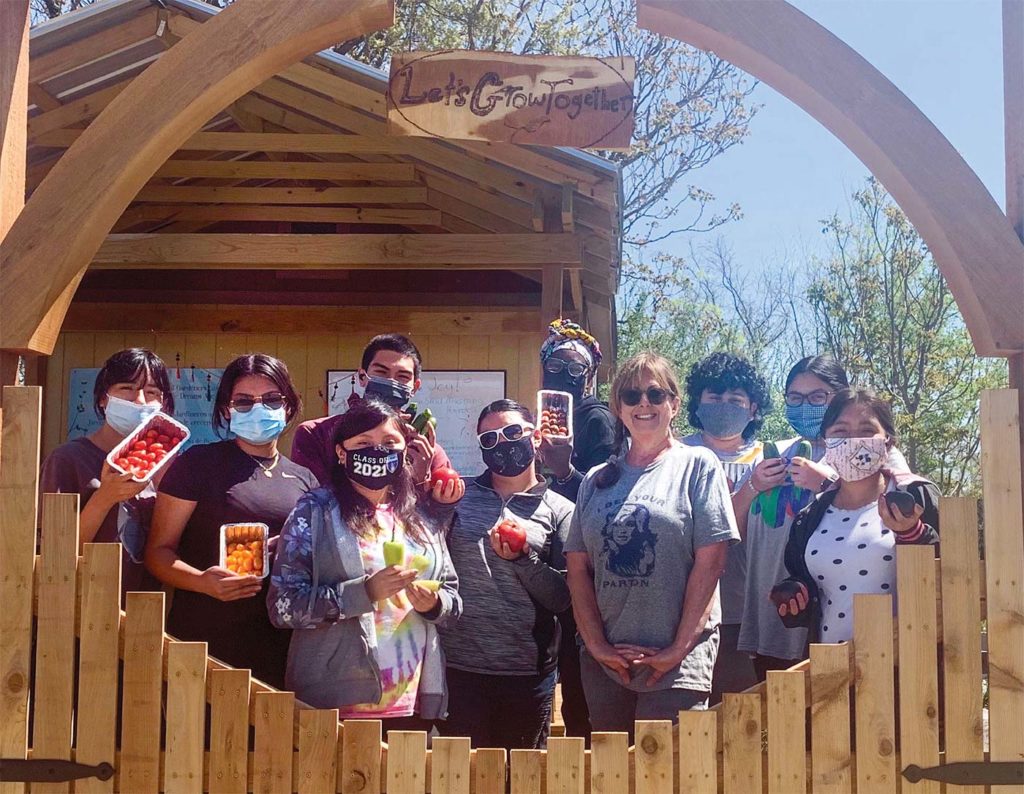 The knowledge and experience I've gained at POP Gardens has had a positive impact in my life. From nurturing plants to improving myself, I feel as though this experience has helped me see my great potential. At the garden, you're able to witness the impact you make first hand. I watch the seeds I plant grow into food that will feed many while bonding with caring and open-minded people. Lastly, my experience here has infl uenced my interest in environmental studies and I am excited for the positive change I'll continue to make for the environment."
– Lizbeth, age 16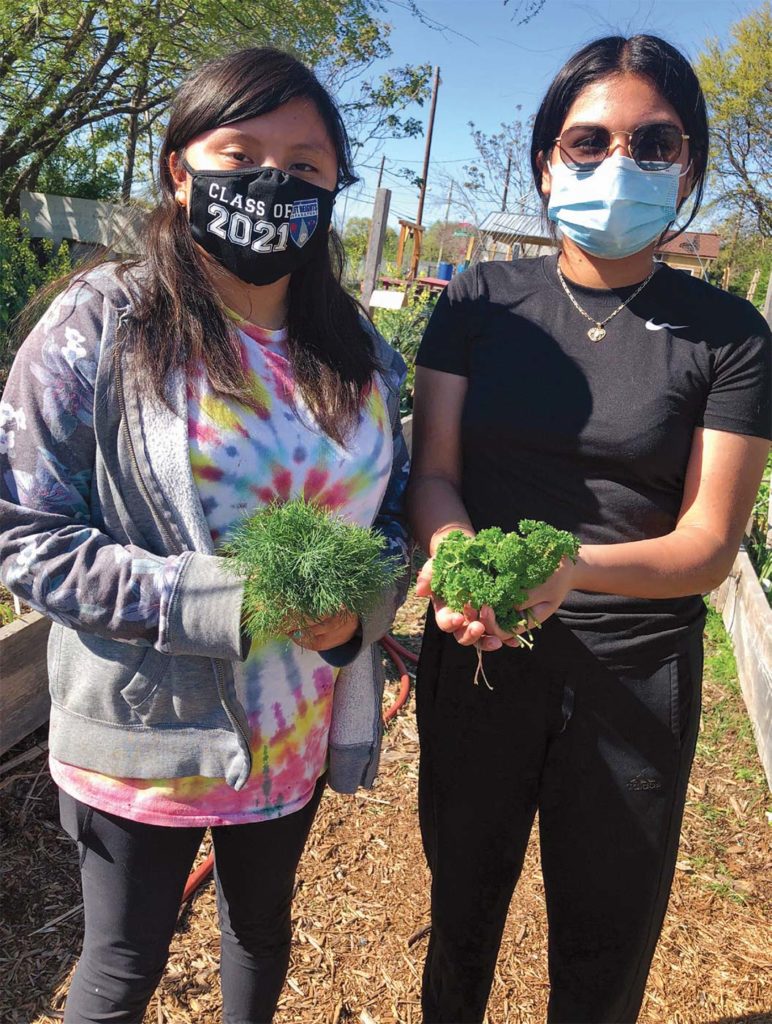 POP continues to grow, embracing their "3-Rs"—respect, resiliency, and self-reliance—while nurturing members of the next generation who advocate for greater equality, sustainable stewardship of the earth, and empowered communities. Here are a few ways you can get involved:
Book a Camp – Register your group of 10 or more kids, 8-12 years old for Seed to Soul Cooking and Earth to Table Education camps in June & July
Sponsor Youth Interns – POP has space for 10 additional interns, with a list of kids eager to get into the program.
Become a Leader – POP is cultivating future leadership; you can help educate and expand the Promise of Peace!
Okrapalooza 2021 – Get a taste (and a ticket) for this annual Chef Competition and tasting event, now celebrating its 12th year. Visit promiseofpeace.us to donate, volunteer and learn more.
As POP La Bajada Youth Farm interns go off to college, they wanted easy, healthy recipes to support the lifestyle they've immersed themselves in while working in the garden. These farm to dorm recipes are nutrient dense and naturally full of flavor and vitality.
Coming to the garden has not just shown me how to appreciate nature and the food we eat, but has also helped me figure out my future. The garden taught me valuable lessons that I would not have learned at school, from preparing the soil for plants to harvesting the vegetables. A community garden is a helpful way to start making a difference in our communities. POP Garden has become a second home that I am grateful to be part of. It truly is an experience that I wouldn't trade for anything in the world."
– Alexa, age 16
A famous quote says, 'If you give a man a fish, you feed him for a day. If you teach a man to fish, you feed him for a lifetime.' This internship has gifted me so many opportunities and taught me skills that I would never have gotten somewhere else and will use for a lifetime. When I work in the garden I feel like I become one with the world. Knowing my eff orts can feed many people and bring smiles makes me happy. I'm happy to know I can change the world by farming in my community."
– Laura, age 16
The garden has helped me be a mentor to other kids. I was once also clueless but through my years here I've learned how to grow my own food and care and tend to the plants. I've also learned that food from the garden tastes different than the regular stuff you can buy at the store, and it feels better knowing that you grew it."
– Joseline, age 17
RECIPES
As POP La Bajada Youth Farm interns go off to college, they wanted easy, healthy recipes to support the lifestyle they've immersed themselves in while working in the garden. These farm to dorm recipes are nutrient dense and naturally full of flavor and vitality.
Sun Tea
with lavender and chocolate mint
Carrot Top Pesto
One reward of earth to table learning is discovering that some things usually tossed aside and wasted can be a delicious source of nutrition and taste. An example is this pesto you can spread on crostinis, use as a dip or drizzle over your favorite noodles.
Summer Squash Salsa
This POP Garden recipe is featured in the upcoming "Seed to Soul Cookbook." For more information and to order, please visit promiseofpeace.us.
Cold Cucumber Soup
with Greek yogurt and dill