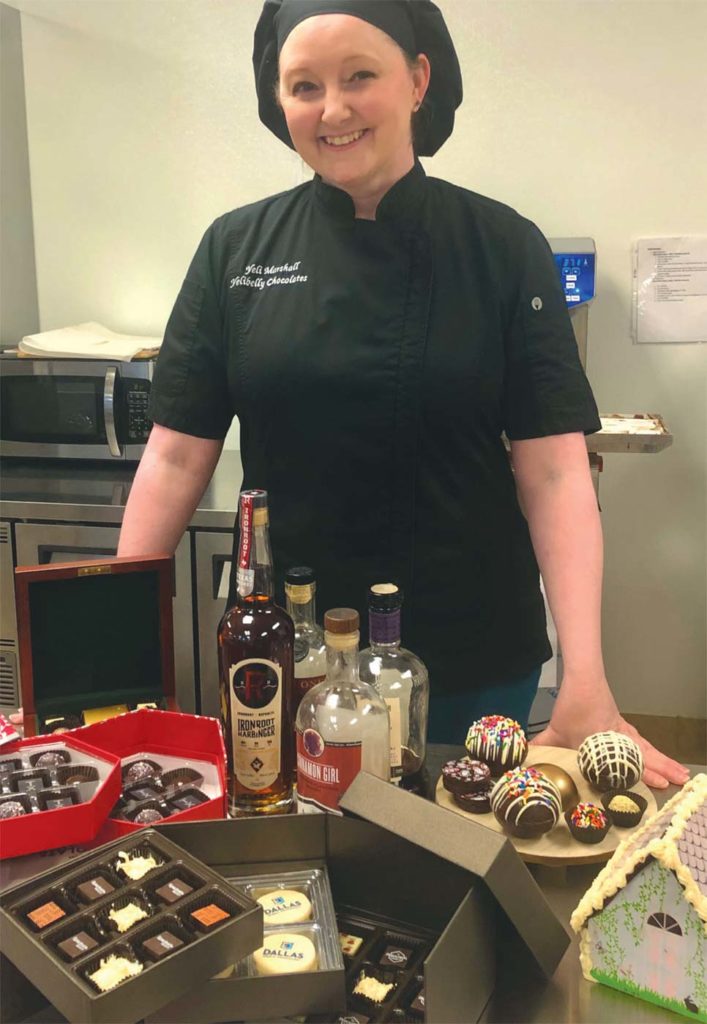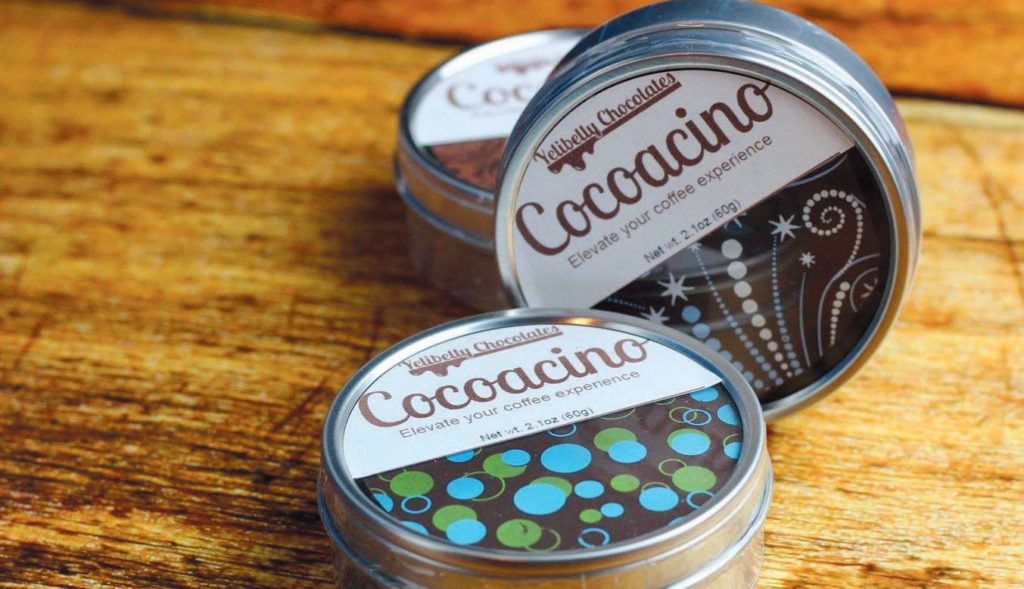 Sarahbeth Yeli Marshall started her food journey as a Registered Dietitian, with a master's degree in Nutrition and Food Science. But enthralled with the science of chocolate making, in 2008 she sealed off a room in her Arlington home to create a chocolate "laboratory."
Next came a tempering machine and chocolate molds to experiment with. She refined her hobby through trial and error, learning to hand roll truffles and crafting structured bonbon shells filled with flavored centers.
Yeli opened her first storefront in Southlake in 2014, then in 2017, Yelibelly Chocolates settled in at its current Addison production facility, where she and her staff hand-craft small batch chocolates using natural ingredients, and make their own custom transfer sheets (edible cocoa butter transfers) with logos and seasonal designs for the tops of bonbons, single-origin chocolate disks that melt into beverages (like her award-winning Cocoacino® Coffee Toppers), and other confections that often incorporate local artisans' ingredients (like Dallas Caramel Co.).
Yeli's science background often comes into play. "We love to infuse our chocolates with herbs, spices, peppers, alcohol . . . just about everything! Our habañero-infused chocolate bonbon won us the most awards for flavor. When you first bite into it, it's sweet, mellow, and dark. About seven seconds into the melt, the heat comes up and warms your mouth with the capsaicin, but it doesn't get overwhelming," Yeli says. A whiskey sommelier and part of a local whiskey community, Yeli also created chocolate Whisky Disks™ that do not contain alcohol, but aim to bring out flavor in the spirit they're paired with.
"Chocolate and whisky go together because their flavors and tasting notes are very similar—flavors such as smoke, spice, fruit and earthy notes," Yeli says. "Pairing chocolate Whisky Disks with your dram will bring out more of the character of your drink as the chocolate melts on your tongue." And "the feedback has been wonderful so far. People are interested in new ways to experience their favorite spirits."
Yeli's team has additionally worked with several local distilleries—Old Hansford, Greyson, Bendt, Tahwahkaro, Lone Elm, Ironroot, TX Whiskey and Balcones—to pair up for classes or infuse chocolates for the distillery to carry. (Other Texas brands including Acre, Milam and Green and Garrison Brothers occasionally make cameos in bonbons as well.) Beer lovers may find classes and beer-infused truffels at Lakewood and Peticolas brewing companies.
But given her niche is creating custom chocolates for corporate gifts and events, packaged in unique tiered boxes, Yeli says her priority is having fun with chocolate while being a resource for anyone in the industry.
"There are billions of chocolate lovers, and thousands of companies who want customization. I get a lot of joy out of sharing useful techniques with other chocolatiers, including how to incorporate our transfer spray for custom designs. My perspective is 'You do some and I'll do some,' and we'll both be successful."
Yeli humbly admits her weakness is knocking on doors, promoting her own business. It surprises her how they continue to grow through word of mouth, but with originality and dedication to fun, it's easy to see what keeps Yelibelly Chocolates top of mind.
Find shopping and private and group chocolate classes, including Infused Truffle and Bonbon Making, DIY Hot Cocoa Bomb kits, Chocolate and Whiskey Pairings, and Holiday Chocolate Houses at yelibelly.com
IG: @yelichocolate / FB: @YelibellyChocolates