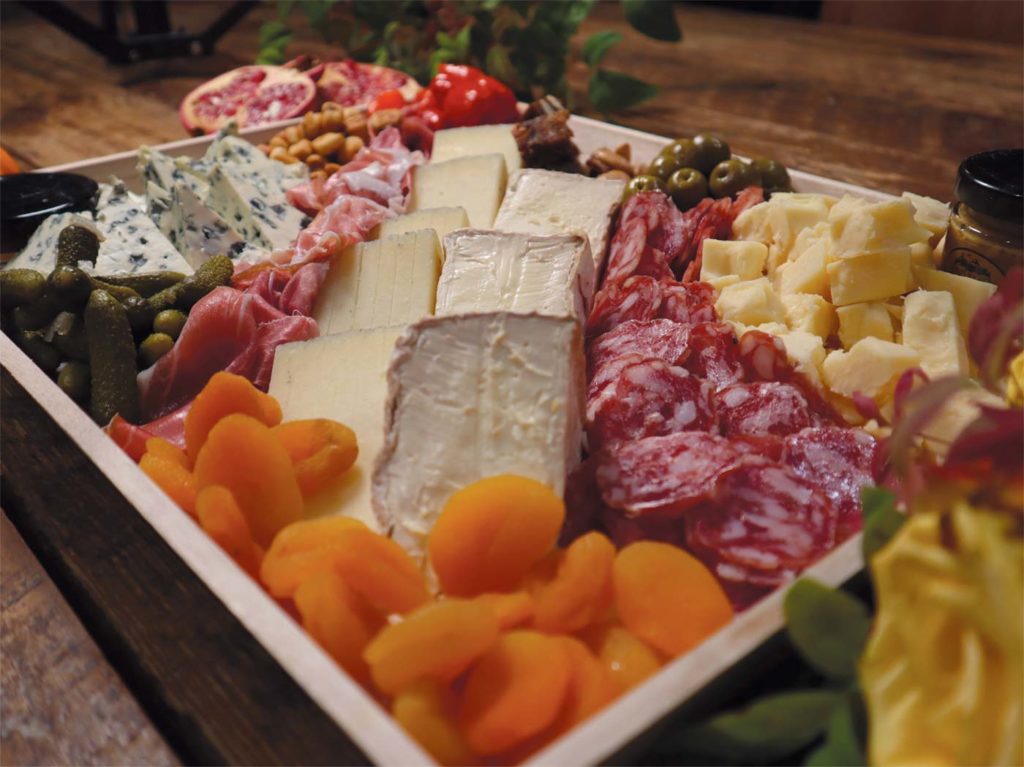 Let them graze! Usher in the season of gathering with boards — both savory and sweet — that all can savor. From vegan Gouda-inspired "cheese" with turmeric to sweet swirls, guests will nd their bliss. Seven local pros share the tips and the goods for your hosting.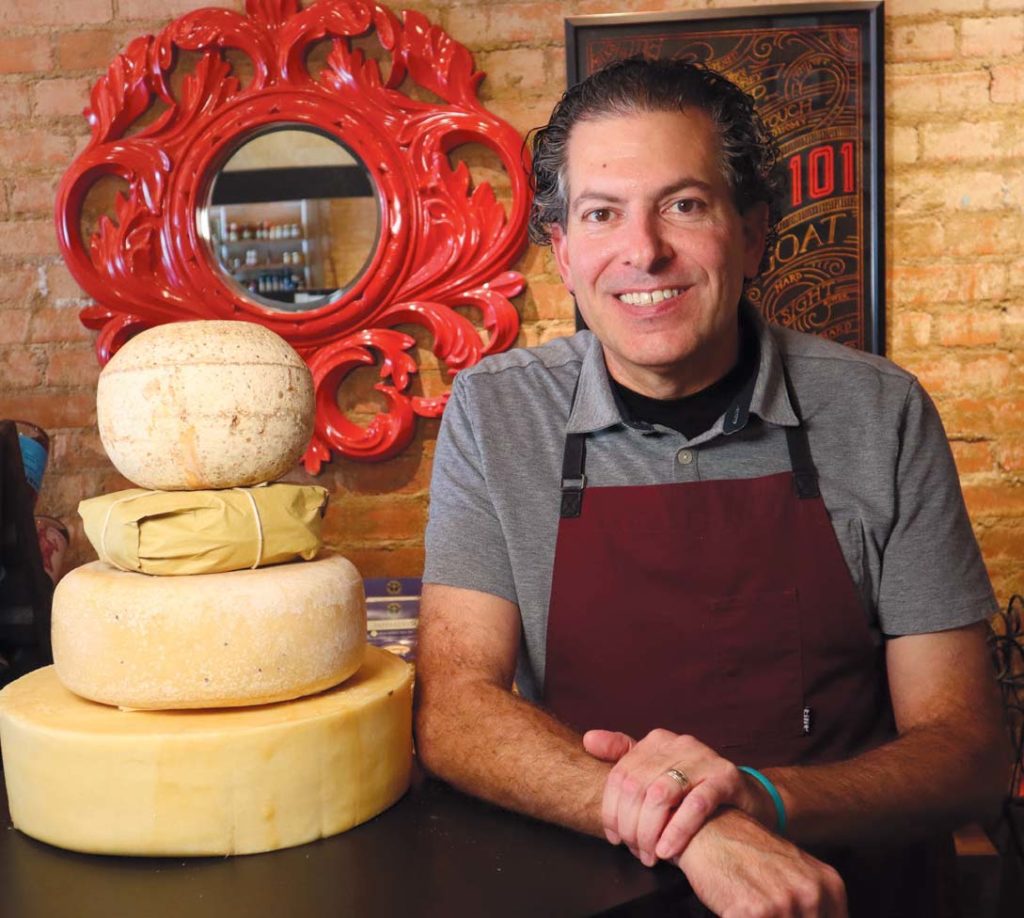 SCARDELLO ARTISAN CHEESE
RICH ROGERS DALLAS
PHOTO OF BOARD RICH ROGERS
PHOTO OF RICH ALEJANDRO ACOSTA
"Is it a charcuterie feast or is it a cheese board? Pronounced 'shahrku- tuh-ree' and originating in France, this word encompasses delicious, cured meats of all kinds. So a grazing board is only 'charcuterie' if it includes cured meats. At Scardello, the center of our universe is cheese. We make beautiful cheese boards that include charcuterie and many other delicious accompaniments.
What I love about cheese is the amazing variety. It makes putting together a great board easy and exciting every time. e choices can be overwhelming, so if you don't want to do the work, order one of our beautiful boards! Or stop by either of our locations and we can help you make selections to build your own."
CHEESE: Choose cheeses with a variety of textures and milk types to please di"erent palates. Opt for a triple crème or Brie; aged goat or sheep cheese; a creamy blue; a cheddar (farmhouse clothbound or a mild, sweet block); and add in something unusual. Make sure there is something for everyone! Arrange cheeses across your board from mildest to wildest — progression makes a di"erence. Cut harder cheeses into bitesize pieces, leave some in beautiful wedges, and slice or crumble cheeses for larger gatherings. Leave a portion of rind on the cheese (if there is one): it helps tell the story of the cheese and what to expect when you take a bite.
MEATS: From prosciutto to pâté, coppa to salami, cured meats are a fantastic way to enhance a feast.
VEGGIES/FRUITS: Fresh fruit pairs well with so"er cheeses; dried fruit with aged ones. Seasonal pomegranates and pears add a festive look. Edible •owers are perfect for springtime. Place accompaniments near the cheeses they pair best with — sliced strawberries next to Brie; Marcona almonds near Manchego. Don't be afraid to let the accompaniments run over the edge of the board onto the table.
CONDIMENTS: Nuts and olives of all types go with harder cheeses. ere is nothing better than briny pickles and/or mustard with a classic cheddar. Jams and honeys can provide the salty-sweet balance to cheeses of all types, but especially those in the blue family.
BREADS: Once again, mix it up! Excellent sliced baguette is a must, but crackers, •atbreads, and •avored crisps add more great combinations. It's not a bad idea to have a gluten-free option as well.
Fun tip: Another option is to choose a region to focus on. If you have Spanish wines, choosing a variety of Spanish cheeses, cured meats, and other accompaniments adds interest and excitement. As we like to say, "What grows together, goes together!"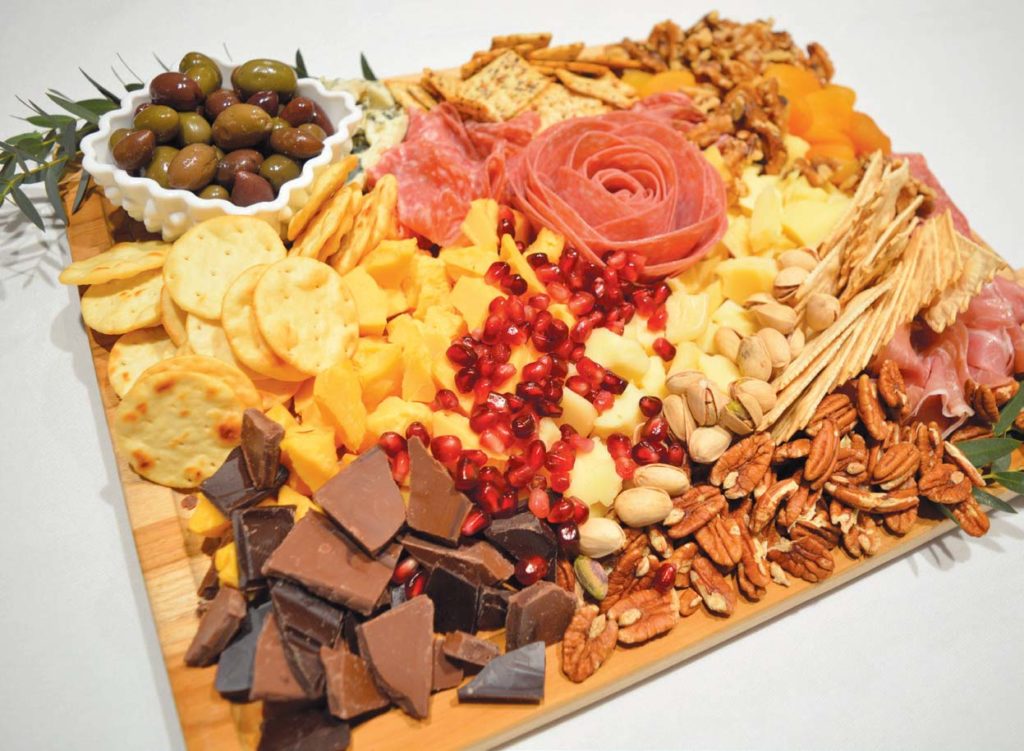 THE GATHERING BOARD
JESSICA YOWELL MCKINNEY
PHOTO JESSICA YOWELL
"A charcuterie and cheese board creates the perfect centerpiece to any gathering, bringing people together around beautiful, delicious food. Here are the most important things I always keep in mind:"
COLOR & TEXTURE: Make your choices colorful, with a blend of tastes and textures. Include seasonal ingredients, and if you can, harvest herbs and •owers from the garden for a unique edible garnish.
SPECIAL MEANING: Incorporating personal pieces such as Grandma's hobnail milk glass dish or Mom's gold tongs onto your board makes it extra special. It's all about the little things and how they make you feel!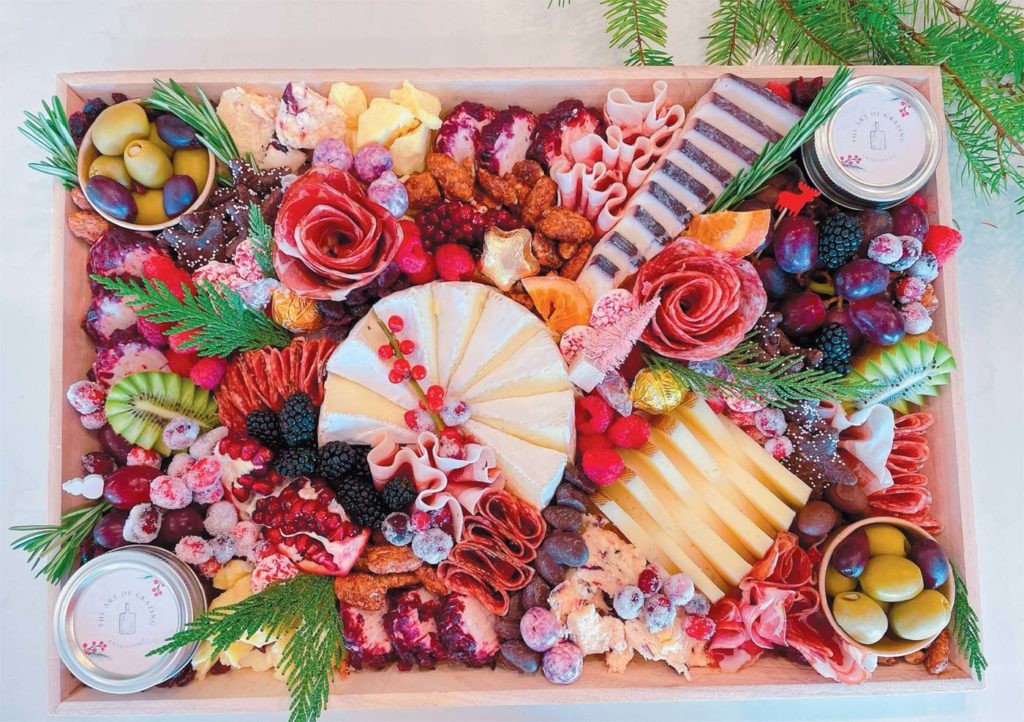 THE ART OF GRAZING
AMANDA PASTUSEK / FORT WORTH
PHOTO KATHRYN LONGBOTTOM
"The Art of Grazing is truly about bringing art to the table: making food both beautiful and delicious. Using artisan cheeses and high-quality produce for crudités, each board can be curated with meticulous attention to detail. Try these simple tips on your next holiday grazing board."
CHEESE: A grazing board should be easy for people to enjoy without having to cut big hunks themselves. Cut each cheese to bite-size pieces, or into thin points for guests to easily pick up. Soft cheeses like goat or Boursin can be gently sliced with a cheese wire and laid domino-style.
VEGGIES/FRUITS: Choose colors that pop and accentuate the season: berries, pomegranates, grapes, sprigs of green rosemary, and some pretty red-and-white candies look gorgeous together for the holidays!
CONDIMENTS: Choose a jam and a mustard — sweet and salty is the name of the game. A fruity jam or quince paste offsets the rich, salty cheeses and meats perfectly. Mustard, with its vinegar base, cuts through the fattiness and adds luxury to harder cheeses in a delightful way. Put your accoutrements in pretty little bowls on your board.
GARNISH: Garnish generously! I love finishing boards with lots of fresh herbs and flowers. Choose colors that compliment your other selections. I like to form small arrangements around the jam bowls and toward the board's center to keep it from looking wild.
Fill, fill, fill! (but not with crackers) Cover every part of your board; do not leave any of the board visible underneath the food. But do not put crackers or breads on your board: this gives a lush, extravagant look. Arrange the carbs on a separate platter nearby (where they won't get soggy!). Visit the new flagship store in the Hemphill Heights neighborhood of Fort Worth, opening in November 2022.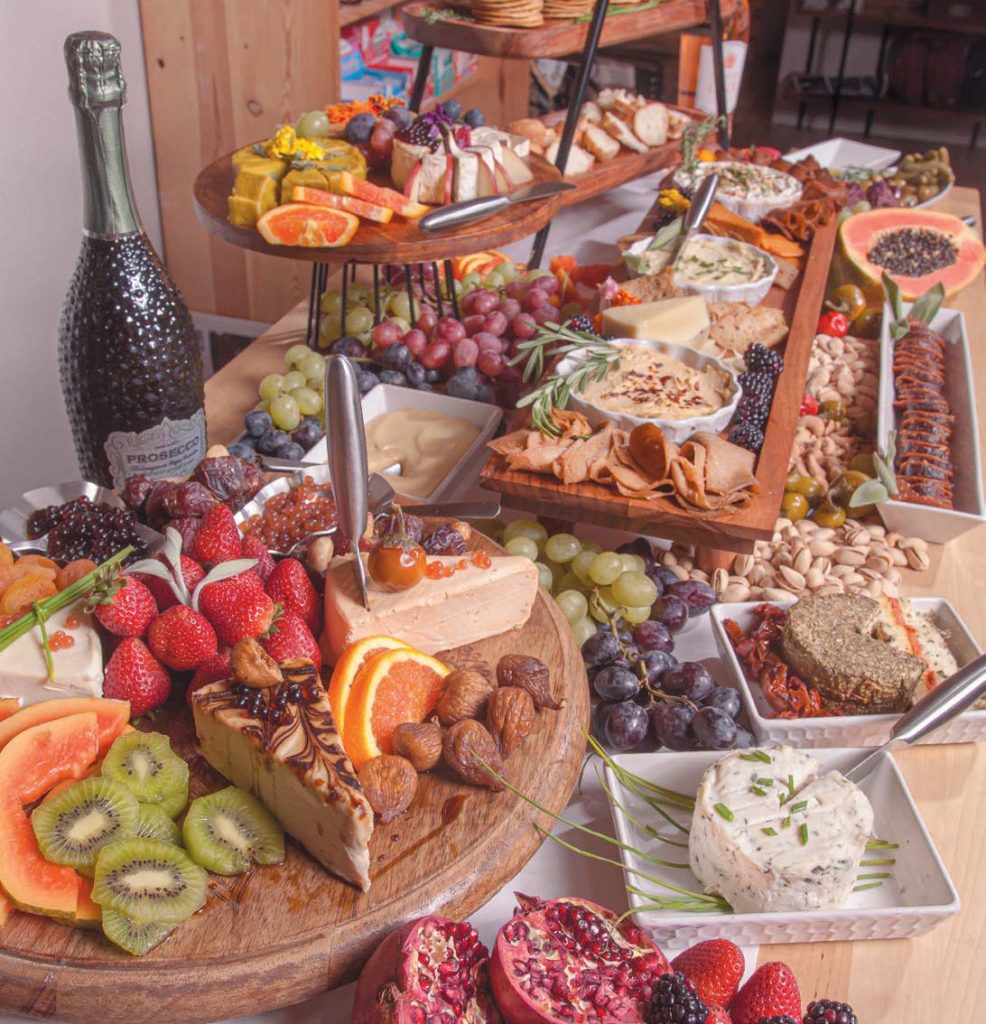 MASHUP MARKET
CHERIE REED / DENTON
PHOTO CURTIS Y SMITH
"The world of vegan cheese has changed dramatically in the last few years. It has elevated from grocery store items to smallbatch, artisanal faux cheeses in every imaginable flavor profile and texture — and often indistinguishable from traditional dairy-based cheese. Vegan cheesemakers use much the same process as dairy-based cheesemakers to produce the complex, distinct experience.
This massive grazing board has 13 cheese varieties from five makers who produce them using the same traditional craftsmanship as skilled cheesemakers. All nut-based, high in protein, containing zero cholesterol, and perfect for those with lactose intolerance, they cover a range of textures and tastes, including hard cheeses (like Gouda), savory smooth fromages, a Camembert-inspired cheese infused with truffle and even traditional Brie with rind. They are paired with vegan caviar pearls and vegan meats that would impress any skeptic."
VEGAN CHEESES:
Rebel Cheese (Austin): Brie, Garlic Herb Fromage, Tomato Herb Fromage, Smoked Cheddar, Gouda
Sri Mu: Berti (a Camembert-inspired cheese infused with truffle), Gold Alchemy (Gouda-inspired cheese infused with turmeric)
Fauxmaggio: Smoked Paprika and Garlic, Garlic Herb, Basil Pesto Dare: Roasted Garlic, Balsamic Fig, Pepperjack
VEGAN MEATS:
BE Hive: Vegan Italian seasoned deli slices, Turkey, Pepperoni
Flavored Pearls: Vegan caviar
Sphera: Fig and Port, Napolitana
CONDIMENTS:
Organic sun dried tomatoes, herb-infused olive oil, and naturally flavored fig rolls
Mashup Market is a vegan, gluten-free store with options for the plantbased cheese lover.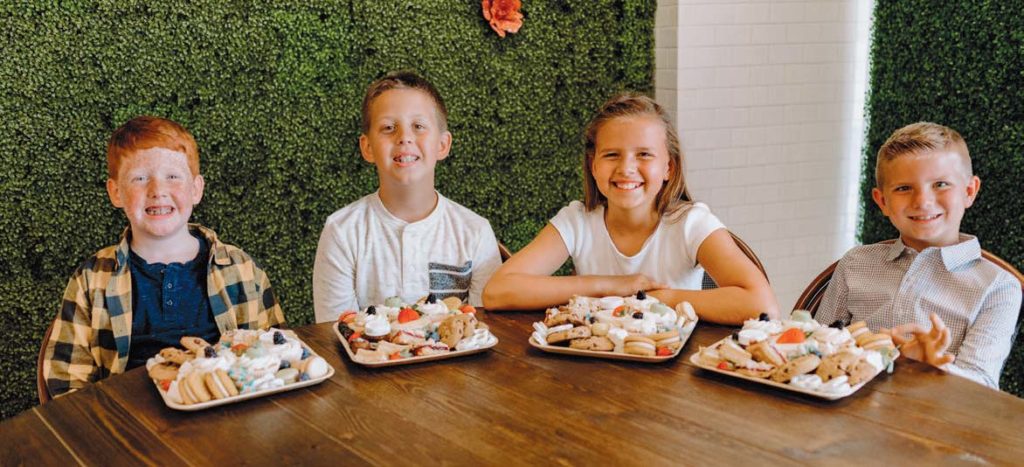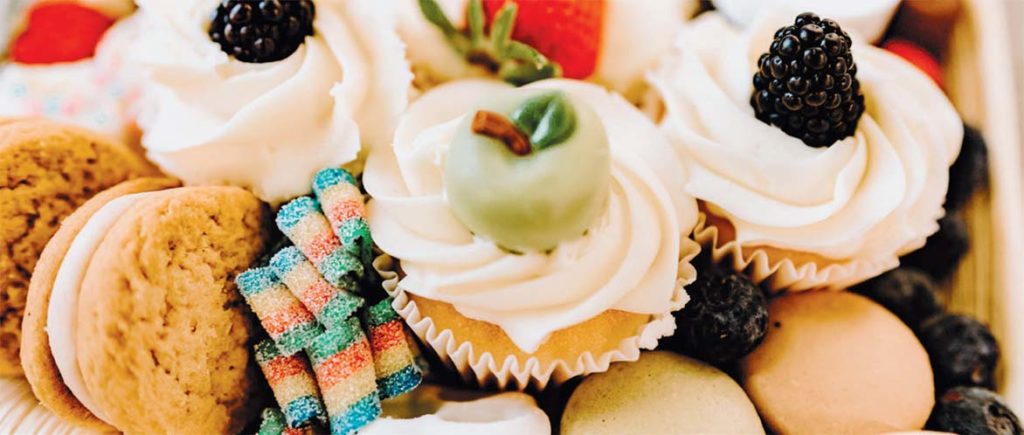 BOARD & BRIE
LANE TUNSTALL / ROANOKE
PHOTO ANN STARKWEATHER PHOTOGRAPHY
"Sweet grazing boards are so much fun to build, especially with kids. In lieu of a birthday cake — or for a fun celebration — assemble all your favorite treats together in a beautiful, photo-worthy display. To make it super easy, you can run to your favorite grocery store and buy much of what you need."
BASIC SWEETS: Start with cupcakes, cookies, macarons, lemon bars, brownies.
FAMILY RECIPES: Incorporate a few family recipes such as your Grandma's famous cookies or your Mom's fudge, especially around the holidays.
CONDIMENTS: Fill in with whatever you have in your pantry and fridge — chocolate chips, ripe berries, dipping bowls of nut butter or Nutella. The possibilities are endless!
Board & Brie has been holding charcuterie classes for three years and just recently added sweet-board kids' classes. "The coolest thing is that everyone gets the same kid-friendly sweets and condiments to arrange, but every board ends up looking a little different, just like creating your own original art project."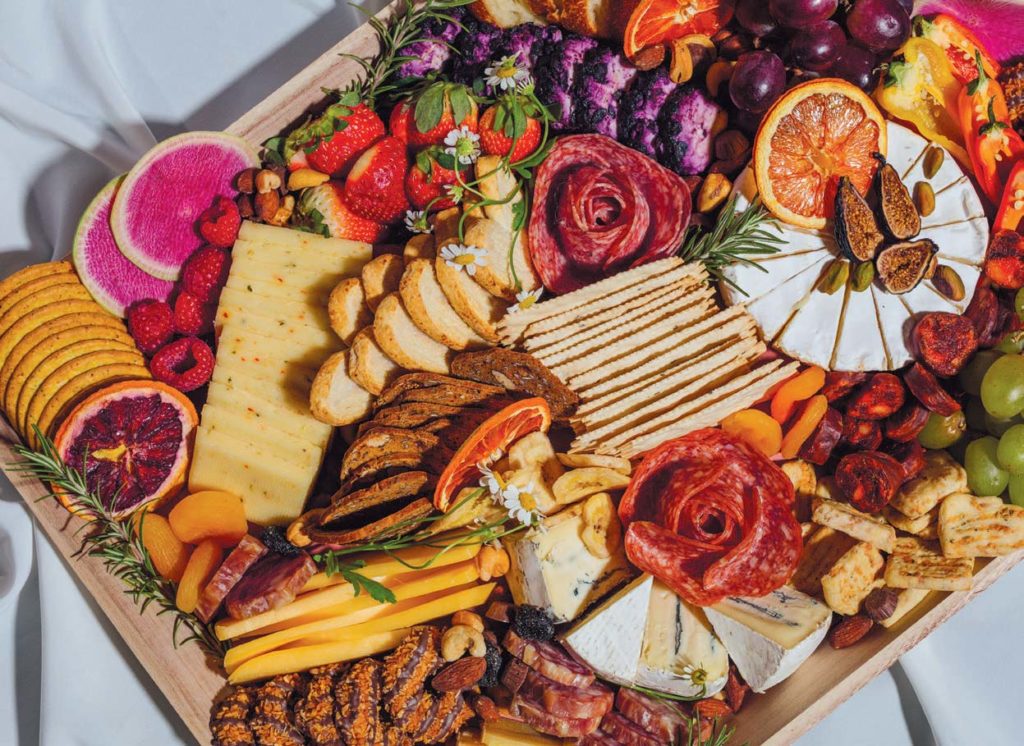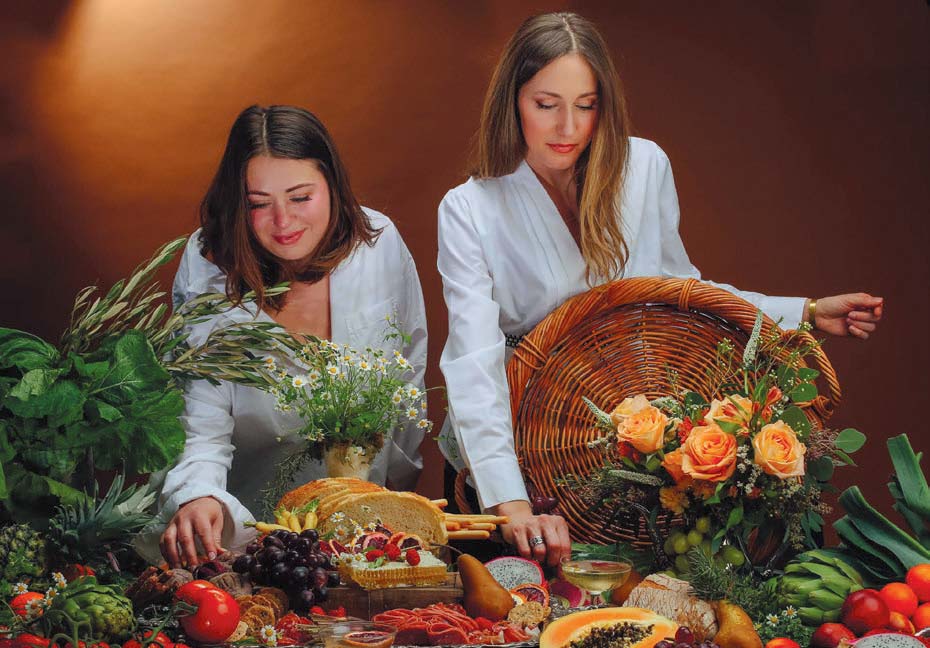 GRAZED & CONFUSED
MONICA COOPER / DALLAS STEFANIE MCNEELY / TYLER
PHOTO BAILEY FRANKLIN
"Eating is one of the few experiences that involves all five senses. Mix in some friends and you might discover a sixth sense . . . the gift of graze. This art form may seem simple but can be difficult to execute, so start with integrating colorful and texturally diverse foods. Holiday season is around the corner and there is no better way to celebrate all five (or six) senses than with friends, family, and grazing."
CHEESE: Choose a double crème Brie and a soft cheese like a blueberry and vanilla goat cheese.
MEATS: Add a mixture of charcuterie.
VEGGIES / FRUITS: Fill in spaces with watermelon radishes, house-made dehydrated cara oranges, dried figs and apricots, grapes, strawberries in season.
CONDIMENTS: Sprinkle with pistachios.
BREADS: Add your favorite crackers and sliced sourdough bread. (Keep away from the fresh fruit and soft cheeses.)
SWEETS: Indulge in dark chocolates, Girl Scout caramel and coconut cookies, chocolate truffles, and more.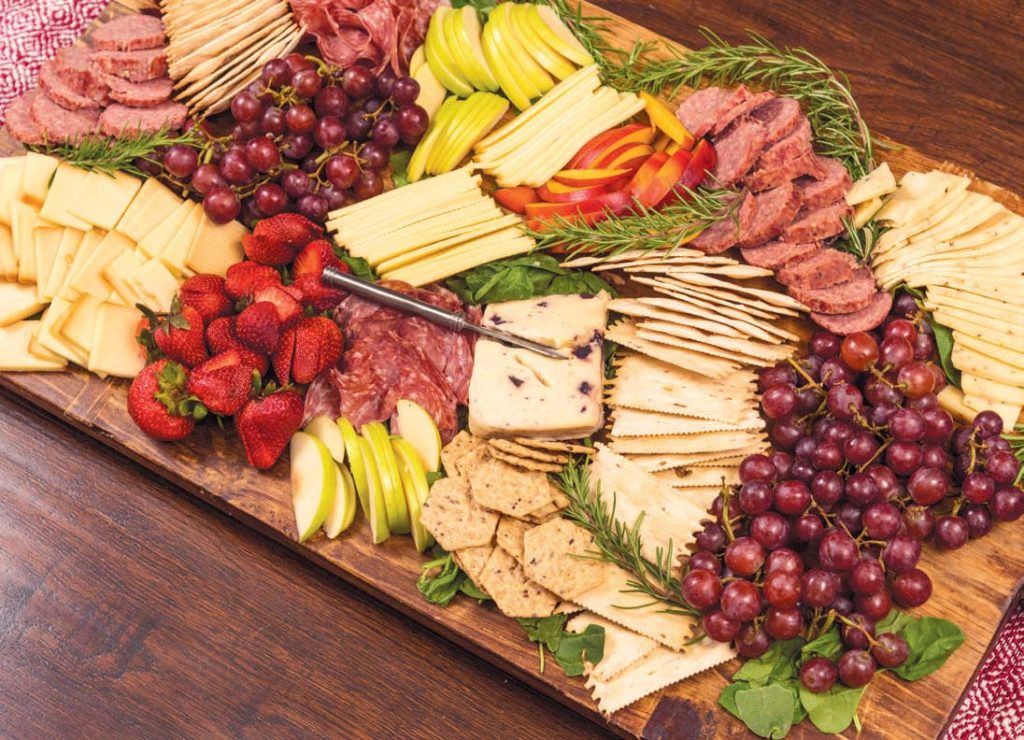 OLD QUAIL RUN FARM AND BON APPETIT Y'ALL
JENNIFER TAYLOR / SHERMAN/DENISON
PHOTO TERESA RAFIDI
"To build a board or grazing table, start with a minimum of 10 elements, using three 'pieces' of each element per person. Most importantly, have fun and enjoy the process of creating something beautiful and yummy for your guests! The time gathered around the table with them is the most important element of any entertaining!"
CHEESE: Select one hard wedge, one medium-soft cheese, and one soft cheese such as Brie (or a spreadable cheese).
MEATS: Choose salami, prosciutto, and/or thinly sliced hams.
VEGGIES/FRUITS: Add 2-3 seasonal fruits (dried or fresh).
BREAD: Offer two kinds of breads, pita, or crackers (one can be gluten- free).
CONDIMENTS: Add small bowls of nuts and olives, fig jam or honey, pickled veggies, and a spreadable dip or cheese like pimento cheese or a whipped goat cheese or mascarpone.
GARNISH: Finish off your board with fresh sprigs of rosemary, thyme or other herbs, from your garden or from the fresh produce area.
HOLIDAY FUN: White chocolate pretzels, individually wrapped chocolate truffles, gingerbread person cookies, a pomegranate sliced open, cranberry chutney, cheese cut into stars using a small cookie cutter