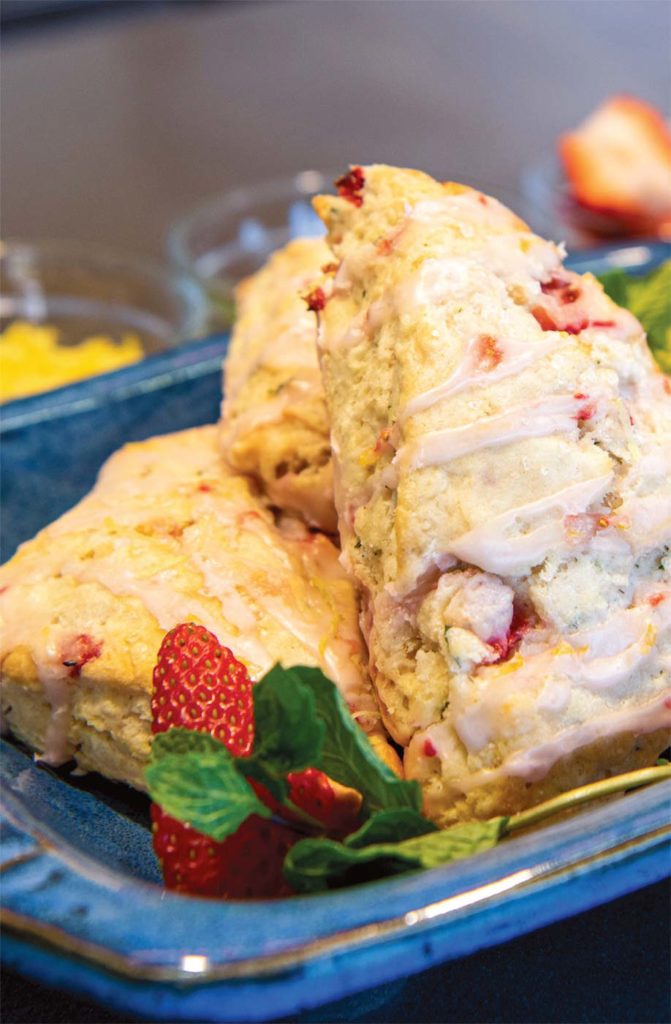 Makes 12 Scones
4 cups pastry flour
4 tablespoons granulated sugar
1 teaspoon salt
1 tablespoon baking powder
¾ cup unsalted butter, cold
1 egg
1 cup milk
¾ cup fresh strawberries, diced
2 tablespoons fresh mint, chopped
Bread flour, for dusting
¼ cup heavy cream
2 tablespoons coarse sugar (optional)
Preheat oven to 400°F. Line a large baking sheet with parchment paper and set aside.
In a mixing bowl, sift all dry ingredients. Cut the butter into the flour using pastry cutter, fork, or by hand. Using a stand mixer with the paddle attachment, mix until mixture resembles coarse meal.
Combine liquid ingredients in a bowl and add to the mixture. Add strawberries and mint just until combined. Do not over mix.
Transfer the dough to flour-dusted surface and gently roll out into a ½ inch thick rectangle. Flour dough lightly as needed to prevent from sticking. Cut dough into triangles and transfer to lined baking sheet.
Using a pastry brush, lightly brush scones with heavy cream and sprinkle coarse sugar, if desired. Bake scones for 15-20 minutes, or until scones are light brown. Allow scones to cool before adding the glaze.
For the Glaze:
2 cups powdered sugar
Zest of half lemon
2 medium strawberries, mashed
2 tablespoons water
In a mixing bowl, sift powdered sugar to prevent lumps. Add remaining ingredients and place in a stand mixer using a paddle attachment or mix by hand with a whisk. Add icing to a pastry bag and drizzle onto cooled scones.
Since childhood, Guadalupe Joaquin has loved helping her mom make cookies, cakes and her family's favorite dessert, capirotada, a cinnamon-spiced bread pudding with peanuts, raisins, queso fresco and topped with sprinkles. While working in the catering department at UTD, her executive chef believed in her skills and pushed her to make desserts that were out of her comfort zone. She credits her instructors at El Centro for skillfully preparing her to become the first pastry chef in her family.