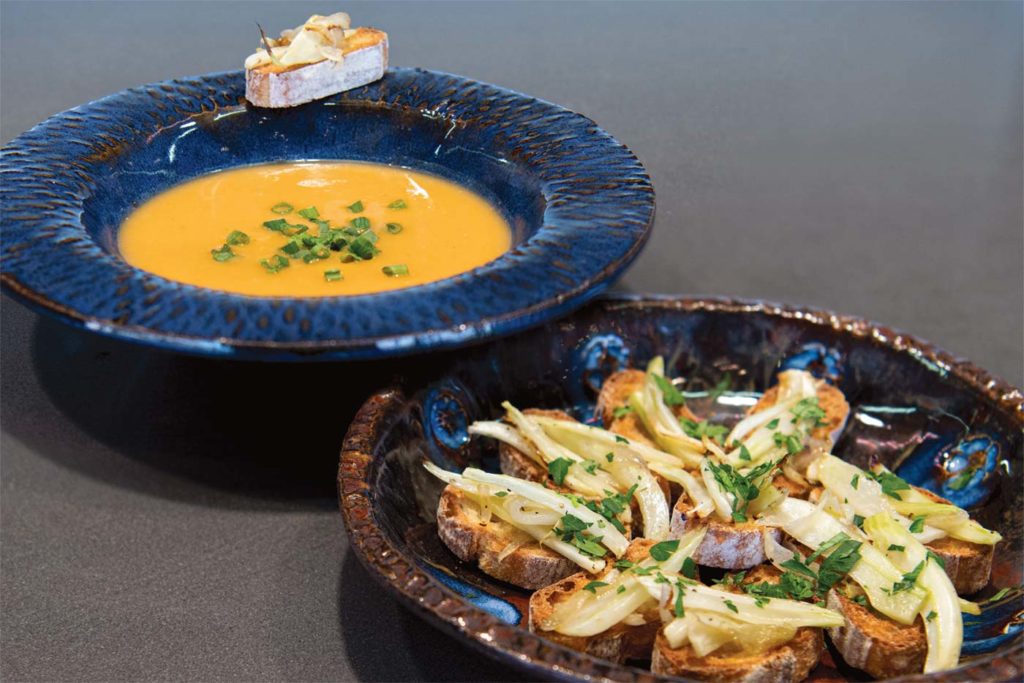 Makes 6 Servings
2 tablespoons good-quality olive oil
2 small yellow onions, chopped
3 parsnips, peeled and chopped
2 large carrots, peeled and chopped
3 cups water
4 cups low-sodium vegetable broth
Salt and freshly ground black pepper
1 tablespoon chopped fresh chives
Roasted Fennel Bruschetta
2 shallots, thinly sliced
1 large fennel bulb (green stems removed), thinly sliced
2 tablespoons good-quality olive oil, plus more for drizzling
1 clove garlic, smashed
½ baguette, cut into ½ inch thick slices
1 tablespoon finely chopped flat leaf Italian parsley
Heat oil in a Dutch oven over medium heat. Add the onion and cook 10 minutes or until tender, stirring occasionally. Add parsnips, carrots, water, broth, and bring to a boil. Reduce heat and simmer, partially covered, for 50 minutes or until vegetables are tender. Remove from heat.
Place half of vegetables and broth into a blender and process until smooth. Pour pureed mixture into a large bowl and then repeat procedure with the remaining vegetables and broth. (Alternatively, use an immersion blender.) Season to taste with salt and pepper. Serve topped with chopped chives.
Make the Roasted Fennel Bruschetta: Preheat oven to 375°F. In a medium-sized bowl, toss shallots and fennel with olive oil and a pinch of salt. Place oiled vegetables on a baking sheet in a single layer and roast for 15 minutes, stirring once, until they begin to brown and soften. Remove from the oven and cover with foil or a towel to keep warm.
Meanwhile, toast or grill the baguette slices until brown. Rub the smashed garlic onto one side of the toast until fragrant.
To serve, place roasted vegetables onto baguette slices and drizzle lightly with olive oil. Top with chopped parsley and season with salt and pepper.
Lisa Roark's culinary training at Dallas College's El Centro campus pairs well with her certifications in Urban Farming and Holistic Nutrition from the Southwest Institute of Healing Arts. She is passionate about teaching others how to grow and prepare nutrient-rich foods, and her popular cooking demonstrations at the Dallas Arboretum's A Tasteful Place are focused on plant-based dishes. Lisa is an advocate for zero-waste in all aspects of life.