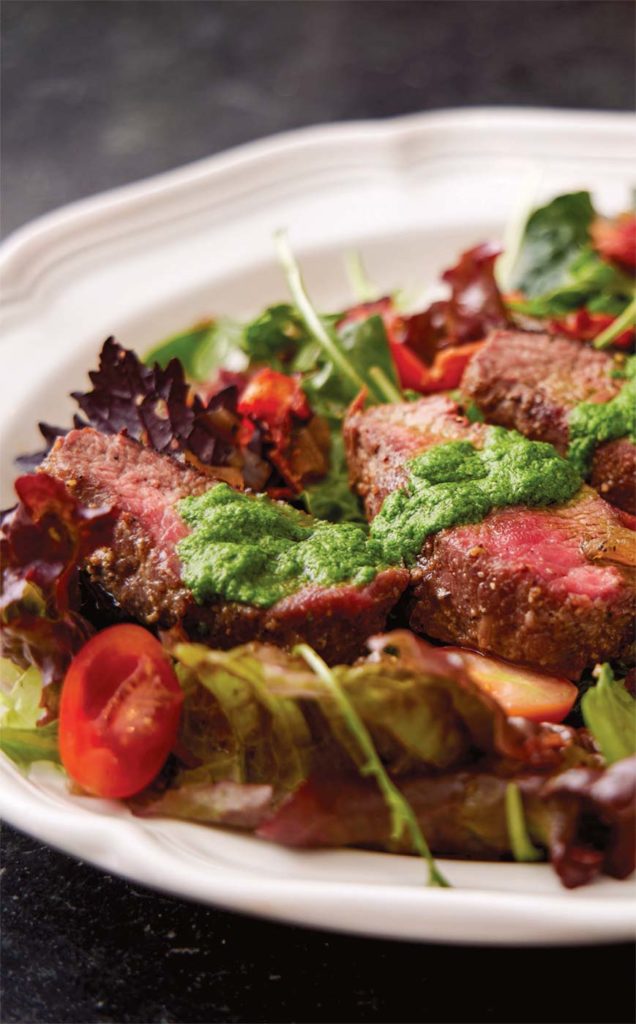 This succulent lamb dish is a showstopper when plated. Arrange wilted greens tossed in warm bacon vinaigrette on a serving plate and top with slices of lamb loin. Drizzle with chimichurri.
Makes 4-6 Servings
2-4 lamb loins, trimmed of silverskin
¼ cup whole fennel seeds, toasted
¹⁄8 cup whole black peppercorns
4 shallots, peeled and chopped
½ cup brown sugar
¼ cup extra virgin olive oil
¼ cup kosher salt
In food processor, grind fennel seeds and peppercorns until powdery. Add shallots, sugar and oil until a paste is formed. Scrape paste into a bowl with salt and create a new gooey paste. Coat lamb with goo and let stand for 1-1/2 hours at room temperature. Remove excess goo and sauté or grill loins until medium rare.
For Chimichurri:
6 bunches Italian flat leaf parsley
3 cloves garlic
½ cup extra virgin olive oil
1 tablespoon cider or champagne vinegar
Salt (kosher), pepper and cayenne to taste
In food processor, mince garlic and parsley until fine. Remove to mixing bowl and combine with oil, vinegar, salt, pepper and cayenne.
For Warm Bacon Salad:
16 ounces bacon, finely chopped
Olive oil as needed
1 red onion, minced
½ cup granulated sugar (if you prefer less sweet, start with 1-2 tablespoons and increase to taste)
½ cup white vinegar
16 ounces mixed salad greens
In a large skillet over medium heat, fry bacon until crisp, about 5 minutes. Transfer to paper-towel-lined plate and save for later use.
Pour rendered bacon fat into a measuring cup. Pour off all but ¼ cup (or add olive oil to reach ¼ cup). Return fat to skillet over medium-high heat until shimmering. Add onion, sugar, vinegar, and season with salt and pepper. (I use ½ teaspoon salt and ¼ teaspoon pepper). Cook until onion is softened, about 3 minutes. Remove from heat.
Place salad greens in large bowl. (I use a mix of baby arugula, spinach, kale and hearty lettuces.) Pour in warm dressing and toss to wilt. Garnish with cherry tomatoes and reserved bacon, if desired.
Since his first apprenticeship under Certified Master Chef Ernst Gruch at The Dallas County Club, Marc Cassel has cooked for some of Dallas's most renowned dining rooms: The Rosewood Mansion at Turtle Creek (Chef de Tournant), Baby Routh (Line Cook/Sous Chef ), Star Canyon (Executive Chef ), The Green Room (Executive Chef ) and Hotel ZaZa (Executive Chef ). In 2013, he and his wife Suzan Fries opened their own fast and casual, high-quality seafood restaurant, 20 Feet Seafood Joint in East Dallas.