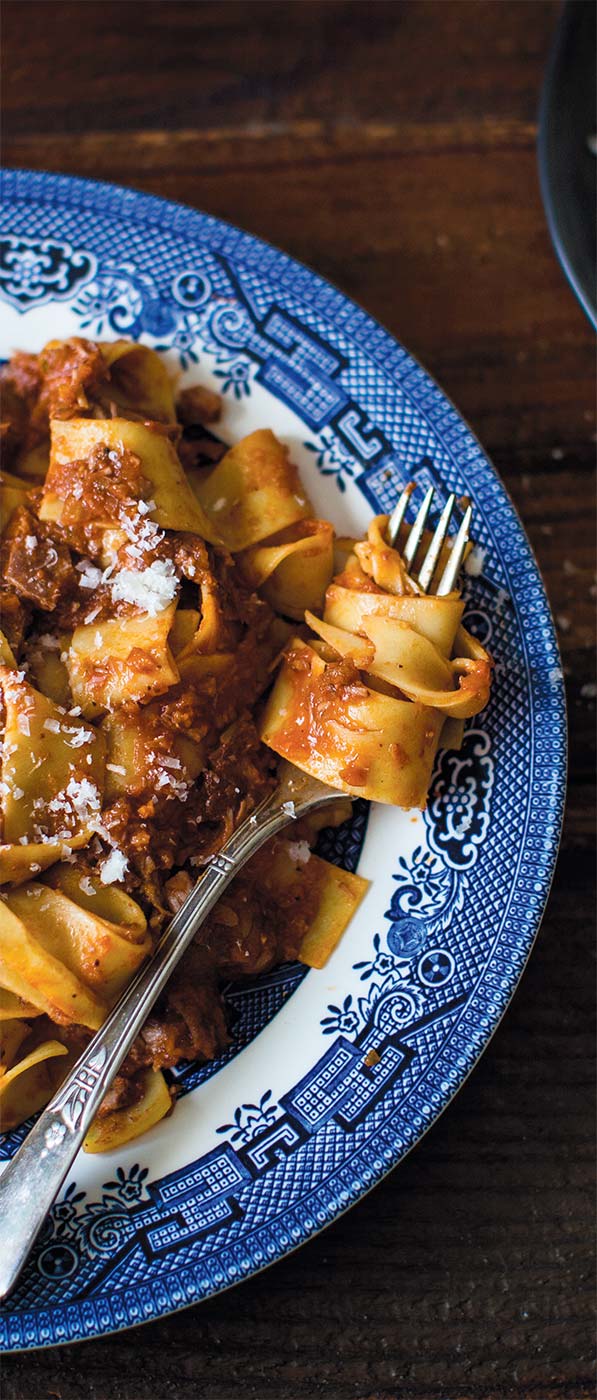 Years ago in a small restaurant, I was served the best pasta I'd ever had in my life—a wild boar ragù over ribbons of pappardelle. I begged for the recipe, and, my luck, the Italian chef invited me into his kitchen. When I can't get wild boar from a hunt, I order it directly from Broken Arrow Ranch in Central Texas (brokenarrowranch.com) or use pork.
Makes 6 servings
6 garlic cloves
1 yellow onion
1 fennel bulb
1 carrot, peeled
1 celery stalk
2½ pounds wild boar (or pork) shoulder roast, quartered
1 teaspoon kosher salt
1 tablespoon olive or grapeseed oil
2 anchovies
1½ cups red wine (Chianti or Brunello)
1 (28-ounce) can tomato purée
2 tablespoons tomato paste
2 bay leaves
½ teaspoon dried oregano
1 pound pappardelle or tagliatelle pasta
1 cup reserved pasta water
1 tablespoon unsalted butter
Grated Parmigiano-Reggiano for garnish
Finely mince garlic, onion, fennel, carrot and celery stalk and set aside. (Use a food processor in batches to make this step easier and faster.)
Season roast with salt. Heat oil in a large heavy-bottomed pot over high heat. Sear roast quarters on all sides until browned. (Sear in batches, if needed, so not to overcrowd the pot.) Transfer meat to a plate and lower heat to medium low.
Add garlic, onions, fennel, carrot and celery to pot and sauté, stirring frequently, for 5 to 10 minutes, or until the vegetables are tender. Add anchovies and sauté 2 minutes more. Increase heat to medium-high. Add wine, stir, and simmer until liquid is reduced by half, about 3 minutes.
Add tomato purée, 1 cup water, tomato paste, bay leaves and oregano. Once simmering, return meat to the sauce and reduce heat to low. Simmer on low for 3 hours or until the meat is very tender and can be pulled apart with a fork. (If sauce reduces too fast and becomes thick, lower the heat and add a little water.) When done, transfer meat to a cutting board and shred into small pieces with a fork. Return meat to the sauce.
Bring a large pot of water to a boil and season heavily with salt. (It should taste like the sea.) Cook pasta until al dente. Reserve 1 cup of the pasta water then strain the pasta.
Add ⅓ to 1 cup of pasta water to the sauce to loosen. You want a thick but fluid sauce. It shouldn't be either gummy or runny. Finish by stirring in butter. Season with salt and pepper, if needed. Toss sauce together with the pasta, garnish with Parmigiano- Reggiano and serve.
MEREDITH STEELE is a recipe developer, food writer, food photographer and author of InSockMonkeySlippers.com, an award winning family food blog celebrating creative and fresh foods. Her recipe development and photography company, MBS Recipe Development specializes in multimedia recipe development for commercial and small business who's clients include everyone from Ziploc® to small wineries. Meredith's work has been published online, in various print media, and has been nominated for the SAVEUR awards. She can also be found across the pond writing a monthly column for JamieOliver.com. When Meredith is not in the kitchen, she's roaming Dallas, Texas with her husband, curly-headed pixie of a daughter, and big floppy-eared dog.