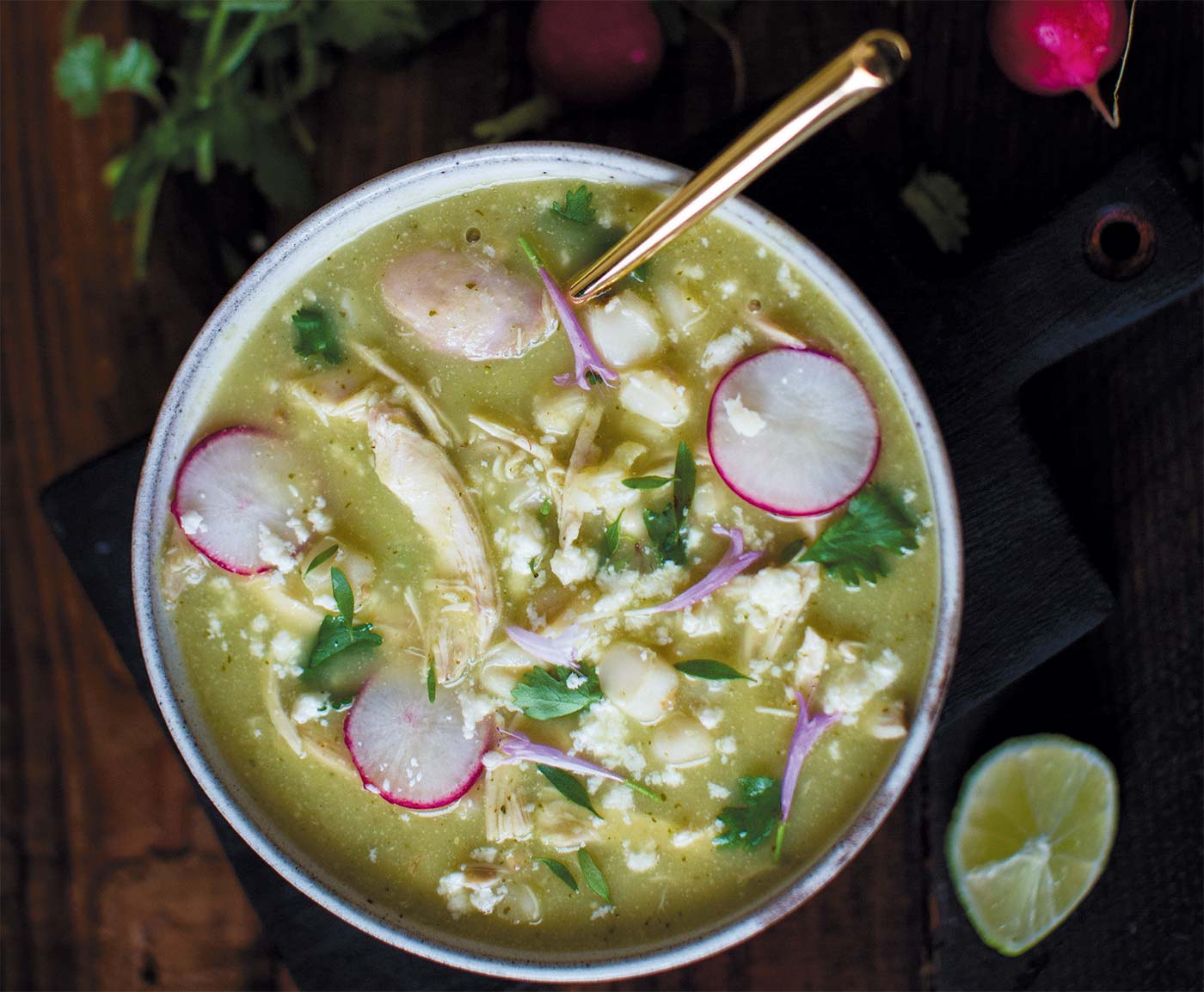 On a cold winter night, a hot bowl of this flavorful Mexican soup with tender bits of chicken and hominy will comfort you to the core.
Makes 6 servings
2 pounds bone-in chicken thighs
1 teaspoon kosher salt
1 tablespoon canola oil
1 yellow onion, roughly chopped
6 cloves garlic
2 jalapeños, seeded and roughly chopped
1 pound tomatillos, husked
5 cups chicken stock
½ teaspoon dried oregano
1 (28-ounce) can white hominy, drained and rinsed
2 tablespoons chopped cilantro
2 tablespoons fresh lime juice
Garnishes: sliced radishes, crumbled queso fresco, cilantro
Season chicken with salt. Heat oil in a large heavy-bottomed pot over high heat. Sear chicken thighs on all sides until browned. (Work in batches if needed so as not to overcrowd.) Transfer chicken to a plate.
Reduce heat to medium-low. Add onions and garlic and sauté until the onions are softened and translucent, about 5 minutes. Return the chicken to the pot along with jalapeños, tomatillos, chicken stock and oregano. Bring to a boil over high heat, then reduce heat to medium-low and simmer for 40 minutes, or until the chicken can be easily pulled away from the bone.
Transfer chicken from pot to a cutting board. Remove the skin and bones and shred meat with a fork.
With a slotted spoon, remove the onions, garlic, jalapeños and tomatillos and transfer to a blender. Add a cup of the cooking liquid and purée until smooth. Return the puree to the remaining cooking liquid and stir. Add the shredded chicken and hominy, and simmer for 5 minutes until hominy is heated through.
Remove from heat and add cilantro and lime juice. Add additional salt to taste. Before serving, garnish with sliced radish, cilantro and crumbled queso fresco.
MEREDITH STEELE is a recipe developer, food writer, food photographer and author of InSockMonkeySlippers.com, an award winning family food blog celebrating creative and fresh foods. Her recipe development and photography company, MBS Recipe Development specializes in multimedia recipe development for commercial and small business who's clients include everyone from Ziploc® to small wineries. Meredith's work has been published online, in various print media, and has been nominated for the SAVEUR awards. She can also be found across the pond writing a monthly column for JamieOliver.com. When Meredith is not in the kitchen, she's roaming Dallas, Texas with her husband, curly-headed pixie of a daughter, and big floppy-eared dog.