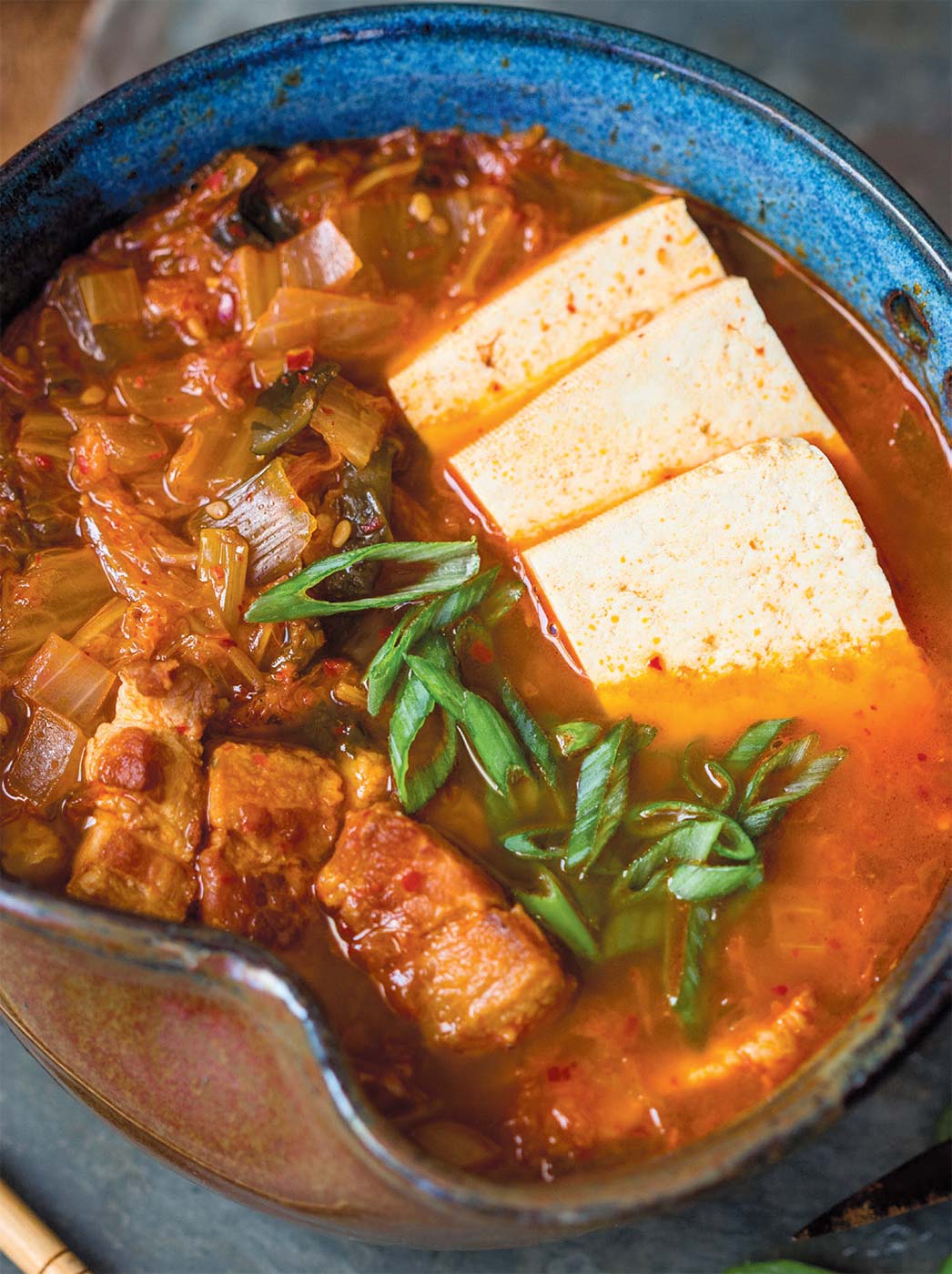 Like chicken soup recipes, there are many different versions of this Korean classic stew, but the star of them all is kimchi.
Makes 4 servings
8 ounces pork belly
1 small yellow onion, diced
2 scallions, thinly sliced (divided use)
2 cups kimchi with juices, chopped
1 tablespoon gochujang paste (optional, see note)
2 cups chicken stock
8 ounces firm tofu, sliced
Slice pork belly into ¼-inch thick strips. In a medium pot over medium heat, cook pork belly, onion and the sliced white parts of the scallions for about 8 minutes, stirring often, or until fat is rendered and onions are translucent.
Add kimchi with juices, gochujang (if using) and chicken stock; bring to a boil over high heat. Reduce heat to medium-low and simmer for 30 minutes until the pork belly is tender.
Add tofu and cook until heated through. Serve and garnish with remaining green scallions.
Note: Gochujang is a Korean chile paste. Some store-bought kimchi is very spicy. So, add gochujang paste based on the heat of the kimchi and your preferred spice level.
MEREDITH STEELE is a recipe developer, food writer, food photographer and author of InSockMonkeySlippers.com, an award winning family food blog celebrating creative and fresh foods. Her recipe development and photography company, MBS Recipe Development specializes in multimedia recipe development for commercial and small business who's clients include everyone from Ziploc® to small wineries. Meredith's work has been published online, in various print media, and has been nominated for the SAVEUR awards. She can also be found across the pond writing a monthly column for JamieOliver.com. When Meredith is not in the kitchen, she's roaming Dallas, Texas with her husband, curly-headed pixie of a daughter, and big floppy-eared dog.