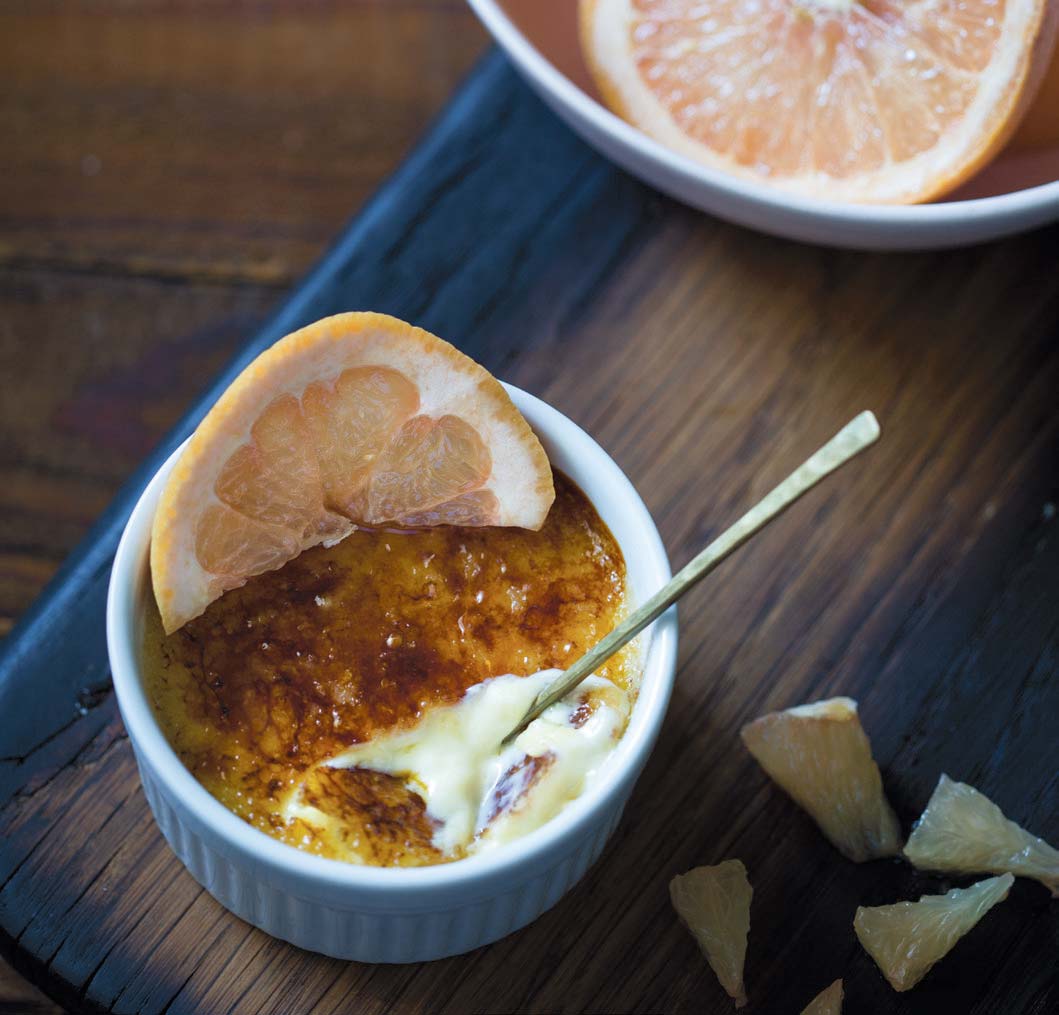 Exquisitely decadent and famously French, crème brûlée is the sweetest of comfort foods. This version has a local twist—Texas,grapefruit.
Makes 6 servings
FOR THE CUSTARD
3 cups heavy cream
6 large egg yolks
½ cup granulated sugar
2 teaspoons grapefruit zest, grated
1 teaspoon vanilla paste or extract
Pinch of sea salt
FOR THE TOPPING
6 tablespoons granulated sugar
Fresh grapefruit segments
Preheat oven to 325°F. In a small saucepan, bring cream to a simmer over medium-high heat. Remove from heat.
In a medium bowl, whisk together egg yolks, sugar, grapefruit zest, vanilla and salt until well blended. Slowly add the warm cream—small amounts at a time—while continually stirring.
Divide liquid among 6 (6-ounce) ramekins and place ramekins in a roasting or cake pan. Pour enough hot water into the pan to come halfway up the sides of the ramekins. Bake until the custard is set but still trembling a little in the middle, about 35 to 45 minutes.
Remove ramekins from the pan, allow to cool for 20 minutes and then refrigerate for at least 3 hours. The baked custard can be made up to 2 days ahead of serving and stored covered in the refrigerator.
Remove the crème brûlée from the refrigerator 30 minutes before serving. Top each ramekin evenly with sugar. Using a kitchen blowtorch, melt the sugar while moving the torch briskly on the topping until the sugar caramelizes and turns golden. If you don't have a blowtorch, place the ramekins under the broiler until the sugar is caramelized. Serve with fresh grapefruit segments.
MEREDITH STEELE is a recipe developer, food writer, food photographer and author of InSockMonkeySlippers.com, an award winning family food blog celebrating creative and fresh foods. Her recipe development and photography company, MBS Recipe Development specializes in multimedia recipe development for commercial and small business who's clients include everyone from Ziploc® to small wineries. Meredith's work has been published online, in various print media, and has been nominated for the SAVEUR awards. She can also be found across the pond writing a monthly column for JamieOliver.com. When Meredith is not in the kitchen, she's roaming Dallas, Texas with her husband, curly-headed pixie of a daughter, and big floppy-eared dog.