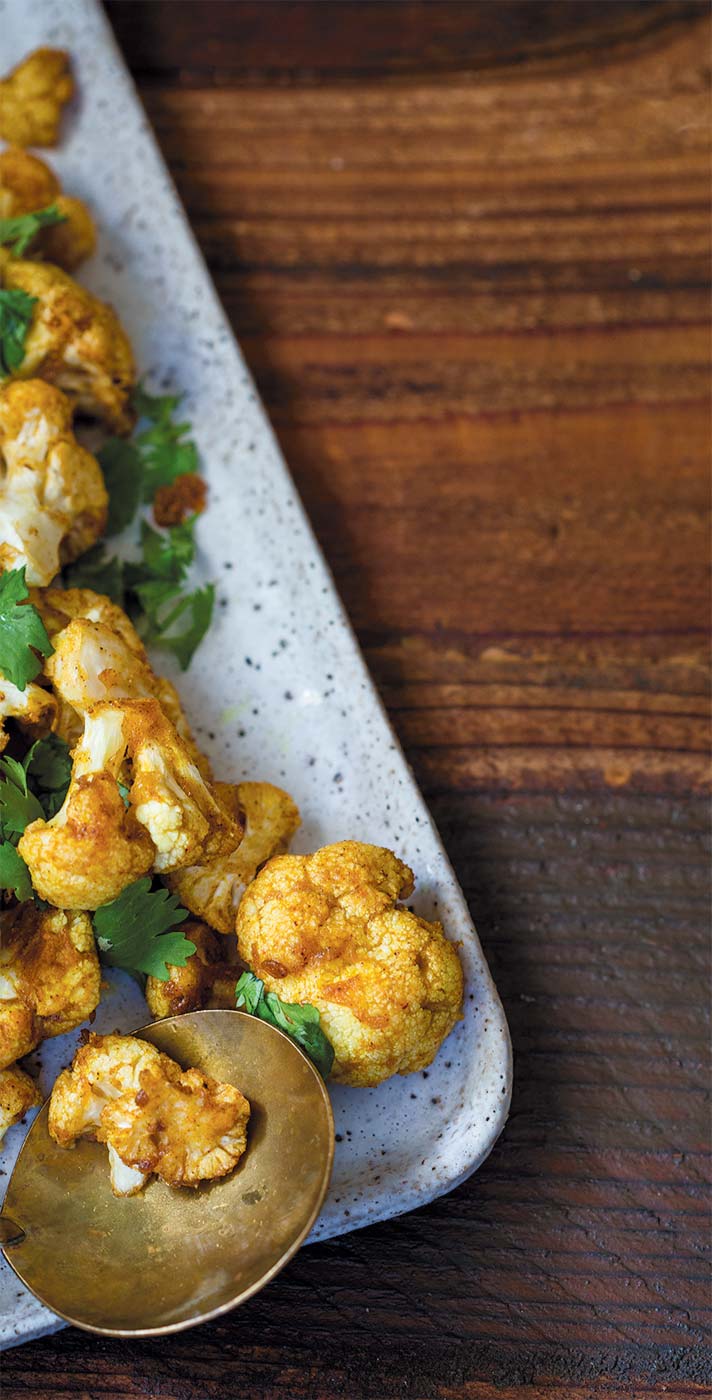 Hailing from Northern India, Gobi Fry is an addictive dish featuring cauliflower florets fried in a light, flavorful batter of spices, ginger and garlic.
Makes 4 servings
1 large cauliflower, broken into florets
¾ cup rice flour
1 tablespoon lemon juice
1½ teaspoons garam masala
1 teaspoon ginger paste (see note)
1 teaspoon garlic paste (see note)
1 teaspoon red chile powder (see note)
½ teaspoon salt
¼ teaspoon ground coriander
¼ teaspoon ground turmeric
Canola or vegetable oil for frying
2 tablespoons chopped cilantro
Place cauliflower florets in a large bowl and cover with boiling water. Let sit for 10 minutes.
In another large bowl, whisk together ½ cup of hot water with rice flour, lemon juice, garam masala, ginger paste, garlic paste, red chile powder, salt, coriander and turmeric.
Remove florets from water bowl and pat dry with a towel. Place florets into batter and stir until each is fully coated.
In a large pot, heat oil (at least 2 inches deep) over high heat until it reaches 350°F. Fry florets in small batches until golden, about 3 to 5 minutes a batch. Remove with a slotted spoon and transfer to a paper towel-lined plate.
Toss with cilantro and serve immediately.
Note: Ginger and garlic paste can be found in the herb section of most grocery stores. If you cannot find paste, use a microplaner and create an equal amount of freshly grated ginger and garlic. Also, make sure to use simple ground red chile powder and not the chili powder used for Tex-Mex cooking that contains cumin and other spices.
MEREDITH STEELE is a recipe developer, food writer, food photographer and author of InSockMonkeySlippers.com, an award winning family food blog celebrating creative and fresh foods. Her recipe development and photography company, MBS Recipe Development specializes in multimedia recipe development for commercial and small business who's clients include everyone from Ziploc® to small wineries. Meredith's work has been published online, in various print media, and has been nominated for the SAVEUR awards. She can also be found across the pond writing a monthly column for JamieOliver.com. When Meredith is not in the kitchen, she's roaming Dallas, Texas with her husband, curly-headed pixie of a daughter, and big floppy-eared dog.