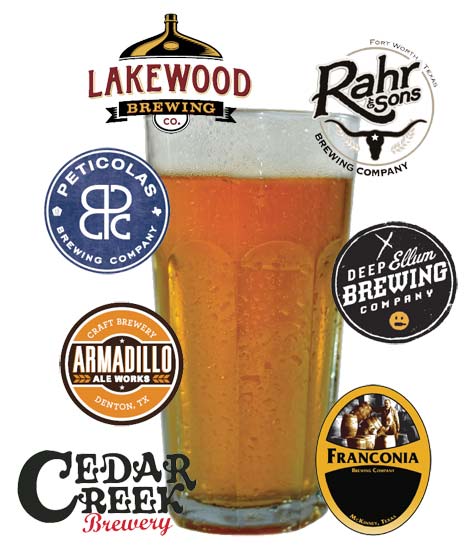 PHOTOS BY SERGIO SALVADOR
Craft beer—you can order it at your neighborhood bar, even the funkiest dive seems to boast a wall of exotic artisanal brews. You can enjoy it at beer dinners, where chefs pair each course with a matching brew. You can find it at the grocery store where the beer aisle bursts with colorful new offerings.
Well, it's a little late coming, and it hasn't been easy, but soon you'll be able to choose from an enviable selection of craft brews that are "Made In North Texas." Three new breweries and a nano-brewery are opening in Dallas and several more are in the works in other parts of North Texas. The newcomers will join pioneering breweries Rahr & Sons in Fort Worth and Franconia Brewing Co. in McKinney to create a critical mass that will put North Texas squarely on the craft beer map. You buy your fruits and veggies here, don't you – well, why not go local with your beer?
"I think the waves are finally crashing up on Dallas," says John Reardon, founder of the new Deep Ellum Brewing Company, which opened in Dallas in November. "We're still in the infancy stage in our awareness of what craft beer is, compared to other cities. But it's coming. At restaurants and bars around town, having craft beer is the new trend."
In addition to Deep Ellum Brewing Co., new Dallas breweries include Peticolas Brewing Co. from lawyer Michael Peticolas, and Lakewood Brewing Co. from former advertising exec Wim Bens. And three more area breweries are not far behind. Others include Armadillo Ale Works in Denton, Cedar Creek in Kemp, southeast of Dallas, Revolver Brewing in Granbury, plus two nano-breweries: Union Bear in Uptown Dallas and Independent Ale Works in Denton. Part of the artisanal movement, craft beer is made in small batches and boasts more flavor and personality than the bland lagers made by the big guns. Lakewood Brewing founder Bens compares craft beer to another product that underwent an artisanal revolution in the '90s: bread.
"That's the way I describe it to people who think that beer equals Bud Lite," he says. "The difference between the big guys and us is mass-produced bread versus your local bakery. We're using high quality ingredients, we're doing interesting things with beer, and we're exploring the entire spectrum of what beer can be, rather than a white lager that you chill so you can't taste it and then slam it down."
"Craft beer can be a beautiful amber color and possess flavors of citrus and malt. Or it can be dark and toasty, with hints of chocolate, topped by a creamy head of foam. It has the range and complexity of wine, but is a superior partner to food because of its carbonation," says Peticolas. "That's why you're seeing more beer dinners where restaurants are pairing beer with food," he says. "Beer has one distinct advantage in that it's carbonated. It scrubs the palate and you're able to taste more throughout the meal."
Craft beer may still be a small portion of the total market — 5%. But it's where the action is: So far in 2011, craft beer has grown by 15%, during the same period that beer overall dropped 2%. And the brewery movement has exploded in the last 30 years: from less than 100 craft breweries in the United States in 1980 to more than 1,700, according to the Brewers Association.
All this brisk action is underway despite an unfriendly environment in Texas where zoning issues, outdated stereotypes and politics create an obstacle course for those who want to make and sell innovative, interesting beer.
"Texas lagged behind other states because of the way the laws were written, as well as the climate — light lagers seem more appealing if you're in middle of 110-degree heat," says Peticolas. "But when you see the success of Franconia, Rahr, Real Ale in Austin, 512, Live Oak, all of whom are selling more beer every year, you can see that the market is accepting it. Ten years ago in Dallas and Fort Worth, you didn't have nearly the number of pubs and beer bars you have now: Trinity Hall, Meddlesome Moth, Old Monk, Capitol Pub, Holy Grail, Common Table, Libertine. They're showing what else is available in beers, and that there's a lot more to drink than Coors."
The new breweries all had to make a choice: Did they want to be a brewpub where they could serve beer with their food, or did they want to be a brewery and sell their beer in liquor stores?
"The distinction is still brewpub versus brewery," says Peticolas. "A brewpub like Humperdink's or BJ's can serve their beer, but they can't sell it to other restaurants, bars, or grocery stores. It's the opposite at a brewery, where you can package your beer in bottles and kegs, but can't sell it to someone who comes in. It's a law that's almost exclusive to Texas. Anywhere else, you can go to a brewery, and if you like their beer, you buy a case. The Texas wine industry used to be the same way, but their lobby succeeded in getting that changed. Now you can go into a Texas winery and buy wine. But you can't do that with a brewery."
To get around it, breweries conduct wildly popular tours. Customers pay a fee to take the tour and are given "free" tastes. The tours at Rahr and Franconia draw hundreds who leave with their souvenir glass and a newfound consciousness about the joys of locally made beer.
The state's restrictions helped shape the mission of Union Bear, a nano-brewery that restaurateur and home-brew enthusiast Matt Spillers is opening in the West Village.
"The reason we decided on a nano-brewery is because there was no other way for me to participate by law in a brewery in the state of Texas, and keep it in the spirit of a beer you create," Spillers says. Union Bear will be a small-volume, hands-on place where theoretically anyone can try his hand at making beer.
"It'd be for anyone who wants to make a cool beer and see what other people think of it, or if somebody wants to make a beer for someone else and give it as gi'fts for their family," he says.
Lakewood Brewing founder Bens originally envisioned opening in Lakewood proper but the rezoning and permit process convinced him to switch his sights to his location on the edge of Garland. "We wanted to be the brewery for East Dallas, and Lakewood is where it started, so we kept the name," he says. "Lakewood is a state of mind."
Lakewood's lineup includes pale ale, lager, a rye-wheat beer and a dark stout called the Temptress, plus lots of limited edition and seasonal beers. "It's more about exploring the spectrum, that's what you get with most small craft' breweries," he says.
Peticolas will specialize in limited-edition batches and, following the farm-to-table ethos, will focus on beers that match the seasons. Deep Ellum Brewing Co. will feature a double brown stout and a blonde ale with 25% wheat, enhanced by monthly limited releases, some involving collaborations between brewmaster Drew Huerter and other brewers from around the country.
Add that to Franconia's European-style classics and the German-style brews at Rahr in Fort Worth, and local beer drinkers will have lots to choose from.
"We'll try to bring in the fun beer we can't get in Texas," Reardon says. "It's a tough state to distribute in because it's a huge freaking market, and the big boys dominate it. All those little craft' beers we never get to see in Texas, we want to be able to brew those on our own turf."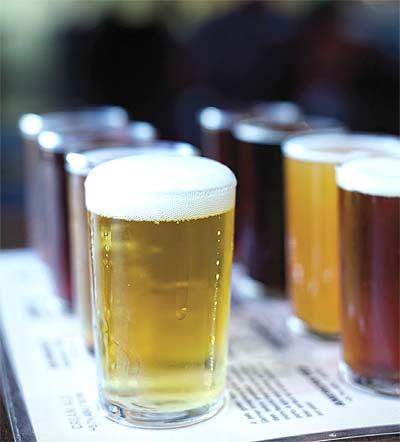 Texas' alcohol laws are an outdated behemoth with three tiers, theoretically designed to prevent monopolies, but with a paternalistic attitude that dates back to the Prohibition. It operates from the position that beer is a dangerous substance that requires regulation, instead of the more evolved mindset in which beer is an interesting foodstuff to be savored and appreciated.
"Every year without fail, someone sponsors a bill to change the laws, every year it's a little different, and every year it gets struck down," says Michael Peticolas of Dallas' Peticolas Brewing Co. "[Small] brewers and the public get excited, it always looks great, but the distributors' lobby is much stronger and in the end, the bill doesn't pass. Things won't change until brewers can get together and get some money and lobby."
Craft beer advocates tried again in 2011 to change the laws restricting Texas breweries. HB 602 would have allowed breweries to sell their beer on premise, and HB 660 would have allowed brewpubs to sell their beer outside of their site. HB 2436/SB1575 would have allowed beer sales at microbreweries. Lobbyists for the Wholesale Beer Distributors of Texas helped defeat them.
Austin brewer Jester King took a more drastic step, fi ling a lawsuit against the TABC challenging the constitutionality of its laws about what and where they can sell. Meanwhile, consumer groups like Open The Taps, a Houston non-profit group made up of craft beer enthusiasts, have already begun mounting their campaign for the next legislative session in 2013, via Facebook and regular beer gatherings.
Spokesperson Leslie Sprague hopes that educating the public will persuade legislators that changing the laws is something Texans want. "A lot of people don't even know these laws exist," she says.
TERESA GUBBINS is Senior Editor at CultureMap, an online news site in Texas, where she covers restaurants and food trends, and a contributing restaurant critic for the Fort Worth Star Telegram. She previously wrote for D Magazine and the Dallas Morning News, and was also a pastry chef at restaurants such as the Mansion on Turtle Creek and Cafe Society.