The Truck Yard draws a crowd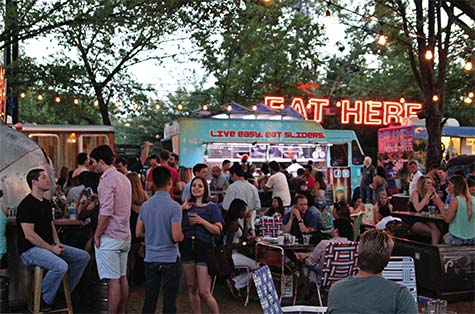 The Truck Yard draws a crowd
Photography by Karen McCullough
Greenville Avenue has assumed many shapes over the years, but none with the delicious, local panache it has today.
From its early days as the main north-south artery of North Texas to its inglorious era as a hub of gritty clubs, few would predict its current role as the headquarters of local and sustainable dining. Restaurants and food vendors have convened on the Greenville Avenue scene with a mission: to shop and serve local.
You can browse locally grown tomatoes and squash at the conscientious market Green Grocer; take away a growler of Dallas beer at The Bottle Shop; munch a locally foraged salad at Sundown at Granada; lick up a rum raisin ice cream cup at Carnival Barker's Ice Cream; and savor an espresso with locally roasted beans at Mudsmith. Chuck Cole, owner of The Corner Market, was a pioneer when he opened in 2005. "At that time, it was hard to locally source everything," he says. "I started off with Empire bread, coffee beans, juices, Lucky Layla Farms and organic produce. The neighborhood had a super positive response."
Seeing the potential, landlords and city officials worked together to transform the declining strip, says developer Jonathon Hetzel of Madison Partners, landlord to Blind Butcher and Company Café. Step one was to get rid of the bars. Step two: the city's $1.3 million streetscaping project that made Greenville pedestrian-friendly, with narrower streets, wider sidewalks and extra room for patios.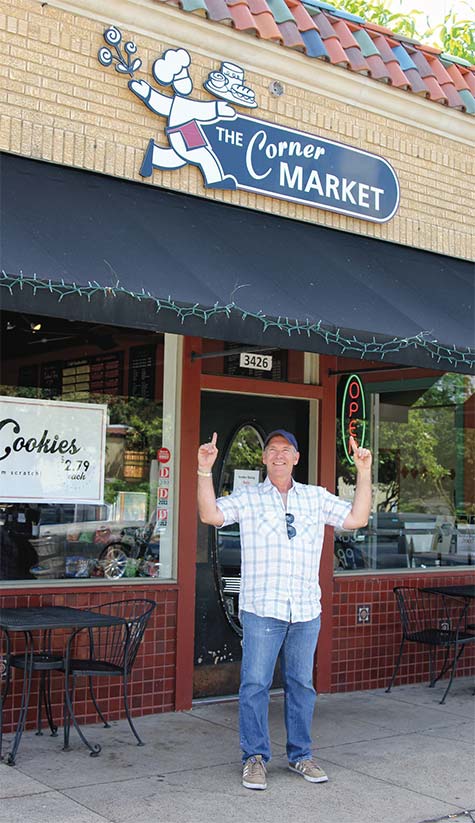 Chuck Cole points to his rooftop garden at The Corner Market.
The neighborhood got a boost from two big openings: the Austinesque outdoor Truck Yard from Twisted Root chef-owner Jason Boso; and Trader Joe's, the specialty grocery from California with a foodie cult following. "Trader Joe's set the tone and made the area seem more appealing," Hetzel says.
Although Trader Joe's is national, Hetzel and fellow landlords such as Andres Properties have favored independent, local operators. They've also curated the street with different kinds of businesses such as Dude, Sweet Chocolate and Village Baking Co., which will open a branch at 1921 Greenville Avenue in the fall.
Much has transpired in a remarkably short span of time, observes Cassie Green, who opened Green Grocer with her husband Gary in January 2013. "We were a little ahead of the curve," Cassie says. "But we wanted a neighborhood where it seemed like people valued community and independent businesses. It seemed like Greenville was like that."
Like all the other businesses on the street who have embraced local, Green Grocer is putting skin in the game. "I feel like we're at a pivotal moment, not just the food but the kind of world you want to live in," Cassie says. "Do you want to live in a place where all you have is 20 chain stores? Most people would say no, but the key is that you have to support the alternative."
And Cassie adds that folks are starting to make that connection. "They come in once a week, and they spend $20. We want to sell great food from local farms, that's being grown in a way we believe is sustainable. Part of our business model is to help shift minds – to say, 'This peach is amazing, and I felt good when I ate it.'"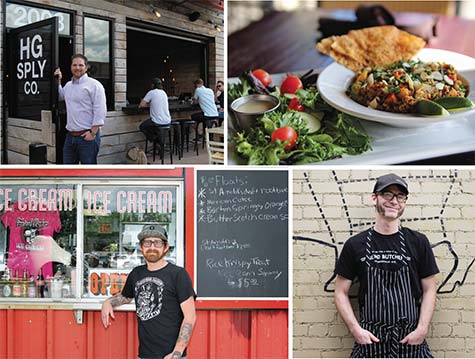 Clockwise from Top: Elias Pope, HG Sply Co.; Curry Quinoa Stir-Fry,
Sundown at Granada; Oliver Sitrin, Blind Butcher; Aaron Barker,
Carnival Barker's Ice Creams;
Here are some of the locally focused shops and eateries that call Greenville Avenue home.
Blind Butcher
1919 Greenville Ave.
214-887-0000
Second restaurant-bar from the owners of Goodfriend Beer & Burger House has a thing for meat. They make their own sausage, serve pig's ears, and toss bacon in the Brussels sprouts and in a dessert with caramel corn. Tom Spicer provides some of their produce and greens. Beef is by Local Yocal, while the duck fat they use for their signature duck-fat fries comes from Windy Hills Farms poultry. They get nuts from Chef Milton Gourmet and their bread from Village Baking Co. Locally made: Local Salad, with Spiceman's greens, house-made pickled veggies, and Chef Milton's chiliroasted nuts.
The Bottle Shop
2116 Greenville Ave.
214-828-2873
Comfortable, low-key bar prides itself on its inventory of beer with a wall of 24 taps that includes breweries from Dallas, Fort Worth, Texas and beyond. The beers rotate based on what's in season. Light hoppy ales during the summer shift to stouts and pumpkin beers in the fall. Staff is knowledgeable and helpful, with suggestions and tastes. Locally made: A pint of 10 Gauge Belgian ale by Grapevine Craft Brewery.
Carnival Barker's Ice Creams
5624 Sears St.
972-603-8225
North Texas has always had shaved ice—ice cream, not so much. To the rescue comes Carnival Barker's, an old-fashioned ice cream stand, with ice cream sandwiches and floats. Co-owners Aaron Barker and Sarah Miller make their own recipes with a rotating selection of flavors such as rum raisin and peanut-butter-chocolatechip, plus unique specialties such as frozen bananas. Locally made: Rice Krispy Treat ice cream sandwich.
Corner Market
3426 Greenville Ave.
214-826-8282
Corner Market is half grocery, half deli, and all quirky. They serve coffee in the morning, salads at lunch, and hot dishes like the Mom's Meatloaf Sandwich at dinner. Chuck Cole's dedication to the local imperative includes his rooftop garden which, after four years of tending, thrives with tomatoes, zucchini, chard, kale and peppers. Locally made: Toast and eggs breakfast with potatoes and rosemary from the rooftop and eggs sourced from their own chicken coop.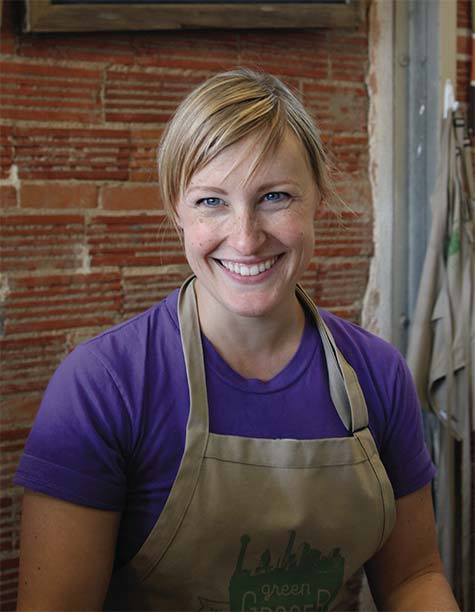 "I feel like we're at a pivotal moment, not
just the food but the kind of world you
want to live in." — Cassie Green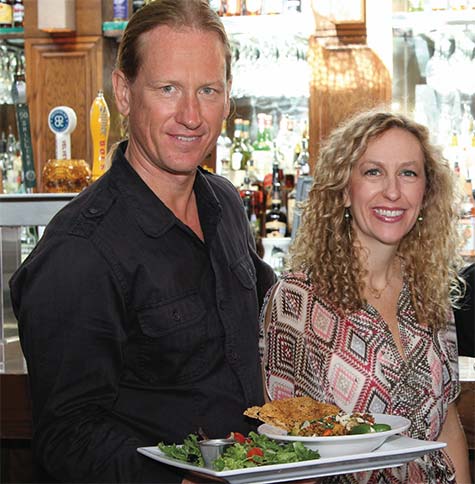 Dallas Beer Kitchen
1802 Greenville Ave.
214-484-2481
Gastropub spotlights craft beer, with a rotating list of 30 brews, from local and national breweries, all a cut above the norm. The menu offers upgraded bar food with an occasional twist, such as the fun "build-your-own-mac-'n'-cheese," with toppings such as bacon or jalapeño. Chef Joe Scribner uses bread from Empire Baking Co., and grows his own garden in the back with greens and herbs. Locally made: Fight Club sandwich with chicken, tomato, lettuce, guacamole, cilantro and house-made basil pesto
Dude, Sweet Chocolate
1925 Greenville Ave.
469-334-0125
Greenville Avenue is the perfect place for a satellite location of Dude Sweet, the edgy chocolate shop in Bishop Arts. Colorful, tattooed owner Katherine Clapner turns out unusual treats such as toffee made with mushroom powder or a chocolate "salami" made with dates, figs, marzipan and cocoa nibs.
The Grape
2808 Greenville Ave.
214-828-1981
A foodie destination since it opened in 1972, the Grape has climbed to new heights since Brian and Courtney Luscher took it over in 2007. Luscher did local long before it became a trend. But he's raised the ante with Post Oak Red Hots, his own hot dog and sausage company. Locally made: Chef 's Green Salad, with greens, carrots, Lemley's tomatoes, red onion and house-made bacon.
Green Grocer
3614 Greenville Ave.
214-643-6209
The offshoot of a similar store in Chicago, this small, highly personal grocery is the definitive emporium of sustainable and local goods. They strive for organic with no GMOs, with many items produced or grown in Texas. The list of Dallas-made goods is long, from Holy Kombucha bottled tea to Luscher's Post Oak Red Hots, Pop Star popsicles and Noble Coyote Coffee Roasters. They do fresh-squeezed juices and blend smoothies on site. Their preparedfood case features pasture-raised meats from local farms only, and is chef-caliber, to boot. Locally made: Panini sandwich with grassfed beef and cole slaw.
HG Sply Co
2008 Greenville Ave.
469-334-0896
Dallas' Paleo temple eschews processed food, grains, and dairy, and embraces vegetables and lean meats. What they do have on the menu: tomatoes from Amelia's Farm, beef from Local Yocal in McKinney, and eggs from Vital Farms in Austin. A surprise category on the menu with local provenance is their non-alcoholic beverages, using cold-pressed juices from Boom Juice at the Dallas Farmers Market. They make six "mocktails" from fresh-squeezed juices such as ginger root, watermelon, beet, carrot, and kale. Locally made: Burger stack bowl with Local Yocal beef, Vital Farms eggs, and Amelia's Farm tomato.
Libertine
2101 Greenville Ave.
214-824-7900
A pioneer when it opened on Greenville in 2006, Libertine does everything better than it has to, from its dedication to craft beers to a menu far more ambitious than the usual bar. Chef Richard Sipovic hews to a "30-mile limit," striving to source all of his ingredients within 30 miles. Tomatoes are from Lemley's, bread is from Empire, local beer is used in the onion ring batter, and he grinds his own burgers with beef supplied by Arrowhead in Lewisville. Locally made: Burger with house-made pickles.
Mudsmith
2114 Greenville Ave.
214-370-9535
Hipster coffeehouse with bookshelves and animal heads on the wall comes from barmeister Brooke Humphries (Barcadia, It'll Do). The shop employs a variety of arcane methods to brew your coffee, which runs extra strong, with beans from Avoca in Fort Worth. There's a menu of sandwiches and pastries, with local craft beer, doughnuts by Hypnotic Donuts in East Dallas, and shortbread cookies by Half Pint Palates. Locally made: French press coffee.
Nora
1928 Greenville Ave.
214-828-0095
noradallas.com
Having turned North Dallas on to the spicy thrills of Afghani food with his Afghan Grill, chef-owner Matt Pikar does the same for Greenville Avenue with Nora. He gets herbs such as cilantro, basil, and mint from the Dallas Farmers Market, and halal meat from World Food Warehouse in Richardson including lamb and beef. Come For: Qabili palau, Afghan's national dish with rice, carrot, and raisins, topped with lamb.
Steel City Pops
2012 Greenville Ave.
972-807-9062
Hailing from Alabama, Steel City is not the first gourmet frozen pop startup to try its hand in Dallas. But it is the first to open a storefront on Greenville Ave. Customers happily wait in line for decadent, alluring flavors, some made from local fruit, such as pineapple-jalapeño, creamy coconut, coffee, and vanilla bean, that change with the season. A seasonal frozen pop—how cool is that? Locally made: Watermelon fruit pop.
Sundown at Granada
3520 Greenville Ave.
214-823-8305
sundownatgranada.com
Restaurant connected to the historic Granada Theater is a serious, creative venture reflecting the dedicated farm-to-table perspective of owners Mike Schoder and Julia Garton. The food is 70% organic and 99% GMO-free. To supply their veg-leaning menu of flatbreads, quinoa bowls, sandwiches and salads, they grow herbs and veggies in their own garden behind the theater, then call upon a Bible of local purveyors: Amelia's Farm, Texas Honeybee Guild, Chisholm Trail Beef, Dallas Urban Greens, Pure Land Organics, Cold Springs CSA and more. Locally made: Manitoba burger topped with BBQ brisket and Full Quiver raw milk Colby cheddar.
Texas Truck Yard
5624 Sears St.
469-500-0139
texastruckyard.com
"Locally grown" truck yard with a rotating lineup of food trucks such as Simply Dosa and Ssahm BBQ features a Philly cheesesteak shop on site, whose sandwiches come on crispy rolls baked by Village Baking Co.
Unrefined Bakery
3426 Greenville Ave.
214-826-2414
Gluten-free outpost does it up sweet, with cupcakes, cookies, and whoopee pies; and savory, too, with starch-free bread, hot dog buns, and takeaway pizza crusts. More than 90% of the bakery is organic, including the fruits for their smoothies. And they get their coffee from Dallas roaster Cavallini Coffee & Tea. Locally made: Blueberry muffins
IN THE WORKS
Remedy, a soda shop starring chef Danyele McPherson from the owners of HG Sply Co.
Clark Food & Wine Co., a new concept from former Mansion on Turtle Creek chef Randall Warder
Rapscallion, a Southern-food concept from the owners of Boulevardier.
TERESA GUBBINS is Senior Editor at CultureMap, an online news site in Texas, where she covers restaurants and food trends, and a contributing restaurant critic for the Fort Worth Star Telegram. She previously wrote for D Magazine and the Dallas Morning News, and was also a pastry chef at restaurants such as the Mansion on Turtle Creek and Cafe Society.