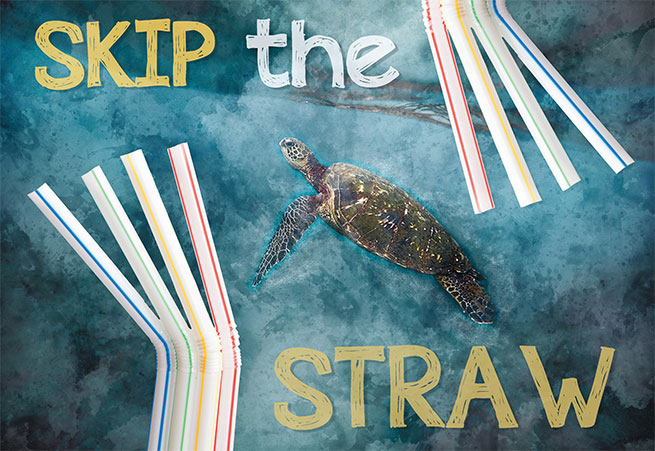 Photo: Istock.com/Anne Cordon
If dining out is part of your regular foraging routine, then you are well acquainted with the plastic straw. Straws have become a ubiquitous convenience at many restaurants, plunked into your drink automatically in what is no doubt intended as a gesture of good service.
But those straws add up, to the tune of millions per day across the U.S.—used for a few minutes, then discarded before they roll off into our landfills and oceans. In 2015, the horror of straws went viral after an excruciating video surfaced on YouTube, showing marine biologist and Texas A&M doctoral student Christine Figgener and fellow researcher Nathan Robinson pulling a straw out of a sea turtle's nostril with pliers. The video has been viewed more than 22 million times.
The tide has since turned, with restaurants, cities and even countries such as the United Kingdom joining a movement to ban straws or limit their use.
Surprisingly, Dallas-Fort Worth has been on the forefront of the no-plastic-straw movement. Much of the credit goes to Snappy Salads, the pioneering Dallas-based gourmet salad chain that blazed the trail by replacing plastic straws with recyclable paper straws in 2014. In four years, the company has saved 1.3 million straws.
"We have a big commitment at Snappy Salads to lowering our impact on the environment," says founder Chris Dahlander. "This is the only planet we have to live on, and we're seeing how detrimental plastic can be to the entire ecosystem."
Plastic refuse is turning up on beaches around the world and killing off marine wildlife in large numbers. More alarming are studies that suggest plastic has entered the food chain. The oceans are filled with micro-particles of plastic that are consumed by fish and have been detected in oysters and mussels.
Other local restaurants have followed Snappy's lead. Harvest Seasonal Kitchen, a farm-to-table eatery in McKinney, and V-Eats, the vegan restaurant at Trinity Groves, swapped out plastic for paper. Dream Café, beloved for its Sunday brunch, and Whiskey Cake, the New American restaurant from the Frontburner restaurant group, are using biodegradable alternatives.
Overeasy, one of the restaurants at the Statler hotel in downtown Dallas, just made the switch to paper straws. Statler culinary director Graham Dodds, a leader in the farm-to-table movement in Dallas, says that a no-plastic-straws stance fits into a broader awareness of respect for the planet.
"I think there's a tie-in to the farm-to-table movement in that farm-to- table supports local farmers and leaves a smaller footprint," he says. "Plastic straws are a detriment to the planet so we have decided to use paper."
Meanwhile, chic restaurants such as Sassetta in the Design District, CBD Provisions at the Joule Dallas hotel downtown, the Asian Mint Thai restaurant chain, and Perfect Union Pizza in Highland Park Village simply do not offer straws at all.
Bars are a big (ab)user of plastic straws, but some Dallas spots are jumping on the paper bandwagon, including Liquid Zoo and Alexandre's Bar, both in the Cedar Springs district. In the coolest gesture of all, Shoals Sound and Service, the fancy cocktail bar in Deep Ellum, is using permanent straws made of stainless steel.
EarthX, Dallas' annual Earth Day festival, picked up the mantle at its 2018 event with a "Strike Out Straws" campaign that included a ban on plastic straws for all vendors.
"We knew we needed to get behind this," says EarthXFilm founder Michael Cain.
Straws aren't the only plastic things wreaking havoc on the environment, Dahlander notes. But straws serve as an effective symbol of the wastefulness of single-use packaging—from the containers supermarkets use to sell strawberries to the plastic cups used for one drink, then thrown away.
"The great thing about the straw angle is that it's a singular item in a bigger story about reducing plastic waste," Dahlander says. "Focusing in on one product and making it a symbol is a powerful way to change behavior. Some of our customers don't like paper straws, but when people complain to me, I see it as an opportunity to get into a bigger conversation.
"All of our packaging is eco-friendly—the to-go boxes, the utensils— but no one ever talks about those. It's the straw I get most comments on. Straws start the conversation."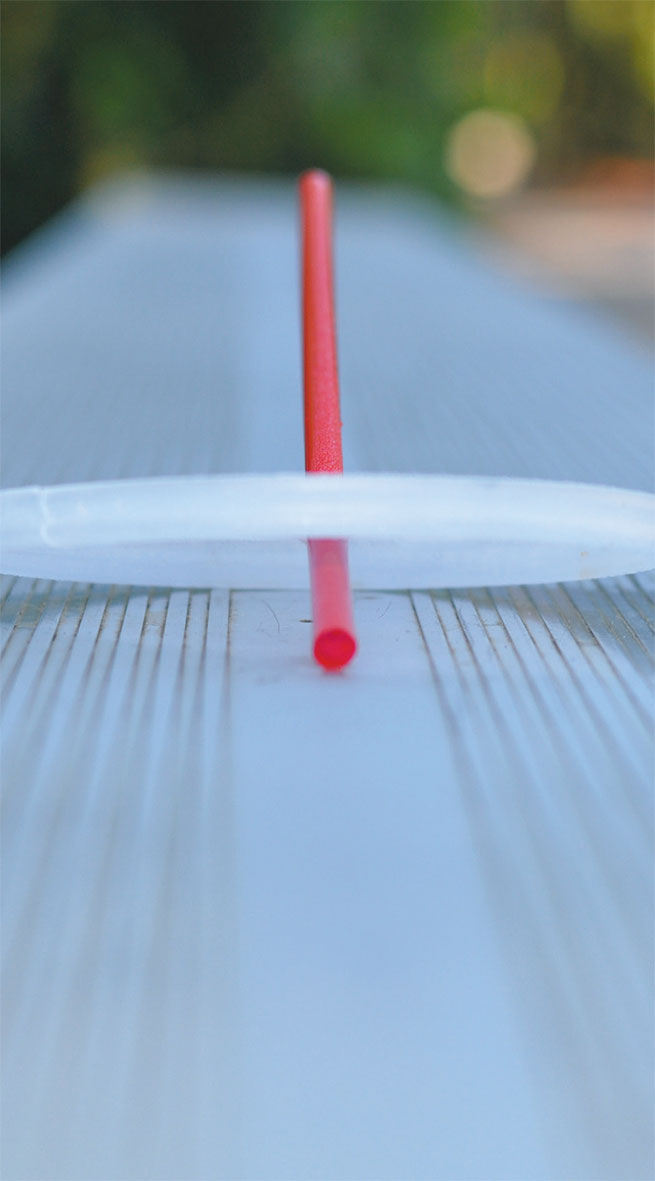 Photo: istock.com/hr2hrt
Here are some tips and resources if you want to break the plastic straw habit:
Tell your server or bartender, "No straw, please."
Bring your own straw. There are straws made from stainless steel, titanium, silicone, glass, bamboo and straw. Go to "Resources" at thelastplasticstraw.org.
Seek out films that cover the topic such as Straws, a documentary by Linda Booker, or A Plastic Ocean. My Plastic Free Life has a complete list of films and videos. myplasticfreelife.com
Follow the progress of LoliStraw, the first edible straw, currently in funding mode. LoliStraw at kickstarter.com.
Encourage restaurants to serve straws by request only.
TERESA GUBBINS is Senior Editor at CultureMap, an online news site in Texas, where she covers restaurants and food trends, and a contributing restaurant critic for the Fort Worth Star Telegram. She previously wrote for D Magazine and the Dallas Morning News, and was also a pastry chef at restaurants such as the Mansion on Turtle Creek and Cafe Society.