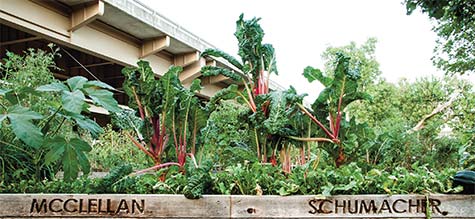 Story by Teresa Gubbins
Photography by Joy Zhang
Nestled beneath a looming freeway overpass rests an oasis of green, a pastoral paradise surrounded by cement. Melissa Scogin, an urban gardener, surveys her plot budding with new growth—blue-green baby kale fronds and Swiss chard with magenta stems.
Tugging gently at a cluster of broad flat leaves, she plucks another edible prize: the last of her summer cucumbers, deep green, fresh from the vine.
"My cucumbers did great this year," she says, beaming triumphantly. "I did a lot of pickling."
Scogin's tidy plot resides in possibly the last place you'd expect: at a community garden in Dallas' central core. Called Deep Ellum Urban Gardens, it not only wins as the city's most urban farm, it stands as a horticultural gateway underscoring the latest evolution in this newly vibrant neighborhood.
The last time Deep Ellum was hot was the '90s, when clubs hosted local bands like Edie Brickell and New Bohemians. Then the music industry crashed, and so did Deep Ellum. But after a quiet decade, it's back. Century-old brick buildings are sprouting a new crop of restaurants, brewpubs, galleries and shops.
Eating and drinking is the new entertainment, and in every corner of Deep Ellum, you can find foodie treats: mascarpone tortas at Mozzarella Company, crisp IPA at Deep Ellum Brewing Co., chewy noodles spun before your eyes at Monkey King Noodle Co., bratwurst at Rudolph's Market and hot Italian sausage from Luscher's Red Hots.
You can see local art at Kettle Art Gallery, or smell organic vegan soap milled at Deep Soaps. A shared-workspace firm, Common Desk, provides office space and networking opportunities for startups. The monthly Deep Ellum Outdoor Market brings together foodstuff vendors and artists the third Saturday of every month.
Residents like Sean Fitzgerald, a photographer and president of the Deep Ellum Community Association neighborhood group, detect a Edible Community growing role for Deep Ellum as a place for entrepreneurs, craftsmen and artisans.
"We've never been a chain neighborhood. Deep Ellum has always placed value on the small mom-and-pop," he says. "Now we've got these folks coming in with great ideas and investing a lot of care. You feel like you're experiencing something real and organic."
The influx is making life in Deep Ellum more vibrant and livable, with sundry options within walking or bicycling distance.
If you live in one of the many loft buildings that ring the neighborhood— a triangle bordered by downtown, Baylor University Medical Center and Exposition Park—your morning routine might start with an espresso from Cafe Salsera, the Latin restaurant with a convenient walk-up window. Then, it's time for you and your pup to hit Bark Park, the fenced-in dog park under the freeway, decorated with surreal animal- themed murals painted by local artists.
On your way back, you might wave to your neighbors lined up for a gourmet house-made doughnut—no mixes here—at Glazed Donut Works, a savory fried pie with pulled pork at Baker's Ribs, a peach milkshake from Twisted Root Burger Co. or a short stack at AllGood Cafe.
Deep Ellum's revival got a big nudge from Scott Rohrman, a developer who bought up buildings with the goal of preserving the unique local character. His first coup came in 2014 when he lured famed barbecue restaurant Pecan Lodge from their stall at the Dallas Farmers Market. These days, you can't walk down Main Street without catching a whiff of their brisket, ribs, sausage and trademark shoulder clod, smoked daily on-site. Owners Justin and Diane Fourton had many landlord offers. "But nothing compared to the sense of community in Deep Ellum," Justin says.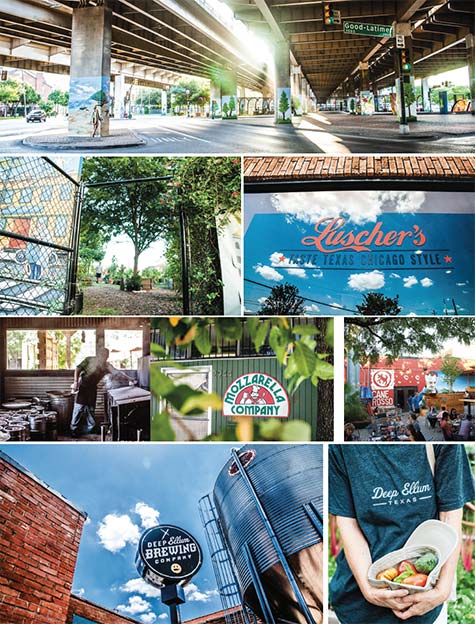 Fitzgerald says that spirit remains intrinsic to the fabric of the neighborhood. "Even though Deep Ellum is evolving, I think we're staying true to our roots and culture and character," he says. "People want to support each other. There's a sense of pride."
Kelly Clemons had been a D.E. resident for eight years when she hatched the idea for Deep Ellum Urban Gardens (DUG) in 2011. "The goal was to create a pocket of sustainability in an area with limited green space," she says.
Bolstered by moral and financial support from neighbors and the city of Dallas, the Gardens premiered in 2013 in a former median space about a quarter-acre big, at Canton and Good Latimer Expressway. It boasts 124 plots, each 4 x 4 feet, with about 75 gardeners. To get in, you must live in Deep Ellum, Dallas Farmers Market or downtown Dallas, and there's been a waiting list from Day One. They net two harvests a year, in spring and fall, when the gardens overflow with verdant treasures: peppers, arugula, cauliflower, beans, carrots, kale, herbs and flowers.
There's also a community plot where people can toss their extra seeds, and they occasionally have programs for students from the Uplift School on Elm Street nearby.
DUG gardeners enjoy more interaction than the typical come-and-go garden, says Scogins, who's on the board and has been a grower since the outset. "If someone's new or having trouble, we counsel each other and offer ideas," she says.
In addition to individuals, participants also include area restaurants such as Cane Rosso, Union Hall in downtown Dallas, and Frank Underground, a private-dinner company from two MasterChef finalists.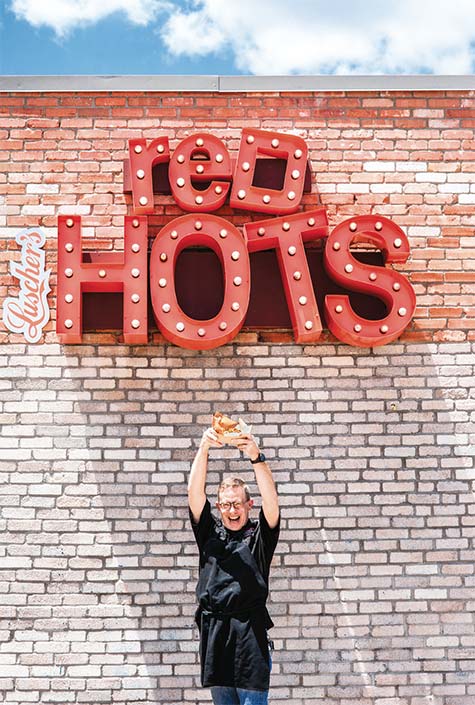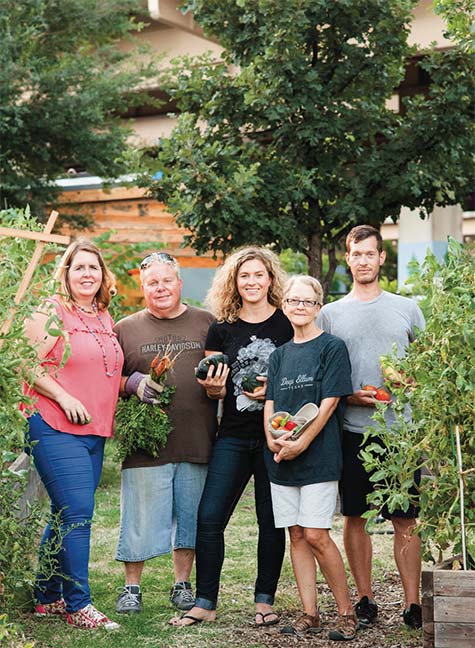 Brian Luscher of Luscher's Red Hots; Deep Ellum Urban
Gardeners—Melissa Scogin, Dave Kasper, Kelly Clemons, Diane
Ames and Tim Dubitsky.
"The basil we grow goes straight on our pizza," says Cane Rosso owner Jay Jerrier.
Jerrier also procures sausage from chef Brian Luscher, who opened his long-awaited hot dog restaurant, Luscher's Red Hots, in Deep Ellum in February.
Luscher got into sausage-making in 2012, when he began selling a line called Post Oak Red Hots at the White Rock Local Market. (They are now sold at Green Grocer on Greenville and through the online gourmet delivery service Artizone.) It eventually expanded into a restaurant in, where else, Deep Ellum where its slogan is, "We make damn near everything from scratch or get it from people who do."
Like nearly every bar and restaurant—from Anvil Pub to Three Links to Adair's Saloon—Luscher's serves beer from Deep Ellum Brewing Co. (DEBC), brewed less than a mile away.
DEBC founder John Reardon was a pioneer when he opened his brewery there in 2010.
"At that time, things were quiet in Deep Ellum, and I would walk through the area and felt like it was in need of a craft brewery," he says. "I grew up going there in the '90s, so it's always had a special place in my heart.
"But it was the sense of community more than anything that drew me to the neighborhood. Even during the downturn, that sense of community remained strong. It was the people who made it important."
One of the dozens of craft brewers who have followed DEBC's path is BrainDead Brewing, a brewpub featuring the beer-making skills of Andrew Huerter, former brewer for Deep Ellum Brewing Co. Brain- Dead chef David Pena is having a "local" field day: grinding the beef for his burgers, curing his own bacon, pickling okra from the farmers market.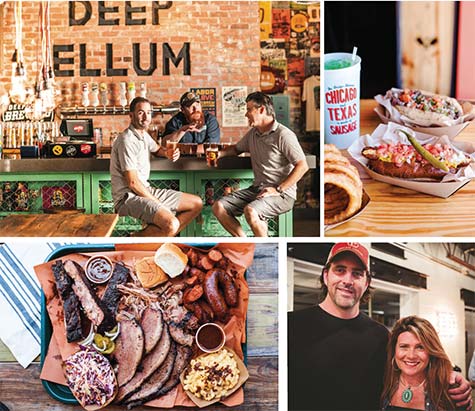 (Clockwise) Deep Ellum Brewing Company owner John Reardon
with head brewer Jeremy Hunt and Zack Fickey, events. Sausage and
more at Luscher's Red Hots. Pecan Lodge Barbecue owners
Justin and Diane Fourton. A smoky assortment from
Pecan Lodge. photo: Robert Strickland
And they keep on coming. In the fall, look for Dot's Hop House, a gastropub and beer garden which owner Jeff Brightwell envisions as a kind of Hanging Gardens of Babylon. "I would love to grow hops and give them to BrainDead for a beer made with true local ingredients," Brightwell says, flashing his Deep Ellum spirit.
In 1982, long before buying local was even a thing, Dallas legend— and the original Deep Ellum pioneer—cheesemaker Paula Lambert of Mozzarella Co. set up shop here. Area restaurants such as the Rosewood Mansion on Turtle Creek were her first customers. She now produces more than 30 varieties of cheese, sold at specialty grocery stores and restaurants across the country, from mellow ricotta to the mildly tangy Deep Ellum blue.
A more recent food-centric startup, Dallas Urban Farms, aims to install gardens on every roof in Deep Ellum. Dallas Urban Farms' founders Max Wall and Jody Thompson are working with D.E. landlord Scott Rohrman to mount vertical hydroponic growing towers on all of his buildings.
"Our idea is to make food local, easy to grow, and cleaner, with no GMOs or pesticides," Jody says.
Their system consists of 8-foot-tall towers that grow up to 44 plants apiece, and they can grow almost everything: from tomatoes to herbs to greens, all without chemicals. They're already installing a farm on top of the Hilton Anatole and aim to sell their produce at the Dallas Farmers Market.
"Our headquarters are in Deep Ellum and that's where we wanted to start," she says. "I'm a girl of the '90s and spent a lot of time down here when I was younger. But the community really does embrace innovation, and it's a great food hub."
DUG founder Clemons maintains that the act of growing is intrinsically a community endeavor. "We've always said at our garden that we are a community first and a garden second," she says. "I think that stems from the fact that we were born out of Deep Ellum which does community really well. And that is something we've always tried to foster with our gardeners."
She's perhaps most proud of the way that DUG has sown a seed that goes beyond the crops. "The gardens have helped to merge downtown with Deep Ellum. That doesn't happen very often; people think there's a wall. Deep Ellum didn't know if downtown did community. We all found out we do it very well."
For a complete list of Deep Ellum businesses, restaurants and happenings, go to deepellumtexas.com.
TERESA GUBBINS is Senior Editor at CultureMap, an online news site in Texas, where she covers restaurants and food trends, and a contributing restaurant critic for the Fort Worth Star Telegram. She previously wrote for D Magazine and the Dallas Morning News, and was also a pastry chef at restaurants such as the Mansion on Turtle Creek and Cafe Society.