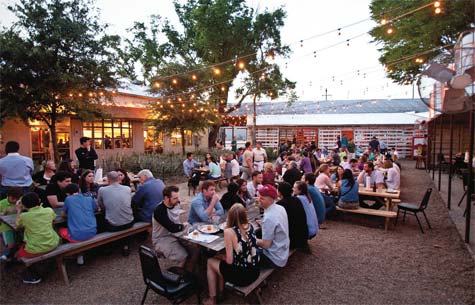 Chicken Scratch nails the outdoor concept better than anyone in town.
Photography by Melinda Ortley and Matthew Rainwater
As anyone who's ever become smitten with an ordinary sandwich at a lakeside picnic can attest, food tastes better outdoors. Some kind of glorious alchemy takes place when you're dining al fresco, beneath dappled rays of sunshine or the nurturing caress of an unfettered breeze.
Eating outdoors puts you in a state of heightened sensory awareness. Tomatoes are no longer a mere red—they're scarlet, rubescent. Aromas grow more acute. A pinch of fresh rosemary and a drizzle of olive oil on foccacia becomes an intoxicating perfume.
It seems only right to enjoy the harvest in the fresh air, under the sun that nurtured it in the first place. Summers are when we commune with nature and commune with each other. Summer is when we pack picnics and dawdle on patios or eat shaved ice from our perch on a car hood. Summer is about corn on the cob and potato salad and glasses of rosé. Oh, you could have potato salad in the winter— but could it taste as good as it does spooned out of a Tupperware container whilst lying prone on a blanket with friends?
Knowing that the answer to that question is an unequivocal no, we've assembled a list of some of the best outdoor spaces to share a bite. We're including places where you can picnic and places where you can get served some fine local grub. This is not a patio story; Dallas-Fort Worth has countless patios and rooftop decks, but we've only included those with extra-special views.
OUTSTANDING PUBLIC PLACES
WHERE YOU CAN BRING YOUR OWN
DALLAS ARBORETUM
8525 Garland Rd. 214-515-6500
www.dallasarboretum.org
You can bring: picnic baskets, coolers, glass bottles, alcohol & blankets
$10 to $15 entry
With its stunning displays of flowers, The Arboretum is the premiere location in Dallas for picnics. There are 66 acres that run along the south shore of White Rock Lake. Easily navigable pathways lead to numerous seating areas with picnic tables, benches and courtyards, all pristinely kept. Bring a basket with finger sandwiches made with cucumber and watercress, plus some grapes and a bottle of Prosecco. The serene atmosphere makes you feel like you're out of the city; yet the skyline of Dallas over the lake twinkles at dusk.
FAIR PARK
1300 Robert B. Cullum Blvd. 214-670-8400
www.dallascityhall.com/FairPark/administration.html
You can bring: picnic baskets, coolers and blankets, but no alcohol.
Free entry
The massive 277-acre facility east of downtown is home to the State Fair of Texas and the Cotton Bowl Stadium. But Fair Park is also a hidden urban oasis that's ideal for picnicking, with greens, wildlife pond and butterfly habitat. The stunner is the Esplanade: a 700-foot-long reflecting pool and fountain surrounded by 1930s Art Deco murals. Bring roasted almonds and a thermos of water infused with oranges and lemons; stop en route at nearby Mozzarella Company for an assortment of cheeses.
FLAGPOLE HILL
8100 Doran Cir. 214-670-8281
www.visitdallas.com/listings/Flag-Pole-Hill
You can bring: picnic baskets, coolers and blankets, but no alcohol.
Free entry
Birders love this summit on the north shore of White Rock Lake; binoculars in hand, they seek out good perches off the beaten paths. Part of Dallas' parks department, it has a pavilion and playgrounds —good for families and events like Earth Day Festival. Make your own wrap sandwiches with avocado, spinach and poached chicken breast sliced paper-thin.
KLYDE WARREN PARK
2012 Woodall Rogers Pkwy. 214-716-4500
www.klydewarrenpark.org
You can bring: picnic baskets, coolers and blankets, but no alcohol.
Free entry
Five acres may not sound large, but it's all about location. Perched over a freeway, Klyde Warren Park offers a green space in the middle of the city, a verdant bridge between Downtown and Uptown. This is an active park, more see-and-be-seen than hideaway, with putting green, croquet and lots of spindly little seating. Make it a pit-stop on a downtown walking tour or bike ride. Go for some tacos at the battalion of food trucks, or cross the street to Lark on the Park, the eatery and craft beer bar.
UNUSUAL PLACES WHERE
YOU CAN DINE OUTDOORS
COYOTE DRIVE-IN
223 NE 4th St., Fort Worth. 817-668-5665
www.coyotedrive-in.com
No outside food, drinks or glass bottles
Two years in the making, this public-private collaboration between Coyote Theatres and the city of Fort Worth finally comes to fruition. It's part of a master plan near LaGrave Field that also includes a river walk and town lake, just outside downtown Fort Worth. There's a playground for kids, and if you want to skip the movie, you can still dine at the pavilion – either from the on-site kitchen or from the squadron of food trucks.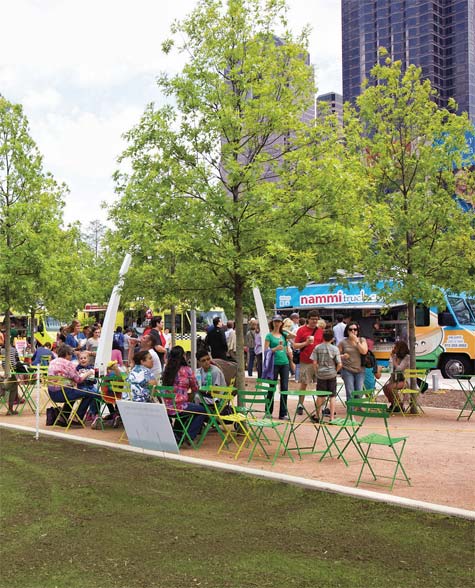 Klyde Warren Park offers a green space in the middle of the city,
a verdant bridge between Downtown and Uptown.
CLEARFORK FOOD PARK
1541 Merrimac Cir., Fort Worth
www.clearforkfoodpark.com
Fort Worth's newest food truck park is part of the very hot Trinity River scene, next to the jogging trail with its grassy areas and trees. Pets are allowed and bicycles are everywhere, stopping off for a bite from beloved trucks such as So-Cal Tacos. Bravo to Fred's Texas Café for coming to the rescue of brew hounds with a beer stand called Fred's Bait Shop.
FORT WORTH FOOD TRUCK PARK
2509 Weisenberger St., Fort Worth. 817-878-2424
www.fwfoodpark.com
Fort Worth's original food truck park has the coolest digs, with its tranquil outdoor space located in an area off the Seventh Street area that is otherwise industrial. Picnic tables run down the center, with a sentry line of trees on either side. Look for the highly regarded vegan and gluten-free food truck Good Karma Kitchen, purveyor of excellent chili and BBQ tacos.
LOWER GREENVILLE FOOD TRUCK PARK
2005 Greenville Ave., Dallas
While there are many patios along Greenville Avenue, this merits special mention because it's the first stationary food truck park in the city. Dining options include Philly cheesesteaks and craft beer by Twisted Root chef-founder Jason Boso and locally made ice cream from Carnival Barker's micro-creamery.
MARTIN HOUSE BREWING
220 S. Sylvania Ave., #209, Fort Worth. 817-222-0177
www.martinhousebrewing.com
A brewery that shares its name with a bird – the native Texan purple martin – is our kind of place. Brewer Cody Martin, his wife and some friends opened in April off the Trinity Trails, with a garagedoor patio that overlooks the Trinity River. They may forge a deal with local food trucks, but don't mind if customers bring snacks. Their lineup of brews is innovative, such as a stout made with actual crushed pretzels; maybe pair that with pretzels? Their "breakfast beer" made with barley, wheat, oats, and rye needs no accompaniment, but their pale, peppery saison begs for a pizza from sprouty hippie chain Mellow Mushroom.
RESTAURANTS WITH DISTINCTIVE FACILITIES
CANE ROSSO WHITE ROCK
7328 Gaston Ave. Suite 100, Dallas. 214-660-3644
www.ilcanerosso.com
This pizzeria patio has style. With trellises, natural landscaping and high walls, it feels more Mediterranean courtyard than East Dallas strip mall. Mature trees shield out the harshest sun, and there's a clever fountain whose bottom is lined with pennies; that's a lot of good luck. Cane Rosso's Ella pizza with hot soppressata always pleases—but it never tasted as good as it does here and now.
CHICKEN SCRATCH
2303 Pittman St. Dallas. 214-749-1112
www.cs-tf.com
Chicken Scratch nails the outdoor concept better than anyone in town: crisscrossed strings of lights, a pebbled runway and a patch of paved cement where chalk invites children old and young to leave their mark. Their chicken is local, and they serve it seven ways, including BBQ, Buffalo-style, smothered with gravy or rotisseriestyle. Loads of sides and great salads, plus biscuit sandwiches, steamed tamales, and even a chicken soup.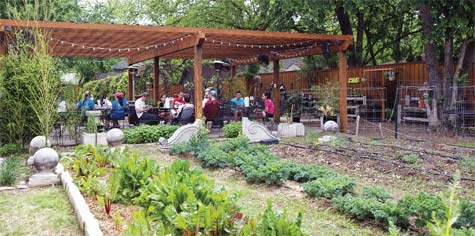 At Garden Cafe you'll find planting beds with crops that will
eventually show up on the menu.
COMPANY CAFÉ ON KATY TRAIL
3136 Routh St. Dallas. 214-468-8721
www.companycafe.net
Company Café first opened rather grimly on Greenville Avenue, building a following among the gluten-free crowd with gluten-free waffles and gluten-free cakes. Things cheered up with this second branch overlooking the Katy Trail. They use Homestead Heritage grass-fed beef, cheese from Mozzarella Company, and chocolate from Dude, Sweet. Fried stuffed jalapeños may not be healthy but they are gluten-free. Munch on them thoughtfully as you watch the bicyclists whiz by.
GARDEN CAFE
5310 Junius St., Dallas. 214-887-8330
www.gardencafe.net
Garden Cafe is the poster child for going local and creating a wonderful outdoor space to do it. From the front, it's an impeccable white-brick spot with navy blue trim. In back you'll find a trelliscovered patio and planting beds with crops that eventually show up on the menu. It's breakfast and lunch only, but breakfast is served all day, including fluffy whole-wheat pancakes and bounteous omelets with kale and other goodies from the garden.
KALACHANDJI'S
5430 Gurley Ave., Dallas. 214-821-1048
www.kalachandjis.com
Of the many reasons to love Kalachandji's, the outdoor courtyard of this East Dallas restaurant at the Hare Krishna temple would be at the top of the list. Other reasons: the all-buffet menu that's vegetarian with a mild Indian theme. The under $10 price. The crunchy battered veggie pakoras. The trademark cinnamon bread. The kindness of the staff. Last but not least, that courtyard, with sprawling tree, gurgling fountain and prevailing tone of serenity.
KATY TRAIL ICE HOUSE
3136B Routh St., Dallas. 214-468-0600
www.katyicehouse.com
Sidling up to the Katy Trail, this Uptown beer garden has Hill Country barbecue on its menu, along with a beer selection rife with local breweries and seasonal brews. There's a bit of a college, frathouse spirit here, and the whoops seem all the louder in what is otherwise a placid preserve. We wouldn't want to live here but it sure can be a fun place to visit.
LEE HARVEY'S
1807 Gould St. Dallas. 214-428-1555
www.leeharveys.com
Burgers, tacos, chips & salsa—Lee Harvey's is hardly a foodie paradise. (Although its bodacious onion rings with chipotle aioli have topped some Best lists.) Its beer selection isn't fancy either, ignoring the current obsession with owning dozens of taps. Lee Harvey's is just a good old dive bar but with one of the zaniest, most laidback outdoor scenes around. There are picnic tables and a fenced-in yard so you can bring your dog. Rest assured, people do.
THE LOT
4843 Terry St., Dallas. 214-821-7377
www.thelotdallas.com
Located off the Santa Fe Trail, The Lot has a story behind its name: The patio is a huge sandlot that's become a playground for the younger set. Chef Sharon Hage helped devise the menu, with intriguing items like a sandwich made with cashew butter and sliced banana. Their policy is come as you are, and bring your dogs and kids. Atmosphere is relaxed.
SANDBAR CANTINA
317 S. Second Ave., Dallas. 214-884-5528
www.sandbarcantina.com
Restaurant-bar boasts an exemplary set of volleyball courts whose pristine white sand makes you want to sit and run your toes through it all day. Its inner-city location, right between Deep Ellum and Exposition Park, makes its beachy aspirations seem all the more wonderfully surreal. Lately, they've improved their menu by adding some lighter fresher salad-type fare. Your serve.
SUNDOWN AT GRANADA
3520 Greenville Ave., Dallas. 214-823-8305
www.sundownatgranada.com
Lodged up against the Granada Theater, this craft-beer spot and restaurant has an enclosed patio that's nicer than the usual Greenville Ave dive. But what makes Sundown worthy of mention is its menu. Not only does it have a standout collection of veggie dishes like the luscious spiced pecan roasted sweet potatoes, but the kitchen can take any meat dish and "vegan-ize" it. It's the ideal place to go if you eat meat but your friend does not. Now everyone can eat together.
WOODSHED SMOKEHOUSE
3201 Riverfront Dr., Fort Worth. 817-740-8835
www.woodshedsmokehouse.com
Meat-centric entry from chef Tim Love is a stunner, overlooking the Trinity Trails with oodles of style and drama on the plate, too. The L-shaped dining room opens entirely onto a backyard patio with picnic benches, twinkling white lights, live music and the Trinity River as a backdrop.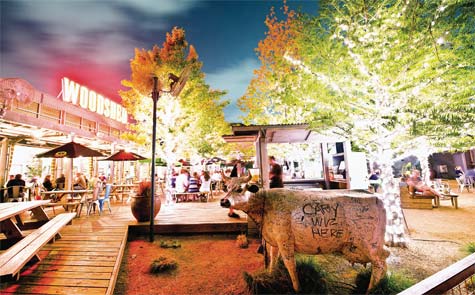 The L-shaped dining room of Woodshed Smokehouse opens
entirely onto a backyard patio with picnic benches and twinkling lights.
TERESA GUBBINS is Senior Editor at CultureMap, an online news site in Texas, where she covers restaurants and food trends, and a contributing restaurant critic for the Fort Worth Star Telegram. She previously wrote for D Magazine and the Dallas Morning News, and was also a pastry chef at restaurants such as the Mansion on Turtle Creek and Cafe Society.