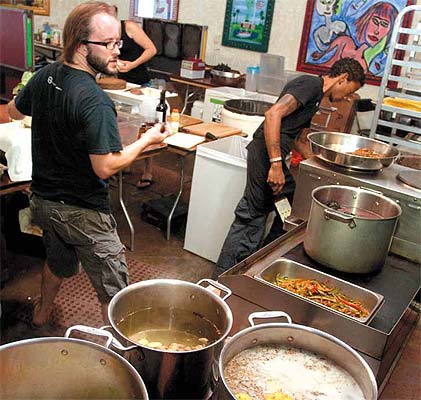 Photography by Kris Hundt
It's lunchtime at the Superpages.com Center, the concert venue at Dallas' Fair Park. Roadies, musicians and security staff form an expectant line. But this is no ordinary backstage grub. Tender medallions of chicken simmer in mole sauce. Roasted Cornish hens, flecked with herbs, sit symmetrically on a rack. Chunks of red tomato and green parsley brighten an Israeli couscous salad.
Later tonight, musician Jack Johnson will woo the crowd with his laid-back folk pop. But for now, there is this bountiful, wholesome buffet.
"It's better than what we usually have," drawls local staffer Steve Lawler.
The beauty's on the inside, too. Those colorful bell peppers stir-fried with tofu? They were grown just outside Dallas. The cheese comes straight from a local dairy farm and was delivered to the venue just a few hours ago.
This extraordinary feed reflects a bold commitment by Johnson and the team he's assembled to source their food locally. It's not an easy challenge. They must be nimble and responsive and ready to embrace whatever's in season. The arrangement also demands agility from the farmers, who must go the extra distance to make this produce delivery on a tight timetable.
But all agree that the mission is important. Besides wanting to guarantee that his musicians and crew eat well today, Johnson and his team want to show that eating well on the road is indeed possible and by doing so, inspire other performers to follow their lead. Johnson's farm-to-table initiative is part of a broad environmental approach he observes throughout his tour: from using biodiesel fuel and reducing the number of plastic bottles to promoting non-profits along the route who share his vision. During his stop in North Texas, he offered his support to REAL School Gardens, a grassroots program that has built 74 teaching gardens in elementary schools throughout the DFW Metroplex.
To execute this eating-locally goal, he's brought Chef Dave Thorne on tour as well as a representative from Reverb, a non-profit that provides turn-key greening programs for artists' tours. For his Dallas show, the singer found a partner in Marie Tedei of Eden's Garden CSA Farm in Balch Springs. A few weeks before the tour date, she got a call from Reverb asking if she'd be willing to participate.
"I said sure, I'd be interested in taking the composted food afterwards, too—that was how it started," she says. "Then the chef, David Thorne, contacted me a week before they came. I assumed that Reverb had given him the names of other farmers as well, but I ended up being the only one he called. I have a little mini farmers market, so I know lots of people. I was happy to help promote my fellow dairy farmers and ranchers."
There wasn't a ton of produce because this was August, "the dead of summer," she says. But she was able to get cheese and milk from Texas Daily Harvest in Yantis; grass-fed beef from Cherokee Point Ranch in Ennis; smoked peppers and other veggies from Moss Gathers Farms in Celina; watermelon from The Good Farm at Paul Quinn College; plus cherry tomatoes, cucumbers and acorn squash from her own farm.
Knowing that the touring kitchen was on a tight schedule and with her farm only 20 minutes from downtown, she lent a hand with the logistics.
"I knew those guys would be screeching into town and maybe would not have time to be running around, so I went ahead and met the farmers partway," she says. "Carol from Moss Gathers brought her stuff down. All I had to do was take it to the venue." That morning, she showed up backstage, her truck laden with supplies. Chef Dave greeted her, and they unloaded the goodies. "Ooooh, these peppers are sexy," he said. He began brainstorming a splendid menu with beef bourguignon with smoked peppers, and oooh, a creamy squash and apple soup.
Thorne and his employer, Knoxville-based Dega Catering, began this farm-to-table initiative two years ago. Thorne, who lives in Alaska when he's not on tour, has plenty of rock-star cooking experience as Neil Young's private chef and has toured with other acts such as the Dave Matthews Band.
"We've always gone to Whole Foods and tried to get local produce when we could," Chef Dave says, stirring a pot of chopped onions. "But since we began working with Jack, we decided to match what he was already doing environmentally. We decided, let's take it a step further and get it even fresher. And in the process, give the money to the farmer. Why not give them the top price? I think these farmers are the rock stars. Let's show who these farmers are and what they're doing."
His primary resource in this venture is the website www.localharvest.org, which lists family farms and other sources of sustainably grown food.
On tour, he prepares three meals a day for a crowd of 20 to 40 people. Chef Dave and his crew of five foodie gypsies travel with a well-stocked larder of dry goods and oils, vinegars, dried fruit and other gourmet ingredients to supplement their cooking. And even with the farmer arrangement, there is a backup trip to Whole Foods. Good, fresh food isn't something you can bring with you in a truck. The other key player is Reverb, who makes initial contact with the farmers. Reverb was formed by Adam Gardner, guitarist for rock band Guster, to help bands stay earth-friendly while on tour. Clients include Dave Matthews, John Mayer, Phish, Lilith Fair. Reverb staffer Josh Glasheen goes on tour to oversee each tour's carbon footprint.
"None of these artists would say they're changing the world, but these are steps that collectively will move the industry forward," Glasheen says. "If Jack Johnson spends $500 a day on farms for local foods, and then if other bands do it, multiply that 20 times over, and you're putting $10,000 into local farmers' hands just by coming around."
Thorne's kitchen, beached in temporary quarters in Superpages' sprawling backstage, feels like cooking summer camp, and that has a lot to do with his energetic, good-natured charm. As half a dozen local helpers busily chop, blend and sauté, rock music plays and good spirits abound. But beneath the camaraderie lurks a phantom military operation with supplies fastidiously organized and suitcases marked "glass" and "pots." Thorne keeps a journal with nightly menus jotted down on a grid pad.
"It still is time-consuming, especially when you're on the road," he says, tending to several beef chuck roasts as they sear on an outdoor Weber grill. They are later to be used in his beef bourguignon. "Even on your day off, you're thinking about venues two to four days down the road. We want to eat seasonally, and that means you can't have fresh figs in early April. But you don't want to get the same products all the time. Even as a chef, I need variety.
I can only think of so many different ways to cook squash." He flips the roast on this 95-degree hot summer Texas day. "Eskimos weren't made to sear out in the heat," he says.
TERESA GUBBINS is Senior Editor at CultureMap, an online news site in Texas, where she covers restaurants and food trends, and a contributing restaurant critic for the Fort Worth Star Telegram. She previously wrote for D Magazine and the Dallas Morning News, and was also a pastry chef at restaurants such as the Mansion on Turtle Creek and Cafe Society.