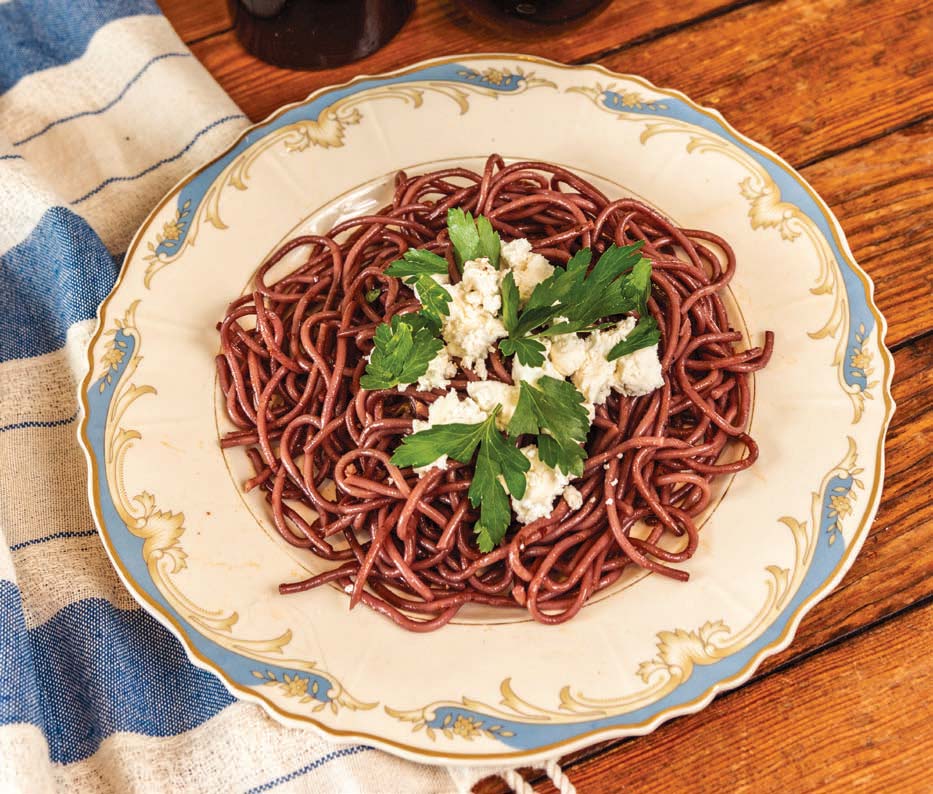 Makes 4 servings
1 pound of spaghetti
¼ cup extra virgin olive oil
3 large garlic cloves, chopped
1 large shallot, halved, thinly sliced into strips
½ teaspoon dried red pepper flakes
1 teaspoon salt
1 (750ml) bottle red Zinfandel (LangeTwins Ivory & Burt Old Vine Zinfandel)
1 tablespoon tomato paste
1 tablespoon butter
4 ounces crumbled goat cheese
¼ cup fresh parsley, chopped
Bring a large pot of salted water to a boil. Add pasta. When it returns to a boil, reduce heat and cook for approximately 6 minutes, stirring occasionally, until par-cooked (just beginning to soften). Drain pasta and reserve pasta water.
In a large skillet, heat olive oil over medium heat. Add the garlic, shallots, red pepper flakes and salt. Sauté 1 to 2 minutes. Add the wine and tomato paste to the skillet. Bring to a simmer over medium-high heat. Reduce heat and simmer for approximately 3 minutes.
Add pasta to the skillet. Cook, stirring frequently until all of the wine is absorbed and the pasta is tender. If the pasta becomes too dry, add some of the reserved pasta water.
Remove from heat and stir in butter and salt to taste. Toss again till sauce coats pasta. Top with goat cheese and fresh chopped parsley. Serve immediately.