Photography by Teresa Rafidi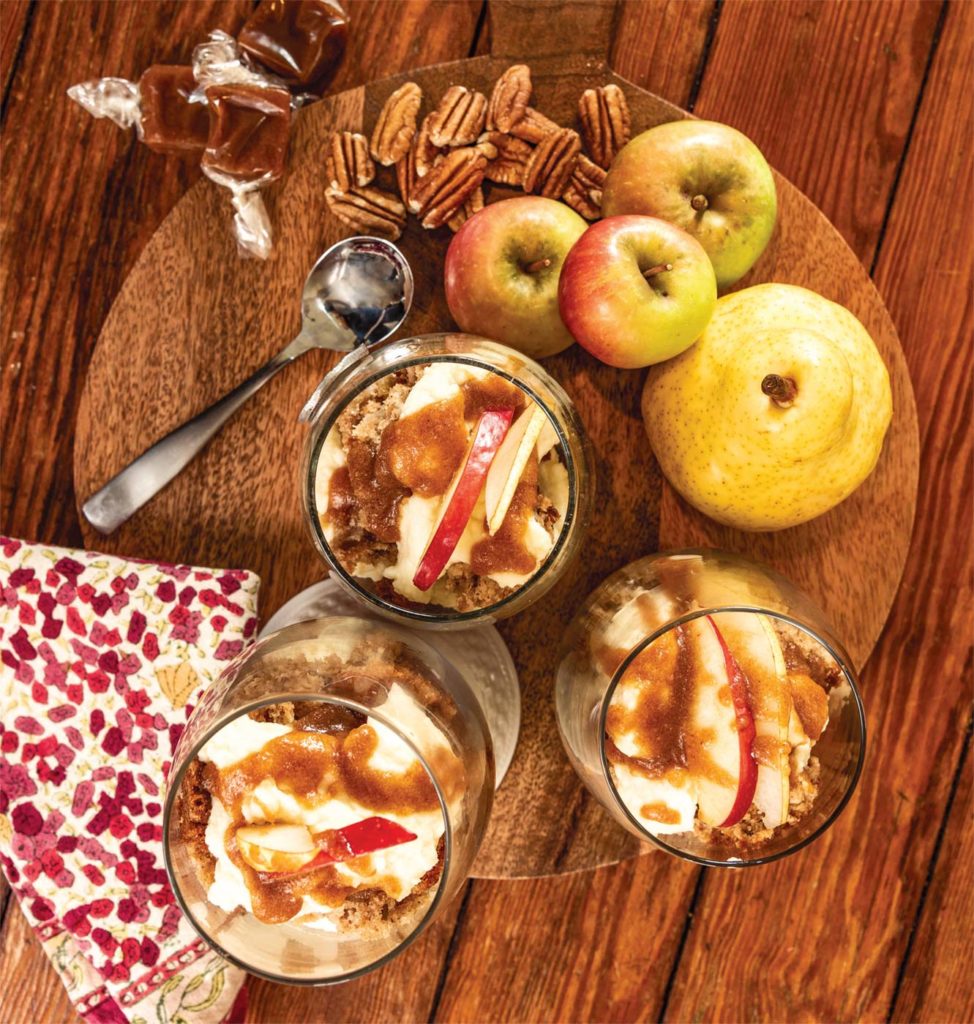 Makes 14-16 servings
2 apples, peeled, cored and cubed
2 pears, peeled, cored and cubed
1 cup of vegetable oil
2 eggs
2 cups granulated sugar
1 teaspoon vanilla
2 ½ cups all-purpose fl our
1 teaspoon salt
1 teaspoon baking soda
1 teaspoon cinnamon
2 teaspoons apple pie spice
1 cup chopped pecans
FOR BOURBON CARAMEL SAUCE
6 handmade Jolly Acres Farms Goat Milk Caramels
2 tablespoons bourbon
2 tablespoons milk
For Marscapone Whip:
16 ounces mascarpone
2 ½ cups heavy whipping cream
1 ¼ cups powdered sugar
1 teaspoon vanilla
Preheat the oven to 350°. Liberally grease a 10-inch Bundt pan. Place apples, pears, vegetable oil and eggs in a large mixer bowl. Using an electric mixer, begin stirring on low. Add in the sugar and vanilla. Mix well.
In a separate bowl mix flour, salt, baking soda and spices. Then slowly add to wet ingredients, with the mixer on low.
Lastly, add the chopped pecans. Spoon into the prepared Bundt pan. Bake for 1 hour or until a toothpick comes out clean. Let cool upside down in the Bundt pan for at least 10 minutes before turning over.
While the cake is baking, make your Bourbon Caramel Sauce by melting the caramels in a double boiler over medium heat. Slowly stir in the bourbon and milk.
To make your marscapone whip, let the mascarpone sit on the counter for 20 to 30 minutes to bring to room temperature.
With a stand or hand mixer, whip heavy cream until it starts to peak. Add the powdered sugar and continue to whip until well blended. Add the mascarpone and vanilla and whip. If you aren't serving immediately, refrigerate. The whip can be made a day ahead.
To serve, top each slice of cake with Bourbon Caramel Sauce and Mascarpone Whip.