from Game Day Grub for Locavores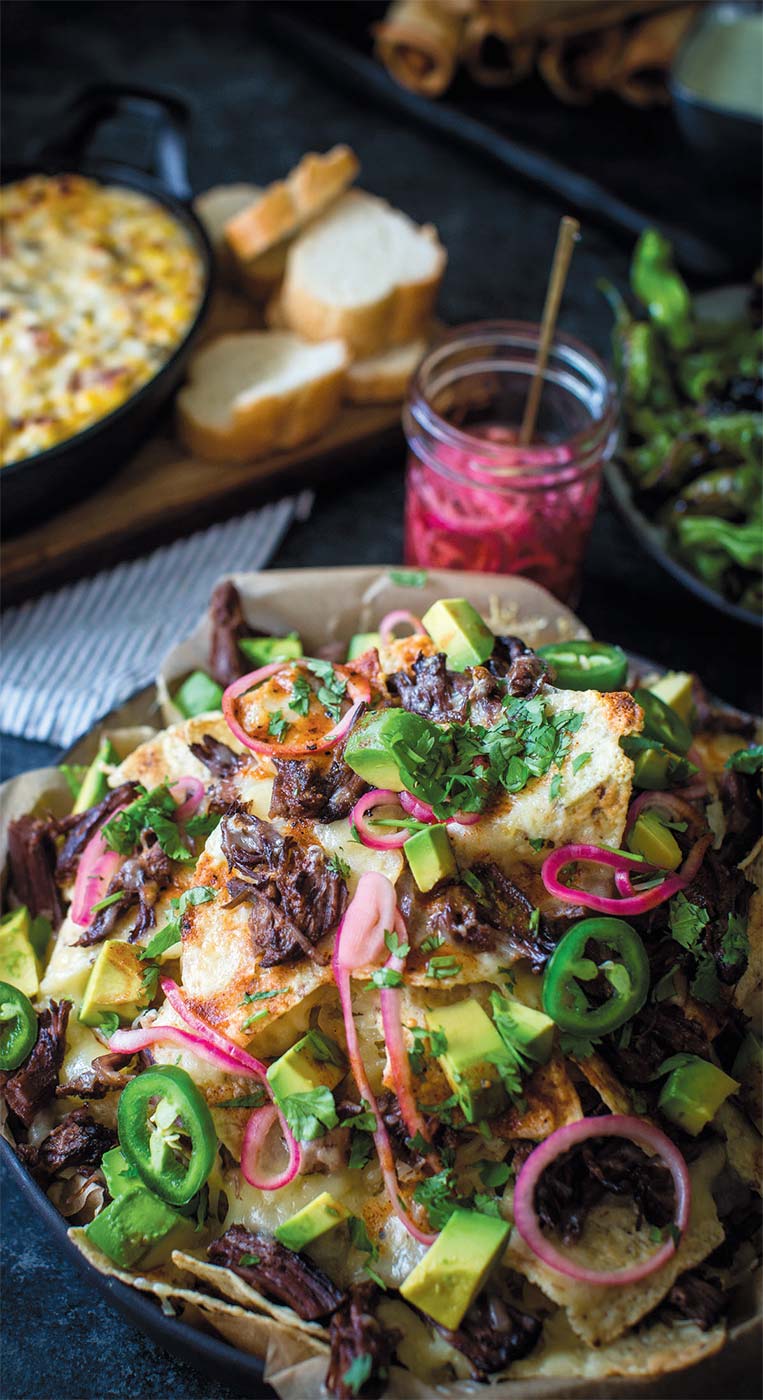 These nachos aren't your typical Tex-Mex fare, but rather elevated North Texas version using a local stout to braise the short ribs, giving them an exceptionally deep flavor. They then are layered onto tortilla chips with cheese and pickled onions, then topped with a tangy, barbecue-style sauce for an irresistible bite.
Makes 6 servings
STOUT-BRAISED SHORT RIBS
2 pounds boneless short ribs, preferably local
2 tablespoons kosher salt
1 teaspoon ground black pepper
12 ounces Lakewood Brewing Co. Temptress Imperial Milk Stout
2 garlic cloves
PICKLED ONIONS
1 small red onion, thinly sliced
½ cup apple cider vinegar
1 tablespoon sugar
1 teaspoon kosher salt
"BARBECUE" SAUCE
⅓ cup apple cider
2 tablespoons stout braising liquid (from short ribs)
2 tablespoons ketchup
1 tablespoon brown sugar
½ teaspoon paprika
½ teaspoon black pepper
¼ teaspoon mustard powder
¼ teaspoon salt
NACHOS
1 (11-ounce) bag tortilla chips
Stout-Braised Short Ribs
8 ounces white cheddar cheese, shredded
½ avocado, diced
1 jalapeño, sliced
Pickled Onions
"Barbecue" Sauce
1 tablespoon chopped cilantro
Season short ribs with salt and pepper. In a large heavy-bottomed pot over high heat, place short ribs fat-side-down and sear until deeply browned, about 3 to 5 minutes. Flip and continue to sear until all sides are browned. Transfer ribs to a plate.
Pour stout into the pot. Using a wooden spoon, stir the stout while scraping any browned bits of short rib off the bottom of the pot. Return short ribs, along with garlic. Reduce heat to low, cover, and gently simmer for 3 hours, until the meat is tender and falling apart.
Reserve 2 tablespoons of the braising liquid for the "Barbecue" Sauce. Shred the short ribs into bite-sized pieces.
While the ribs are braising, place onions for Pickled Onions in a small jar or bowl. In a saucepan over medium heat, add the vinegar, sugar and salt. Stir until sugar and salt dissolve, then pour over onions. Allow onions to sit in the vinegar mixture for at least 3 hours.
To make the "Barbecue" Sauce, combine all ingredients in a small pot and simmer over medium heat for 5 minutes. Remove from heat.
Preheat oven to 375°F. Place 1 layer of tortilla chips, slightly overlapping, on a large baking sheet. Top with half of the shredded short ribs and half of the cheese. Repeat with the remaining chips, meat and cheese.
Bake for 8 to 10 minutes or until cheese is completely melted. Remove from oven and evenly top with avocado, jalapeños and pickled onion slices. Drizzle a few spoonfuls of sauce over the nachos, and garnish with cilantro. Serve immediately.
Short ribs, pickled onions and sauce can be made a day in advance and stored in the refrigerator.
MEREDITH STEELE is a recipe developer, food writer, food photographer and author of InSockMonkeySlippers.com, an award winning family food blog celebrating creative and fresh foods. Her recipe development and photography company, MBS Recipe Development specializes in multimedia recipe development for commercial and small business who's clients include everyone from Ziploc® to small wineries. Meredith's work has been published online, in various print media, and has been nominated for the SAVEUR awards. She can also be found across the pond writing a monthly column for JamieOliver.com. When Meredith is not in the kitchen, she's roaming Dallas, Texas with her husband, curly-headed pixie of a daughter, and big floppy-eared dog.