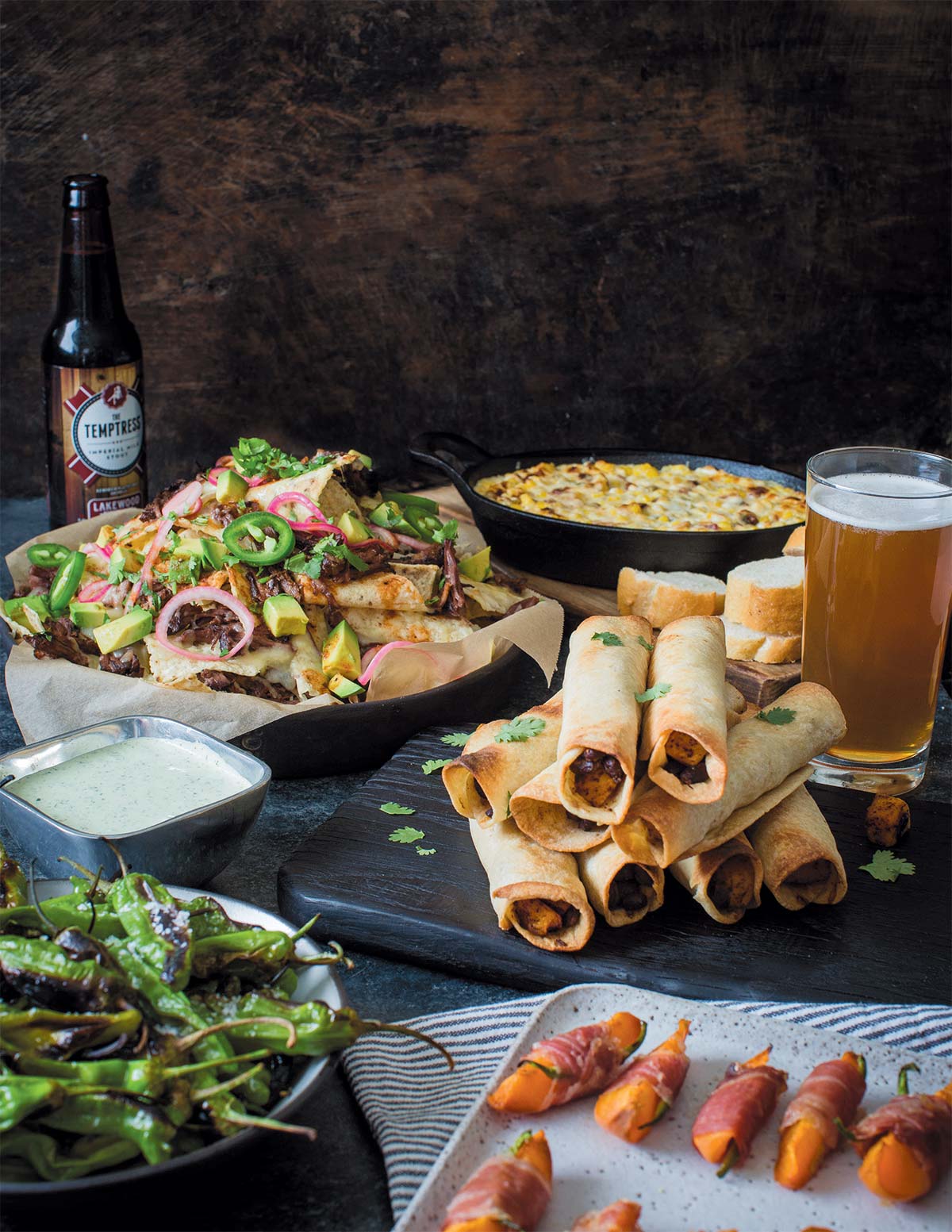 In my opinion, fall begins with the arrival of Hatch chile peppers in North Texas— grown next door in New Mexico—and the first college football game. It's an exciting time when our house is full of friends, the TV's on, the cooler is stocked, and snacks are overflowing. Sure, hot wings and pretzels are good game-day grub, but you can up the ante. With these dazzling, seasonally inspired snacks—Stout-Braised Short Rib Nachos to Prosciutto-Wrapped Persimmons—everyone will want to come to your house.
RECIPES
Stout-Braised Short Rib Nachos
Recipe and Photo by Meredith Steele
These nachos aren't your typical Tex-Mex fare, but rather elevated North Texas version using a local stout to braise the short ribs, giving them an exceptionally deep flavor. They then are layered onto tortilla chips with cheese and pickled onions, then topped with a tangy, barbecue-style sauce for an irresistible bite.
Butternut Squash and Black Bean Taquitos
Recipe and Photo by Meredith Steele
Sweet roasted butternut squash—fresh from the fall market—and black beans are rolled in flour tortillas and baked until crispy. Serve with creamy Cilantro- Lime Sauce for a tasty game-day snack.
Prosciutto-Wrapped Persimmons with Jalapeño
Recipe and Photo by Meredith Steele
This recipe comes from the kitchen of my motherin- law, Mary Ann Steele, and has been a fall appetizer at her house for many, many years. Trust me, these sweet, salty, and spicy bites will go fast at your next game-day party.
Corn and Hatch Chile Dip
Recipe by Meredith Steele
Although Hatch chiles aren't native to North Texas, we love when they arrive here from our sister state, New Mexico. You can find fire-roasted chiles at local grocery stores or roast them yourself under the broiler or on the grill. Combined with a bumper crop of Texas corn, it yields a cheesy dip with a little peppery kick perfect for watching the game.
Blistered Shishito Peppers with Whipped Goat Cheese
Recipe and Photo by Meredith Steele
Grab shishito peppers from our farmers markets to make this simple but tempting game-day snack. Once blistered, these smoky tender peppers are dipped in a lemon-goat-cheese dip to cool off any hot pods you may get. We use silky smooth, local goat cheese from Latte Da Dairy or Lost Ruby Ranch for an exceptional dip.
MEREDITH STEELE is a recipe developer, food writer, food photographer and author of InSockMonkeySlippers.com, an award winning family food blog celebrating creative and fresh foods. Her recipe development and photography company, MBS Recipe Development specializes in multimedia recipe development for commercial and small business who's clients include everyone from Ziploc® to small wineries. Meredith's work has been published online, in various print media, and has been nominated for the SAVEUR awards. She can also be found across the pond writing a monthly column for JamieOliver.com. When Meredith is not in the kitchen, she's roaming Dallas, Texas with her husband, curly-headed pixie of a daughter, and big floppy-eared dog.