Photography Teresa Rafidi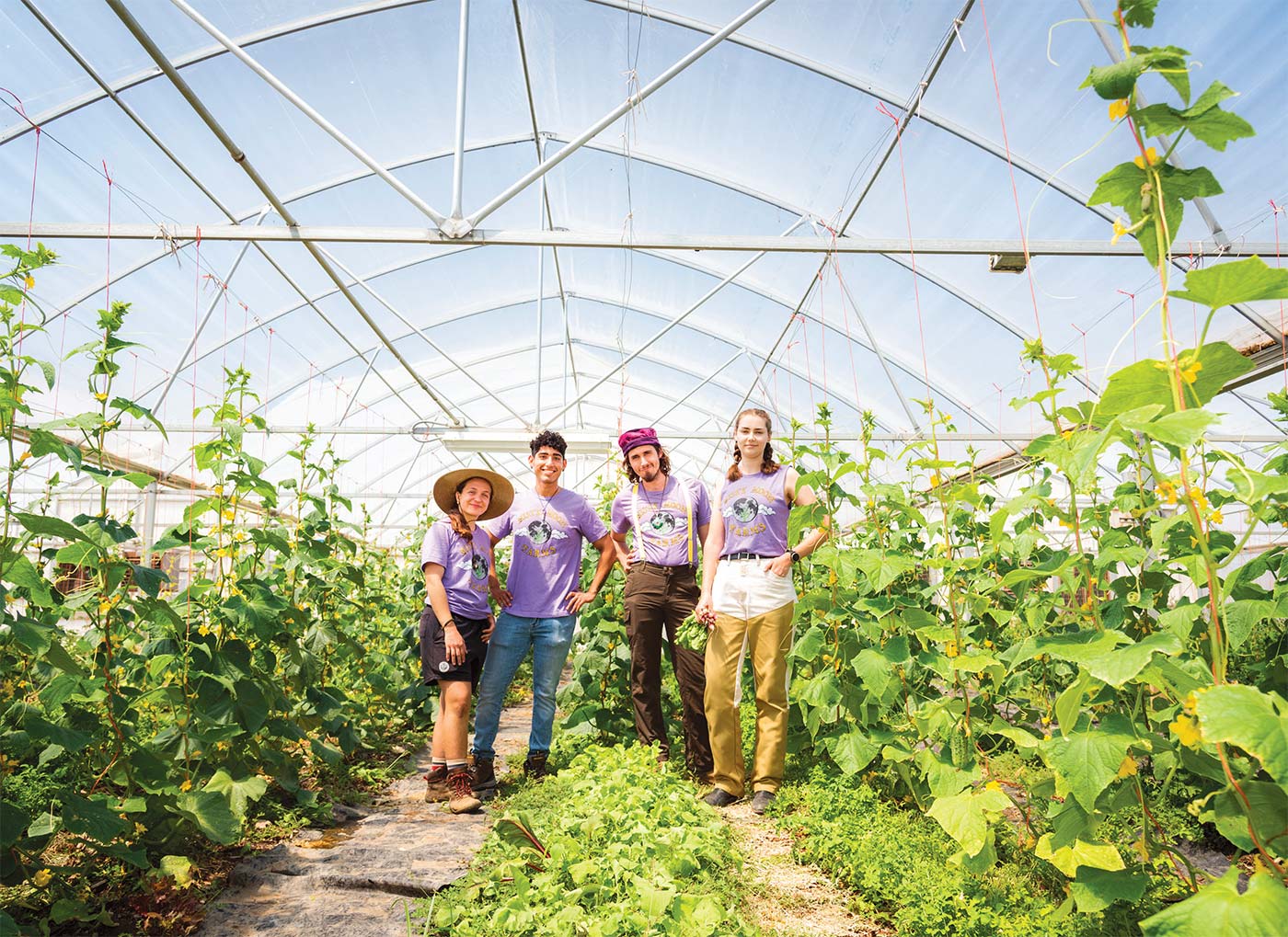 The face of farming looks very different at Misty Moon Farms under the keen, steady direction of Ross DeOtte. Farmer Ross is "30 years young," he says, and the Misty Moon Farms team of five is all in their 20s. Earning a master's in business entrepreneurship from Texas A&M University in College Station — combined with an advanced permaculture designer certification and expertise in various spiritual practices at the Rudra Center for Enlightened Awareness in Denton — helped prepare him for the extensive operation he now leads. "The most important thing about what we're doing is advancing permaculture and biodynamics through the practical application of spiritual work in farming," he explains.
That clear vision is currently manifested on two Denton County properties — 3 acres on the northside of Lake Lewisville and at an on-site commercial farm within Harvest, a 1,200-acre master-planned community in Northlake and Argyle. "They call it an 'agrihood,'" says Farmer Ross, who contracts with the residential development to manage its farm. Plans for locations in Greenville and Celina are underway. "We're working with other property developers who want to do similar concepts — who want to have sustainable, financially viable farms as part of their housing developments," he says.
Stone-edged sidewalks along neighborhood streets are all that separate the rows of single-family homes from Harvest Farm. Standing out from this suburban landscape is a cheery yellow Victorian-style farmhouse, the place for passersby to stop for a chat or grab a cup of coffee. Behind it are fields of flowers that attract pollinators, fruit orchards for the picking, and demonstration and community gardens lined with rectangular raised beds so residents can dig in their own private plots. Farmer Ross is their official go-to guy for gardening advice and provides workshops on various topics about once a month.
Farmer Ross and his team are responsible for cultivating crops grown in the Harvest Farm greenhouse — an expansive five-gabled tent that provides a controlled environment and protection for long rows of vegetation, including multiple varieties of lettuce and seasonal fruits and vegetables — produce that, once harvested, will be sold through Misty Moon Farms' summer and winter CSA, at the Denton Community Market, Saint Michael's Farmers Market in Highland Park, Four Seasons Markets in Flower Mound, and Rudi's Farm Stand. Whatever is left over is donated to the North Texas Food Bank. "It's all organic," Farmer Ross says. "I mean we're way beyond organic."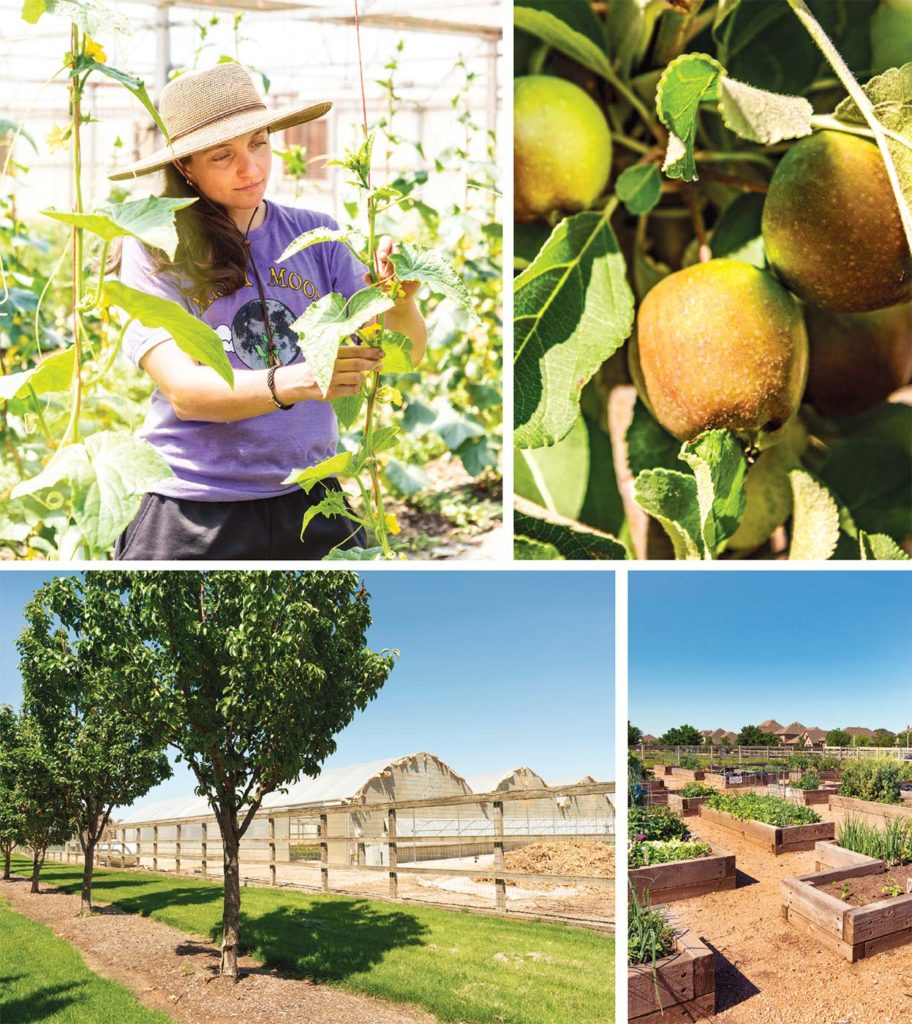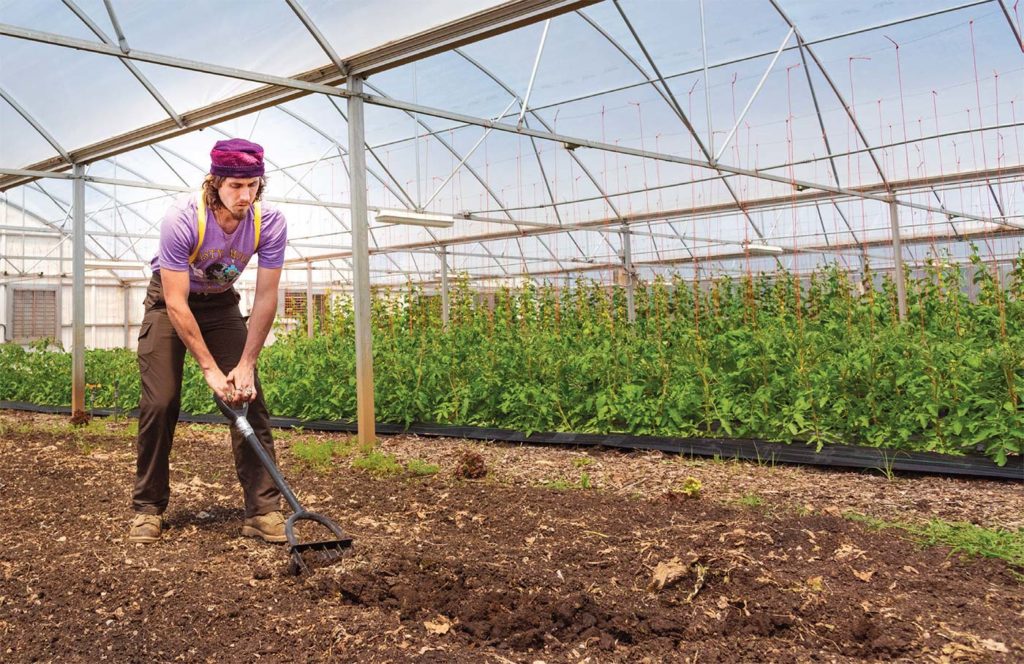 "When I eat fast food or pizza or something, it's, like, you're 'Oh, I'm kind of full. I feel heavy,'" he says. "You can eat meat that's locally grown or food that you grew yourself, and it's, like, I have more energy now."
The greenhouse growing is bio-intensive, Farmer Ross explains. "In greenhouse production, you're limited on space — it's one of your constraints — but what that forces you to do is to work the soil in even a more intensive, better way." He grabs a broad fork, a type of spade whose tines are long and well-spaced, to loosen the dense, black-land soil on which the plantings grow. The broad fork is specifically used to aerate the soil. By contrast, he says, "tilling creates a compaction layer in the soil." He explains that while the soil may be "nice and fluffy" on top for the first few inches, the roots have a harder time penetrating the soil any deeper than that. "Drought-tolerant roots should be growing multiple feet into the ground," he says. But they can't if they hit that compaction layer and are unable to access all the nutrients from the subsoil. The broad fork technique breaks up that soil.
When Farmer Ross began working Harvest Farm's soil going on five years ago, it was drenched in sodium from well water, and it was even more compact than what farmers usually begin with, he says. He switched water sources and added gypsum, organic matter, and compost in order to bring microbes back in, and the team continues to use the broad fork technique in order to improve it. The result is nutrient rich for planting and growing.
Farmer Ross and his crew create compost through a Johnson-Su bioreactor that combines leaves, additional compost materials, and worms. "It's a passive way of making compost," he says. "You keep it moist. We have hoses hooked up to timers that water it every day for two minutes, and it takes about six to nine months." And it doesn't have to be continually turned.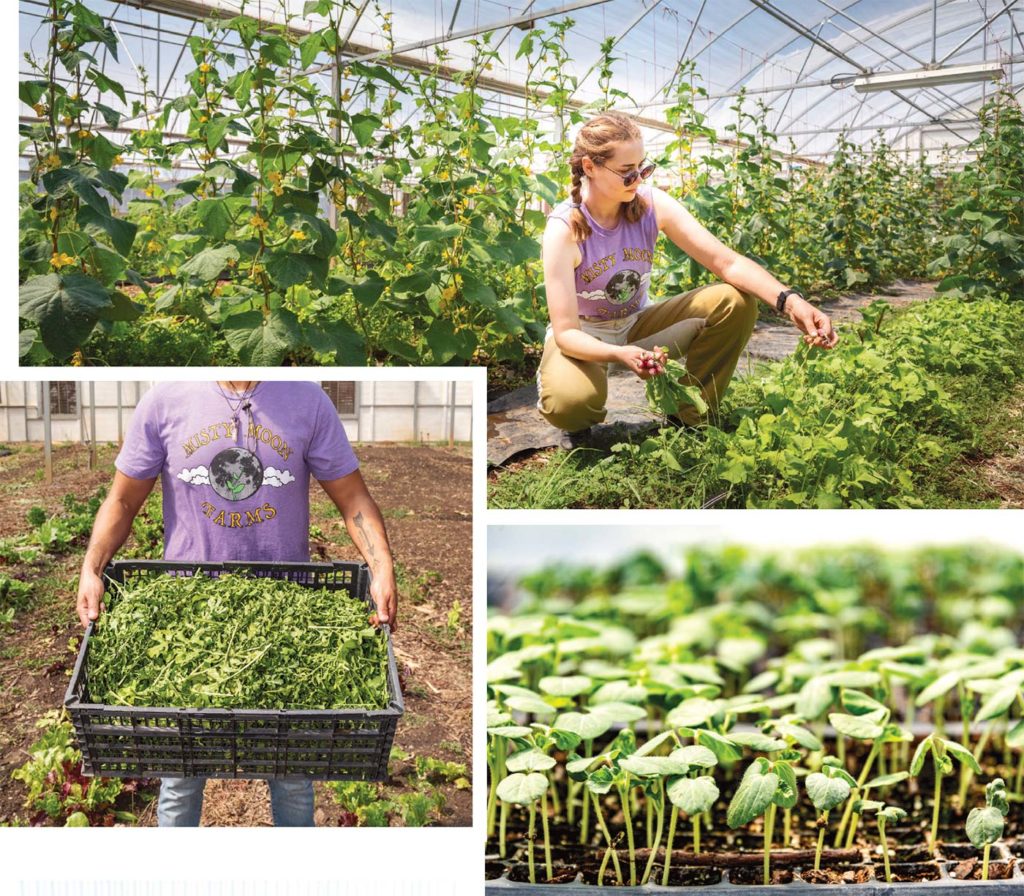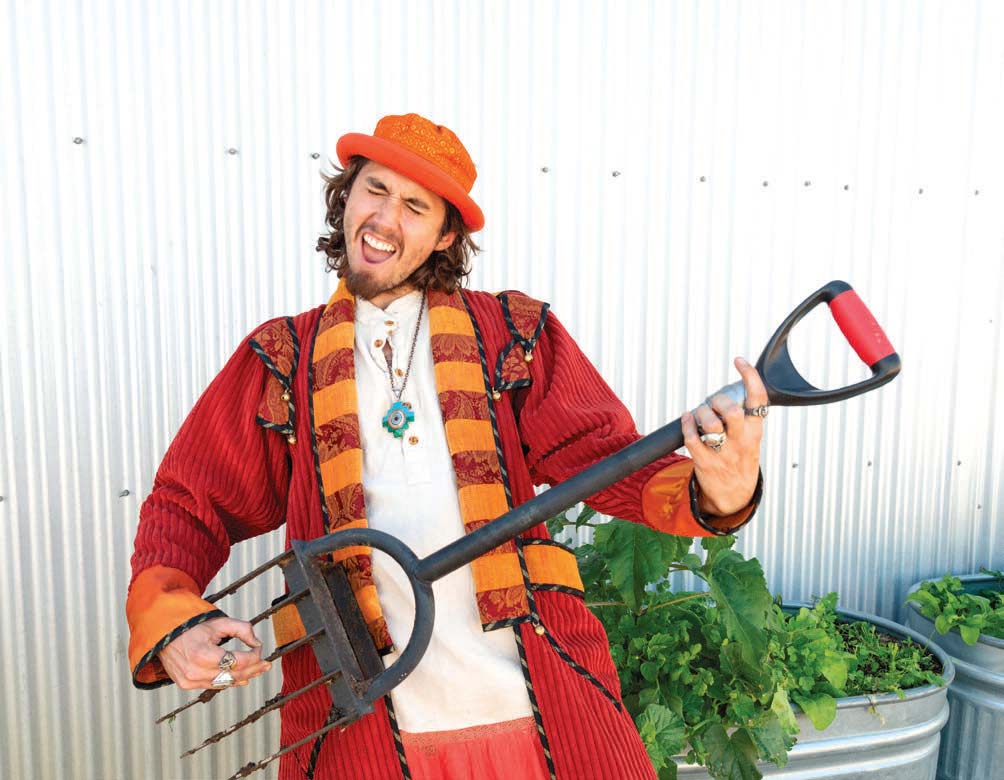 Misty Moon Farms employs a number of other advanced farming techniques to improve the soil, such as vermicomposting using earthworms and the Elaine Ingham tea brewing method of composting. They also add effective microbes (EM) and Biochar, a charcoal substance that makes for a better home for the microbes, to the soil. Misty Moon Farms also keeps ducks at their North Denton property that not only contribute to the composting materials but supply eggs to sell.
"We say that we're a permaculture and biodynamic farm," Farmer Ross says. "Permaculture is pretty easy to define — the permanent agriculture — you're being mindful of the entire ecology of the systems that you're living in, right? So we're not buying synthetic fertilizers. We're doing our best to make all of our own compost and our own soil amendments," he says.
"There's a lot of different aspects to biodynamic farming, and part of it is using preparations," Farmer Ross says. He refers to the teachings of Austrian philosopher Rudolf Steiner, credited with establishing biodynamic agriculture. "It's about understanding the energies that you're putting into the farm. That's kind of the basis of it," he says. "And then from there, it's about transforming your own consciousness."
"So many young, hippy or idealistic people want to grow food and live off the land, and that's great," he says. "And at the same time, if you don't know how to work spiritually, then it's going to fall apart." He believes in using farming to bring greater enlightenment, and what he teaches and demonstrates is primarily spiritual because, he says, that is what will transform the planet.
"It's a big paradigm shift for people," he says. "And I think the world is ready for it."
ELLEN RITSCHER SACKETT loves to combine two of her passions, writing and food, and loves promoting other people's pursuits, which she accomplished as a writer/producer for the WFAA-TV show, Good Morning Texas, and as executive editor for Dallas and Houston Hotel Magazines. She occasionally contributes to The Dallas Morning News and was on the staff of its weekly entertainment magazine and digital team, dallasnews.com. In her spare time, Sackett cares for her many four-legged, furry and feathered family members and saves shelter dogs through Little Dog Rescue, which she founded. She invites you to follow her on Facebook.