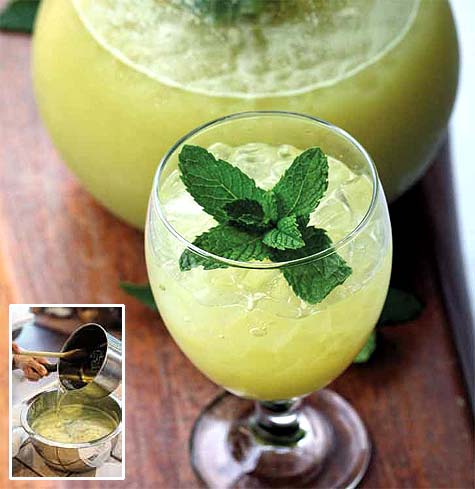 RECIPES BY CHEF EVA GREER
EDITED BY TERRI TAYLOR
PHOTOGRAPHY BY KELLY YANDELL
In her historic farmhouse kitchen, East Texas chef Eva Greer offers seasonal cooking classes on Saturday afternoons. Fresh ingredients are gathered just down the road in the fruit and berry orchard or from a nearby garden. Whether it's making the tamales of her childhood, canning summer fruits, or cooking pasture-raised beef, Eva showcases the farm's rich bounty.
Under the chef 's watchful guidance, my kitchen mates and I chopped, puréed, seasoned and sautéed our garden pickings, then enjoyed a candlelight patio dinner accompanied by bottles of East Texas wines from Red Road Vineyard. The following recipes are a sampling of what we prepared. For a schedule of Greer Farm's upcoming classes or to book a farm stay, visit: greerfarm.com or call (903) 645-3232.
RECIPES
AGUA FRESCA WITH CUCUMBERS AND APPLES
EGGPLANT STACKS WITH ROMESCO SAUCE
BLACK RICE PILAF WITH KALE AND RED PEPPERS
ZUCCHINI & YELLOW SQUASH CARPACCIO
BLACKBERRY SOUFFLÉ WITH LEMON CRÈME ANGLAISE
CHEF EVA GREER and husband Sid are the proprietors of Greer Farm, a unique rural retreat near Daingerfield. Guests can pick their own blueberries, blackberries, figs and plums and attend Chef Eva's monthly cooking classes. Four quaint log cottages are available for rent. For more information visit their website www.greerfarm.com.