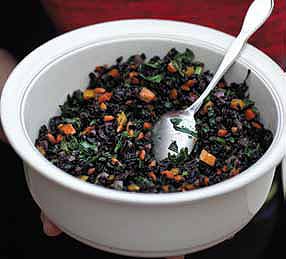 Photography by Kelly Yandell
RECIPE BY CHEF EVA GREER
6-8 servings
Black rice, an ancient grain with a slightly nutty taste, was once reserved for the plates of Chinese emperors. Mixed with vegetables, it makes a dramatic side dish. When the cooler-weather kale is depleted, try adding summer corn to the vegetable mix.
1 cup black rice
1 ¾ cup water or chicken stock
2 teaspoons olive oil
½ cup diced red onions
2 tablespoons chopped parsley
1 red onion, chopped
3 garlic cloves, finely minced
1 red pepper, diced
1 bunch kale, trimmed and chopped
Salt and freshly ground pepper
¼ cup toasted pine nuts (see below)
¼ cup dried cherries
Place rice and water or chicken stock in a medium saucepan and bring to a boil over high heat. Cover, reduce heat and simmer for 30 minutes. Makes 3 cups.
While rice is cooking, heat the olive oil in a large skillet over medium heat. Add the onions and cook until translucent. Stir in red pepper and garlic and cook several minutes more before adding kale. Continue cooking until kale is slightly wilted.
Stir sautéed vegetables, toasted pine nuts and cherries into cooked rice. Season with salt and pepper and serve.
To toast pine nuts: Heat a small dry skillet over mediumlow heat. Add pine nuts and cook, stirring constantly until golden and fragrant, 2 to 3 minutes. Another method is to spread in a small baking pan and bake at 400°F for about 5 minutes.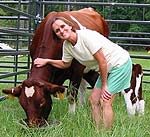 CHEF EVA GREER and husband Sid are the proprietors of Greer Farm, a unique rural retreat near Daingerfield. Guests can pick their own blueberries, blackberries, figs and plums and attend Chef Eva's monthly cooking classes. Four quaint log cottages are available for rent. For more information visit their website www.greerfarm.com.