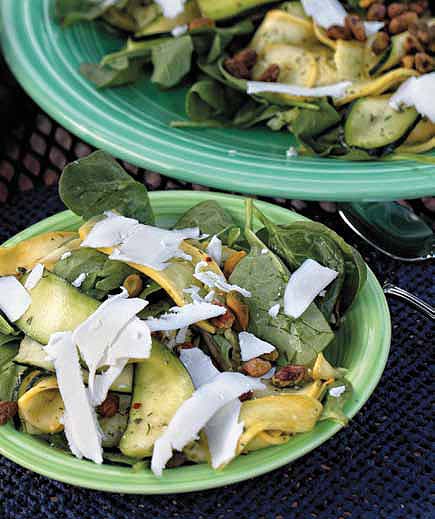 Photography by Kelly Yandell
RECIPE BY CHEF EVA GREER
Baskets of bright squash fill North Texas farmers markets each summer. This cool, crisp side dish features a duo of raw zucchini and yellow squash, thinly sliced, tossed in herbs and oil, and served with greens, cheese slivers and a sprinkle of roasted pistachios. No hot stove needed for this one!
6-8 servings
1 pound mix of zucchini and yellow squash (about 2-3 of each)
Juice of 1 lemon
3 tablespoons avocado or olive oil
2 garlic cloves, crushed
2 tablespoons chopped mixed herbs (thyme, mint, parsley, dill or basil)
Red pepper flakes, about ½ teaspoon
Sea salt and fresh pepper
4-6 ounces arugula or spinach (about 4-6 cups)
2-3 ounces Manchego cheese or ricotta salata cheese
¼ cup roasted pistachios
With a mandoline or vegetable peeler, thinly slice the squash lengthwise and arrange on a large platter in layers. In a bowl, whisk together lemon juice, oil, garlic and herbs. Add salt, pepper and red pepper flakes to taste. Pour over squash and toss, coating evenly. Allow the vegetables to marinate for about 15 minutes. Before serving, mix in arugula or spinach. Shave slices of cheese over the top and sprinkle with pistachios.
CHEF EVA GREER and husband Sid are the proprietors of Greer Farm, a unique rural retreat near Daingerfield. Guests can pick their own blueberries, blackberries, figs and plums and attend Chef Eva's monthly cooking classes. Four quaint log cottages are available for rent. For more information visit their website www.greerfarm.com.