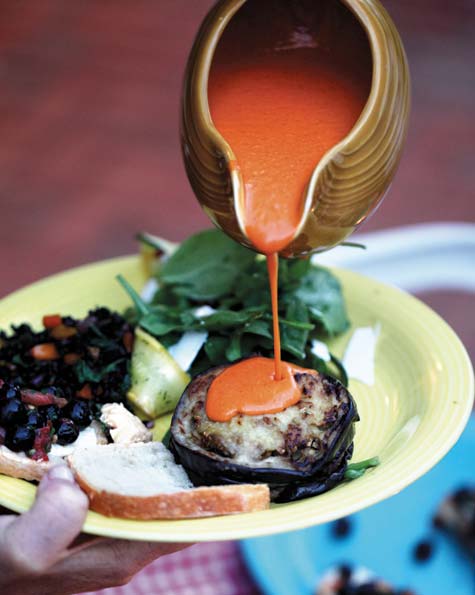 Photography by Kelly Yandell
RECIPE BY CHEF EVA GREER
Eva says her eggplants love the summer heat, and she grows them from June until the first frost. Here, she pairs lightly sautéed rounds of eggplant with spinach, Fontina cheese and another Greer Farm staple, ground beef from their herd of pasture-raised Maine Anjou cattle. A smoky tomato-based Romesco sauce provides the finishing touch.
6 servings
For Eggplant Stacks
1 ½ pounds eggplant (about 2)
Salt and freshly ground black pepper
All-purpose flour for dusting
2 tablespoons olive oil (more, if needed)
1 pound ground beef
1 teaspoon minced garlic
2 ½ cups fresh spinach, chopped
¼ cup finely chopped fresh parsley
1 tablespoon chopped fresh oregano (or 1 teaspoon dried)
½ cup grated Parmesan cheese
6-8 ounces Fontina cheese, need 12 small slices
Romesco Sauce (See below)
Preheat the oven to 425°F.
Cut the eggplants into 18 rounds (about ¼ inch thick). Season lightly with salt and pepper and dust with the flour. Heat oil in a large skillet and sauté rounds over medium heat, adding more oil as needed, until golden on both sides. Place on paper towels to drain.
In a large skillet, brown the beef and garlic. Add chopped spinach, parsley, oregano and Parmesan cheese and sauté for an additional minute or two. Season with salt and pepper then remove from heat and set aside.
Place 6 eggplant slices on a baking sheet lined with parchment paper. Over each round, spread a thin layer of the meat mixture and a slice of Fontina cheese. Continue building each stack with another layer of eggplant, meat, cheese and top with a final eggplant round. Bake until the stacks are thoroughly heated and the cheese has melted (about 10 minutes). Remove to a serving plate and finish with a drizzle of the Romesco sauce.
For Romesco Sauce
1 head of garlic
2 large red peppers
3 large plum tomatoes
⅓ cup olive oil
¼ cup blanched almonds
1 tablespoon red wine vinegar
½ teaspoon smoked paprika
2 slices white bread, cubed without crust
1/8 teaspoon cayenne pepper
Salt and freshly ground pepper to taste
Preheat oven to 350°F.
Cut tips of garlic and rub with olive oil. Wrap tightly in foil and bake 25 to 30 minutes. When baking is complete, squeeze garlic pulp into blender or food processor.
Char peppers and tomatoes over a gas burner or broil on a tray in the oven. Using tongs, turn occasionally. When blackened, place in heatproof bowl, cover with plastic wrap and let stand 10 minutes. Rub with paper towel or the edge of a knife to remove charred skin and coarsely chop, reserving all liquids.
Place all ingredients, except the olive oil, in processor with garlic pulp. Start processing and while the machine is running, pour in the olive oil in a steady stream. Purée until smooth. Taste and add more vinegar and seasonings, if needed. Serve warm or cold.
CHEF EVA GREER and husband Sid are the proprietors of Greer Farm, a unique rural retreat near Daingerfield. Guests can pick their own blueberries, blackberries, figs and plums and attend Chef Eva's monthly cooking classes. Four quaint log cottages are available for rent. For more information visit their website www.greerfarm.com.