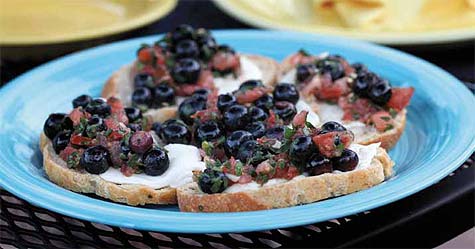 Photography by Kelly Yandell
RECIPE BY CHEF EVA GREER
This colorful appetizer features Greer Farm blueberries and diced garden tomatoes. From June into July—just before the searing heat sets in—North Texas blueberries are bursting with flavor, ready to be picked. The farm's pick-your-own field features five varieties of this little blue superfood, rich in antioxidants and vitamins.
Serves 6-8 people (2 portions each)
1 cup fresh blueberries
2 cups diced fresh tomatoes
1 tablespoon minced garlic
¼ cup chopped cilantro
¼ cup chopped flat-leaf parsley
1 tablespoon fresh lime juice
1 teaspoon kosher salt
½ teaspoon freshly ground pepper
2 tablespoons olive oil
1 French baguette or sourdough bread, 12-16 slices
3 cloves garlic, pressed
1 pound fresh mozzarella, thinly sliced
In a medium bowl, combine blueberries, tomatoes, garlic, cilantro, parsley, lime juice, salt, pepper and olive oil. Stir well and chill for at least an hour or overnight, if possible.
Preheat oven to 375°F. Place bread on baking sheet and toast until light golden brown (about 10 minutes). Remove from oven and rub the pressed garlic cloves on the toasted side of each slice. Place a slice of mozzarella on each and return to oven until cheese is melted. Remove from oven and spread a tablespoon (or more) of the blueberry mixture over each. Serve immediately.
Variation: For a spicier version, add a chopped jalapeño to blueberry mixture. Extra blueberry salsa can be used as a condiment with fish or chicken or served as a dip with tortilla chips.
CHEF EVA GREER and husband Sid are the proprietors of Greer Farm, a unique rural retreat near Daingerfield. Guests can pick their own blueberries, blackberries, figs and plums and attend Chef Eva's monthly cooking classes. Four quaint log cottages are available for rent. For more information visit their website www.greerfarm.com.