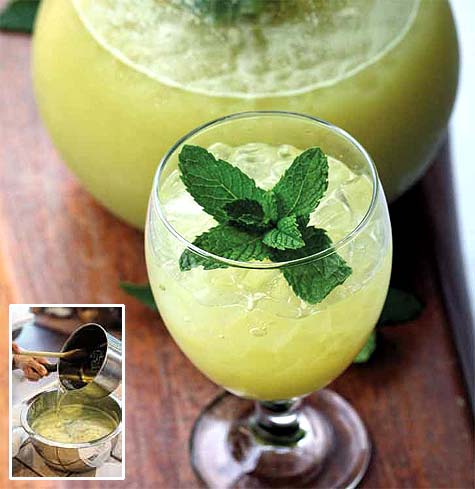 Photography by Kelly Yandell
RECIPE BY CHEF EVA GREER
Refreshing agua fresca is a great way to utilize summer's abundant assortment of fruits. Keep a pitcher of it in the fridge for a healthy alternative to artificially flavored drinks. Try combinations with watermelon, cantaloupe and strawberries, or blend peaches with a lavender-infused syrup. The best choice is what's ripe and handy. Let your own garden or farmers market inspire you.
6-8 servings
1 cup sugar
½ cup fresh mint or lemon balm leaves
5 cucumbers, peeled
3 apples, cored and peeled
Juice of 6 limes (about ½ cup)
Extra mint leaves for garnish
1 tablespoon lime zest (optional)
To make simple syrup, combine sugar with 1 cup of water in medium saucepan and bring to a boil. Continue boiling for 3 minutes then turn off burner and add mint or lemon balm. Cover and let steep until cooled to room temperature. Strain before using. (Yields about 1 cup)
Juice cucumbers and apples in a juicer and transfer yield to a pitcher. [If using a food processor or blender, coarsely chop peeled cucumbers and apples and place in processor in small batches. Purée each batch with about 2 cups of water to create a juice. Repeat process until all fruit has been juiced. Pour fruit juice into pitcher through a fine mesh sieve to remove any pulp.]
Add ⅓ cup lime juice, ½ cup simple syrup and lime zest, if desired, to pitcher with fruit juice and stir. Adjust sweetness by adding more syrup or lime juice. Chill and serve in ice-filled glasses, garnished with mint sprigs. For a lighter version, dilute with water or sparkling water. For a spiked version, add dark Belizean rum.
CHEF EVA GREER and husband Sid are the proprietors of Greer Farm, a unique rural retreat near Daingerfield. Guests can pick their own blueberries, blackberries, figs and plums and attend Chef Eva's monthly cooking classes. Four quaint log cottages are available for rent. For more information visit their website www.greerfarm.com.